Kamie Crawford's Height
5ft 8 ¾ (174.6 cm)
American model and TV host, who was a Miss Teen USA. She once said on twitter
" 😒 For all my haters who been doubting me, I'm 5'9"!!! Got measured today! Haters!!! 💁🏽"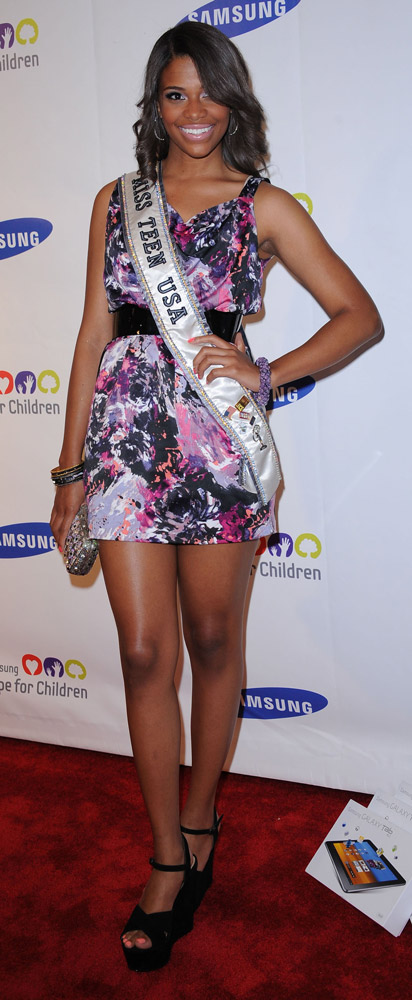 Photos by PR Photos
Add a Comment
14 comments
Average Guess (13 Votes)
5ft 8.33in (173.6cm)
anyonmious
said on 10/Dec/17
i say 5'8" flat and no more
Sandy Cowell
said on 9/Dec/17
@ Nik - You are very welcome! Indeed that is a compliment I paid you, and a most justifiable one at that. If more people stood up to the bullying nature of so many for looking unconventional, a bit too short or a bit too tall, this world would be a much calmer, easier-going place to live in. I mean, how the blazes can you help your height? What you can do, however, is concentrate on your plus points
and draw attention to the parts of yourself that make you feel good!
Household kettles are potentially lethal, too right they are! This burn was carried out accidentally by a very tired person, who was more shocked and upset than I was! Most of the blisters burst yesterday, and when I wrote up this morning, the others had popped too. It was bloody agony, and the skin underneath is red raw. Jim bought me some cream to put on the hand on Wednesday - how kind! It has helped ease it rather. Accidents like this take seconds of absentmindedness to happen so shouldn't there be more warnings about the potential dangers? I think so!
Cheers! 🐣
Nik
said on 8/Dec/17
@ Sandy Cowell - Hi!
Thanks for that! I couldn't have put what you said any better, anyone who is bullied by someone else should tell themselves that they are worthwhile people and everyone else should be like that towards a bullied person too. People shouldn't be singled out and defined by any of their own personal circumstances, certainly if they are not doing any harm to anyone else.
Yes, all heights are equal, there is no height that is better or worse than any other height and instead we should celebrate that people are diverse in height whilst also recognising that it shouldn't have a bearing on how people are thought about or treat by others.
I hope your hand is much better now, my Mum has been burnt by water from a boiling kettle before now. Kettles really can be a household hazard.
Cheers!
Anonymous
said on 8/Dec/17
Click Here
shortest 5'9 I've seen
Anonymous
said on 8/Dec/17
According to that screen she posted even her family don't believe it, right ? She really don't have a 5'9 body, in that case she have very large members. Her legs especially. I can't see her as tall as someone as Rich Homie Quan who is probably a real 5'9 (I know they are not acting in the same field of activity, but still)
Anonymous
said on 8/Dec/17
Rob, actually that picture can be a conclusion. The picture is very weird, I could make a picture like that and pretend to be 5cm taller
Editor Rob: based on it, I'd say she was probably a bit under 5ft 9 but how much exactly I think is harder to say...
Sandy Cowell
said on 6/Dec/17
@ Nik - I would advise this girl and others who are picked on for height reasons or anything similar to say to themselves, "I am a worthwhile person of (5ft9) and my time is far too precious to be wasted worrying about what these superficial idiots say about me! I'm a person - NOT a height!"
I thought you might have something to add about this, Nik! I know how strongly you feel about all heights being equal! Nice one, mate! 👌
Only two days left of this week and then we have another weekend! Hooray! The sooner this week is over the better;
I had boiling hot kettle water accidentally poured directly onto my hand this week and it was agony! 😢 By the weekend, it won't hurt so much!
Cheers Nik! 😁😄😊😃
Nik
said on 5/Dec/17
5'8.5" - 5'8.75"! I am not jealous and resentful of her if she is 5'8", 5'9", or 5'10"! It's not a good thing and I don't care how tall she is other than its a hobby! To be honest 5'9" seems to much, but this is just an honest opinion based on my observations!
Sandy Cowell
said on 4/Dec/17
How damned awful that Kamie should have haters who are jealous and resentful of her height! What the blazes is this world coming to? Kamie is 5ft9! Big deal! I am not - so what? People should except each other regardless of height! 😛
Anonymous
said on 4/Dec/17
Click Here
is that really 5'9 ? Na, 5'8 maybe but clearly not 5'9. And Nana Meriweather is listed also at 5'9
Click Here
Editor Rob:
in the photo she had with her quote at the top of the page
Click Here
, it's hard to tell exactly where she'd measure, but somewhere in 5ft 8-9 range is likely.
Anonymous
said on 4/Dec/17
Click Here
Donald is still about 3cm (the camera angle can gives the impression that it is more) taller than her while she is in heels. So 5'8 would be more accurate for her.
Anonymous
said on 2/Dec/17
Click Here
the fact she is often saying she is 5'9 is even more suspicious. Bull well if Ange Kagame is 6'4 then she is that
Anonymous
said on 2/Dec/17
she have a 5'6-7 body looking
Anonymous
said on 2/Dec/17
A hosent 5'9