Kate French's Height
5ft 4 ½ (163.8 cm)
American actress known for roles in tv shows The L Word, One Tree Hill and Wicked Wicked Games. In an Inked interview she said:
" My dad is six feet, my mom is five foot ten, and my brother is six foot four. I'm five foot four and a half - I don't know what the hell happened"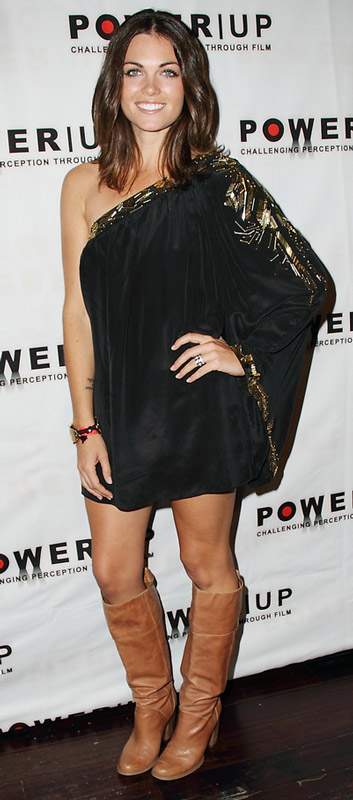 Photo by PR Photos
Add a Comment
19 comments
Average Guess (2 Votes)
5ft 4.5in (163.8cm)
Nik Ashton
said on 29/Jun/20
@ Sandy Cowell - So does Sophie Ellis Bextor's family!
Miss Sandy Cowell
said on 29/Jun/20
Kate French can have 5ft4.5.
Her family boasts an amazing variety of heights!
🤭😁💐🌹🌼
Nik Ashton
said on 14/Dec/19
Genetics can be random!
Nik
said on 9/Apr/19
Her above comment is very interesting!
VeryShortRussianDude
said on 10/Oct/16
I have watched LOT of scenes with her and Mia in the L word and, to be honest, I would of though more 5'3.
TJE
said on 26/Jan/15
I'm in a similar situation to her, well kinda. My biological father's 6'1 and my mother's 5'4. I have two sisters; the older one is 5'7.75-8 and my twin is 5'8.75-9. I'm 5'10-10.25.
linke
said on 25/May/14
My case is opposite to hers. My dad is 5'5, Mother 5'1, sister slightly taller than my mom. I'm 5'10 but then again I was very active during my schooldays. About 5'9 on my 16th birthday. Grew an inch between 16 to 18.
Arch Stanton
said on 22/May/14
In some cases, yes Crash, but in my experience of one parent is very tall, especially if the other is tall too then they typically produce very tall children actually. I know a 5'9" woman and 5'11" guy who have two kids 6'4" and 6'6" and then other is 5'9" range. Pierce Brosnan's son is 6 ft 5 and neither he or Keely are very tall range, just solid tall.
Crash
said on 21/May/14
@Arch
Actually, that's not what you would typically get in such a case, since the mother is very tall and the father just tall it would not normally work out like that. The average height difference between a man and a woman is approximately 5 inches. The height difference between the mother and father in this case is 2 inches, so only about half of the "genetic" male-female height difference.
If the father were 6'3" or so then what you are saying would make sense. But with him at 6'0" you would expect a daughter somewhat shorter than the mother on average and a son taller than the father but not up to 6'4", probably 6'1.5" or so.
Therefore the daughter is considerably below her genetic potential while the son has exceeded it.
anon
said on 6/Feb/14
@Ali
Well funnily enough my estimated height from a 5'6" mother and a 6'4" father was 5'8.5" and I am actually exactly 5'8.5". So that 'stupid' method is actually correct sometimes.
Arch Stanton
said on 3/Feb/14
I agree with Sue though that she looks very attractive at this height and it's a nice height for her, although I'm sure she'd still look hot at 6 ft.
Arch Stanton
said on 3/Feb/14
@Anon
I disagree. A 5 ft 10 mother and a 6 ft father would typically produce a girl at least as tall as the mother. As you can see her brother is 6 ft 4 a sort of height you'd expect, you'd expect her to be 5'10-5'11", or at least 5'8.5". 5'4 range for such parents is extremely short.
Ali
said on 29/Jan/14
How did you come up with 5'8.5"?? I bet you used that stupid subtracting inches from your dads height then adding your moms height together and dividing them. That doesn't even work estimated height for my brother from that was 6'1" and he ended up 6'4". Mine was 5'8" and I'm 5'10.5"
anon
said on 21/Jan/14
Ali- why on earth would you think at least 5'11!? Estimated height for a girl with a 5'10" mother and 6' dad is 5'8.5"... so yeah she turned out pretty short.
The Exorcist
said on 21/Jan/14
Maybe her dad was the milkman? lol ;P
truth
said on 16/Jan/14
with that kind of height I thought 5ft4-5ft6 mother and 5ft10-6ft0 dad, you know average.
Ali
said on 11/Jan/14
With parents of those heights i would've thought at least 5'11"
Sam
said on 10/Jan/14
Very attractive young woman even if she's the runt of the litter.
little sue
said on 7/Jan/14
It could have been worse!! her brother could have been 5ft 4.5 and she could have been 6ft 4!! her height is a nice height.