Katherine Waterston's Height
5ft 11 (180.3 cm)
American actress known for roles in Alien: Covenant, Inherent Vice and Steve Jobs. In a Den of Geek interview she said
"Like these guys playing the soldiers they look like, you know I'm almost six-feet tall, and I feel actually safe around these dudes, they're just so much bigger than me"
.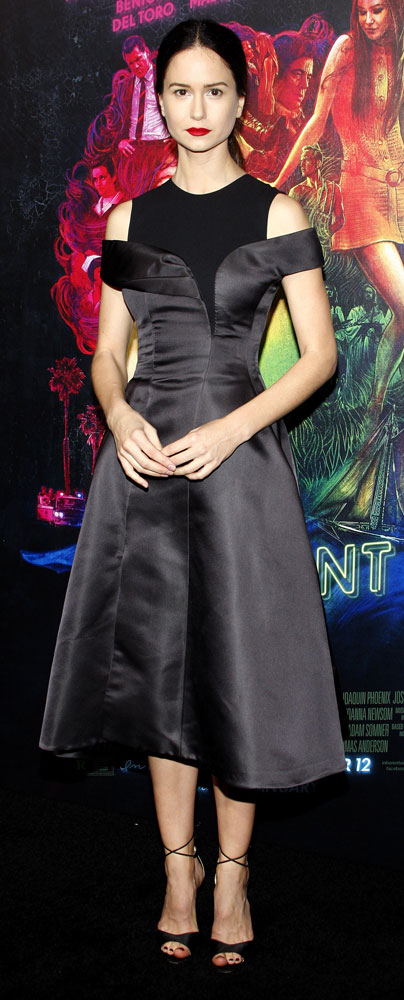 Photos by PR Photos
Add a Comment
29 comments
Average Guess (45 Votes)
5ft 10.63in (179.4cm)
Chris Junior Hernandez 1990
said on 6/Feb/21
Eddie Redmayne is no way only 7mm taller Katherine. I can see full inch between them. Kath could be weak 5'11 or right on. Redmayne under listed long due just like Christopher Backus under listed 1/2-3/4.
Miss Sandy Cowell
said on 26/Nov/20
Katherine's 'The Babysitters' was far from my normal taste in films. In fact, it wasn't to my liking at all. There was a non-existent plot, and it gave me plenty of scope to height-watch. I saw that Katherine was a very tall girl, and I'm not going below 5ft11. Her Dad was played by AHS actor Denis O'Hare, 50% of the reason I bought this. He made two measley appearances, but that was enough to make it abundantly clear that his 'daughter' was around 3" above his 5ft8.
😯
I preferred her in 'Boardwalk Empire'.
Yang (5 footer 8, 173, Aries)
said on 11/Sep/20
Shes bit taller than her fellow cast Ezra Miller....
Chris Junior Hernandez 1990
said on 5/Jun/20
Lowest to be ruled out:
Katherine Waterston 179.7cm (well listed)
Eddie Redmayne 182.2cm (under listed by 1/2 to 3/4 inch)
Jam Cherry
said on 1/May/20
180 cm straight up at 5'11"
Chris Junior Hernandez 1990
said on 23/Jul/19
Supposedly 6'0 Eddie Redmayne had 1" on her.
Littlelee168cm
said on 1/Feb/19
Then again sb in the right pair of shoes Michael fassbender could easily clear 6 foot maybe 6ft and a quarter inch and in basic heels Katherine would be around 6ft 2 or just under so the height gap wouldn't be big maybe 1.5 inches so she wouldn't tower over him. I wouldn't give her less than 5ft 10.5 as she looks around an inch less than Eddie redmayne who could be 5ft 11.5
sb
said on 2/Aug/18
Given the pictures with Fassbender I'm not sure how she can be rated as taller than him, at least. I would give her 5'10 as an estimate, granted her posture is poor but I feel like she'd be towering the guy when wearing heels, rather than just clearing him. Still very tall for a woman and very cool to see her in the Alien film like a modern day Sigourney (who is TALL!!)
Nik
said on 7/Jul/18
She looks very towering!
Sandy Cowell
said on 7/Apr/18
Oh yes, yes, yes, yes, yes! She's here on Celebheights and I'm delighted to see that she's all of 5ft11!
Katherine plays Richard Harrow's sister in 'Boardwalk Empire'! I knew that Richard loves his sister to the ends of the Earth and back, but now I find out, with her gracing my television screen in the second episode of Season IV, that the two siblings are TWINS! How amazing is that? They are even virtually the same height, what with Emma Harrow, as she is called, being just one inch shorter than her brother, played by Jack Huston! WOW!
They share the same dark hair and finely-chiselled facial features, and to say that Katherine has been beautifully cast would be an understatement. I was hoping we'd meet Richard's sister soon, as I'd read about her on Google.
One last thing: from certain angles, Katherine bears more than a passing resemblance to Susie Dent!
I have great pleasure in giving this lovely and interesting new character in my compulsive must-see series 5ft11.
😊📏🔴👩👨🔵✨
Sean73
said on 21/Feb/18
I always had her at a flat 70". She looked it in Covenant and The Babysitters.
robson
said on 20/Nov/17
Taller about an edge than Fassbender but with about 3-4 inch high heels, Fassbender average men shoes so with Fassbender being legit 5'11 flat I'm not seening her more than 5'10 flat or even little less, 5'10 at best, 177 at average 175-176 evening.
Grit
said on 24/Oct/17
Id say a legit 180 but no more
MrPie
said on 4/Jul/17
Looks 5'10 in those photos, Revisionist. She gets a 5'10 from me.
Revisionist
said on 19/Jun/17
Click Here
Click Here
Is Fassbender wearing lifts here? If not, then I don't understand how she can be only 1" taller than him with a big heel advantage. This is only an inch. Don't be fooled by the size of her hair. Her eyeline is only an inch above Fassbender's, and he has no hair to speak of in this picture.
She is very tall, but 180 seems like a typical generous morning height rounded up.
The Horse of FUNK
said on 30/May/17
Holy crap, I did not expect her to be this tall. I don't know why, but I pegged her at something like 5'6" - 5'8" in Alien: Covenant. Never expected 5'11" lol. She's cute though :D
Willes188
said on 29/May/17
Yes pretty tall, but nothing to be funny about. In 1000 years from now this will be average for females
Bruce 182cm
said on 29/May/17
She's very tall for a woman I'd guess 179.5cm
krpt
said on 27/May/17
She has the face of a short girl. Like 5'3 or less. I was really surprised to see she was nearly 6 feet tall.
Sam
said on 28/Mar/17
I see her as around 5'10.5", she's a similar looking height as Nicole Kidman IMO, not pulling off the full 5'11" with her Fantastic Beasts co-stars below.
Revisionist
said on 14/Feb/17
Katherine with 180cm Miller, who has an inch over her even though she might have a small footwear advantage:
Click Here
and close-up:
Click Here
Above, Redmayne 181cm is clearly shorter than both Waterston and Miller, but they have higher heels.
Without big heels, she is a clear inch shorter than Redmayne:
Click Here
Even with big heels, she's never more than about 5-6cm taller than Miller or Redmayne. In those heels, she would need to clear Miller by 6.5cm and Redmayne by 7cm to be their equal.
I revise my estimate for her to a strong 178cm, putting her almost exactly 1 inch below Redmayne.
Revisionist
said on 13/Feb/17
Kam, Redmayne needs to be upgraded by 2cm, and Waterston downgraded by 2.5cm.
He's likely close to 6' flat, and she's closer to 5'10" flat.
S.J.H
said on 27/Jan/17
Shes 179cm
RainbowBlaster5
said on 26/Jan/17
Eddie Redmayne was considerably taller than her in fantastic beasts.
Kam
said on 3/Jan/17
Click Here
From the Tokyo premiere. She's wearing heels. Eddie is in regular dress shoes. He doesn't strike me as the type who would wear lifts, so either he needs a major upgrade, or she needs a downgrade to around 5'10.
Kam
said on 18/Dec/16
Leonardo, I think 5'10. Definitely not 5'11.5 because Redmayne had hear beat by about an inch and a half in Fantastic Beasts. And Redmayne does't seem the type to wear lifts.
Leonardo 1.73m
said on 15/Dec/16
She looks 5'9 in Fantastic Beast, 5'8 if she had advantage footwear.
Aaron Zamora
said on 21/Nov/16
She is not this height rob! Eddie redmayne edges her out I saw their new movie today fantastic beasts and where to find them!
Axaros
said on 29/Dec/15
Rob, why do you think she's 5'11.5"? Can she be really so tall?
Editor Rob: I think she could pull that mark off.