Kevin Pietersen's Height
6ft 4 (193 cm)
South-African born former English cricket player. On his website, he used to list his Height as being 6ft 4 and Weight as 14 stones, 9 pounds (205 pounds). In this photo I had about 0.3 inch more sneaker than him.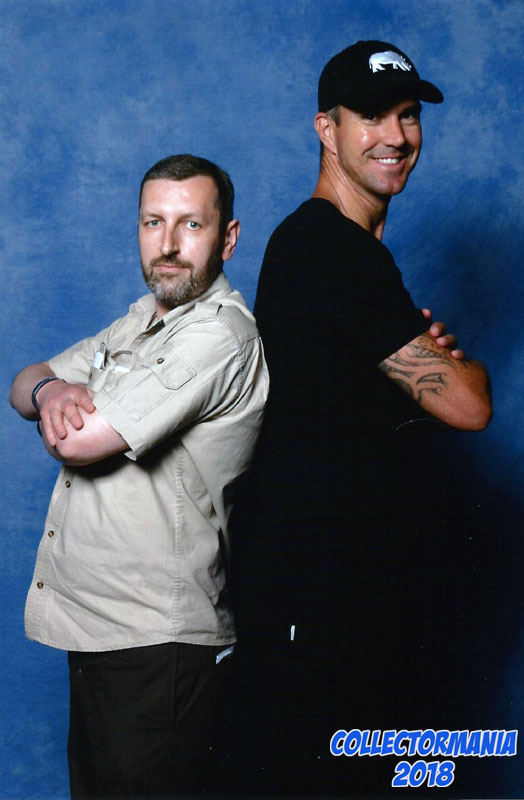 Add a Comment
57 comments
Average Guess (27 Votes)
6ft 4.17in (193.5cm)
Adrenaline Rush
said on 17/Aug/19
I always thought that just like NBA,NFL did ICC also list their players by exaggerating their height.
And yeah maybe it is true.
But Kevin is legit 6'4"
Importer
said on 13/Aug/19
@185 :)
185
said on 13/Aug/19
@Importer
I see a lot of tall guy have perfect posture. Probably some like bend their back alot to appear shorter so that became a habbit. But for sure that when they met someone about their height, they gonna stand really tall. When ever i see some tall guy, they alway stand as their tallest. It like a secret competiion between the 2.
Importer
said on 20/Jul/19
Tall guys ought to fix their posture man..it's sad. I walk in the street and almost every guy whose taller than me ( basically over 6ft ) have poor hunched posture.
Dream
said on 7/Jun/19
Stuart Broad also looked taller than Stephen Fry, so maybe 6'5.25" for him.
Robi
said on 27/May/19
Please someone help me to know billy stanlake height?
Sakz
said on 8/May/19
I'd say around 6'5 for Broad, and his thin frame aids him in looking taller.
Robi
said on 6/May/19
Rob how tall is stuart broad?I think he is taller Kevin pietersen?you can find both of them picture.

Editor Rob
He does look taller, but I'm sure Broad claimed 6ft 6 - it's too much I feel!
Robi
said on 11/Apr/19
Hi rob, how tall is virat kohl? Please add him? All height interest indians want to know this? He is the legend in cricket game?
Harry 2k20
said on 6/Apr/19
@tudu
Yes Stanlake is very tall and probably in the height range of Jason Holder who is also his height.
I remember a commentator saying Stanlake is 7 feet tall LOL!
Tudu
said on 30/Mar/19
Hey someone knows the cricket player called billy stanlake? He is very tall and lanky.
Sakz
said on 25/Mar/19
Definitely doesn't look under 6'4 everytime I've seen him. A fraction over isn't impossible either.
Jdubbz 196cm
said on 25/Mar/19
@Christian:
For some reason I thought this was a 7.75 - 8 inch difference rather than 7.5. Maybe his hat is throwing me off
Christian 6'5 3/8
said on 19/Mar/19
@Jdubbz
The difference between Kevin and Rob doesn't look any more than 7.5", especially when you consider Rob's slightly worse posture. It could even be 7.25" as well. So lets say he looks around 6'3.5", but has 0.3" less footwear than Rob, and that would put him at 6'3.75"-6'3 7/8". He doesn't look any higher than 6'4" for sure.

Editor Rob
I'd be more surprised if he was 6ft 3.75 than 6ft 4 and a little fraction.
Jdubbz 6'4 3/4"
said on 18/Mar/19
@Christian:
I wouldn't even go that low. I think worst case is 6'3 7/8 - 6'4 flat, best case is 6'4.25.
Rory
said on 13/Mar/19
Rob, how tall do you think Stokes to Pietsersens right looks in this picture ? I'm thinking 6ft1 range.
Click Here

Editor Rob
Pretty close to 6ft 1 that moment.
Shashank 6'3 3/8
said on 9/Mar/19
I guess ishant sharma is taller than KP.
KP i believe is solid 6'4 not any lower than that.
Sakz
said on 23/Feb/19
@Rory Definitely not 6'1. I'd say he's somewhere around 5'11.5. Next to KP he looked over 4 inches shorter.
Rory
said on 22/Feb/19
I think Ben Stokes is 6ft1. I've seen him typically listed 6ft but looks taller than that with other England players and in person I felt he was around 6ft1.
Christian 6'5 3/8"
said on 16/Feb/19
@Peter
Worst case for him is 6'3.75" but not lower than that. He looks about 7.5" taller than Rob but has 0.3" shoe disadvantage.
Peter 180cm
said on 15/Feb/19
Looks 192cm all things considered.
Robin hood
said on 9/Feb/19
Hey rob,how tall is Ben stokes beside Kevin Petersen? He is listed at 183 cm in google sites?I feel he might be taller that? Please tell.

Editor Rob
Unfortunately I havent seen enough of Ben to tell if he's over 183.
FidaKhan
said on 15/Jan/19
Rob please make a page on Akshay Kumar a famous indian actor
World Citizen
said on 13/Jan/19
Listing is great.
Ravi
said on 3/Jan/19
So rob,now I desperately want to list Chris gayle (cricketer)height on celeb height?

Editor Rob
I am not sure on Chris.
Ravi
said on 1/Jan/19
How tall is Chris Gayle compare to Kevin Petersen rob ? He is listed at 188 cm?

Editor Rob
He looks taller than 188 beside Kevin, nearer 190cm.
Jdubbz
said on 17/Nov/18
Touch over 6'4 imo. 6'4 1/8 - 6'4.25.
Dream(5'9.5")
said on 30/Jul/18
He's probably a guy who could be more 6'4 1/8" than 6'3 7/8".
reed
said on 19/Jul/18
Rob, plz add virat kohli very famous Indian cricketer he around 5 ft 9 what your option on him ..see him next to his lady anuskha sharma
Dream(5'9.5
said on 14/Jul/18
Rob, would you say Kevin looked taller than a David Hasselhoff when you met them?

Editor Rob
Kevin had less footwear than me, Hoff had more footwear than me.

I'd say kevin would measure slightly taller than Hoff.
Sakz
said on 8/Jul/18
@MAD SAM Yeah he's quite honest but commentators in cricket tend to inflate players (like most sports I guess), although I think sometimes it's also because they aren't very height aware. For example they've referred to some players as being 7'0 when they're nowhere near it.
MAD SAM
said on 8/Jul/18
One of my favourite batman, there's no way he's lying he's a very honest man at clean 6'4" at 193.5 cm
Sakz
said on 7/Jul/18
Rob I think you missed my last comment but are there any other cricketers you know of or feel may deserve a page?

Editor Rob
I am really not as familiar with cricket beyond a few of the bigger names.
Sakz
said on 2/Jul/18
@Rob Out of interest are there any other cricketers you're familiar with or feel may deserve a page?
Nik
said on 2/Jul/18
Convincingly 6'4"!
184guy2
said on 1/Jul/18
@Rob , could you add the height chart ?

Editor Rob
since folk are copying them to other sites I'm not so sure about that, they are meant for celebheights only.
Dream(5'9.5
said on 25/Jun/18
Oh! That is true too. Colin could give a taller impression, but I trust you on this. He does look a good 6'4" guy here and with Anthony Joshua.

Editor Rob
Yeah I would say a classic 6ft 4 guy, taller than 6ft 3.5 for certain.
Dream(5'9.5
said on 24/Jun/18
He looks similar to how Colin Salmon looks with Rob, except less footwear.

Editor Rob
I think Kevin is standing better than Salmon did, because Colin did look a big 6ft 4 range.
Bean
said on 22/Jun/18
Thnx rob for adding KP hope you will add more cricketers in future like virat kohli,Steve smith,alastier cook some major players
184guy2
said on 15/Jun/18
Looks no taller than Guy Henry
M Anas Jamshed
said on 14/Jun/18
Rob,KP is almost 6 inches taller than you so how could he is 6'4? i think he is 6'2 or 6'3(max)

Editor Rob
I think I'd say that was more than 6 inches.
Trust me, Kevin is a good example of a real 6ft 4 guy.
Aman patel
said on 13/Jun/18
If you wanna add more cricketers here's my picks:
1. Andrew Flintoff - 6'3.5
2. Ab de Villiers - 5'11
3. Virat Kohli - 5'9
4. Wasim Akram - 6'2
5. Chris Gayle - 6'2
Big T
said on 12/Jun/18
A very solid 6'4" who if anything might be a fraction over. He's the type of guy who embarrasses someone like "6 foot" Shane Warne by clearly being 5.5-6 inches taller.
Rob, you should google "Will Smith Kevin Pietersen"- what do you make of their pics together? I am struggling to see Will as even 6'1" with big KP.

Editor Rob
He could be 6ft 1 with him
Alex 6'3.25
said on 12/Jun/18
With a perfect posture he should be 6'4. Yep, 6'4 is fine.
Junior Hernandez 1990
said on 12/Jun/18
Look at least 6'3 5/8 (192)
Christian-6'5 3/8"
said on 11/Jun/18
6'4" is fine
Andrea
said on 11/Jun/18
Hard to say where the top of his head is with the hat, but somewhere near 6'4 is believable here, especially considering his footweard disadvantage. At worst a fraction under.
Zahid
said on 11/Jun/18
@Rob: I remember you had Joel Garner listed before. Am I correct?
KP is 6'4" at the very least. He is very close in height to Ishant Sharma, who is about 6'4.5":
Click Here

Editor Rob
I've never had Joel on the site.
Mahesh jayan
said on 11/Jun/18
What difference do you see b/w him and Abhishek bachchan Rob
Click Here
Do you think Abhisheks listing is perfect based on these pictures

Editor Rob
Certainly Abhi claiming 6ft 3 is way too much, he can look 6ft 2 at most, maybe even under that.

Agent Orange
said on 11/Jun/18
Solid 6'4 without great posture in the photo with Rob.
Aman patel
said on 11/Jun/18
193 cm seems legit so,Nice listing Rob, Looks at least 5 inches (i personally thought the gap was almost 6 inches)taller than 5'11 Rahul Dravid(Indian Cricketer). Btw will you be adding more cricketers in near future.

Editor Rob
I'm not sure, I'd like to meet more in the future.
Micky
said on 10/Jun/18
Yeah, looks close to this here.
jessman
said on 10/Jun/18
He always looks a solid 6'4. During his playing days with England he edged Flintoff, sometimes looked close to one inch taller. Could possibly be 6'4.5? Flintoff is more of a weak 6'4 and maybe 6'3.5 is better for Flintoff. Saw KP on Graham Norton recently and John Cleese was also a guest. Graham got the guests to stand up and KP seemed to have the edge on JC.
joe###
said on 10/Jun/18
No look 6'4
Sakz95
said on 10/Jun/18
Good addition Rob. I believe this is the first cricketer you've added 👍.
Sandy Cowell
said on 10/Jun/18
A cricketer at a comic convention! That's cool!
Kevin gets a cool 6ft4 to boot!
Zampo
said on 10/Jun/18
I was actually going to request him a month or so back. I think he is the first cricketer listed on celebheights which is a little surprising, with the likes of Andrew Flintoff and a few other popular names.
On the photo he looks 6'4 range to me and that's the height he has been listed at during career.

Editor Rob
I never got any cricketers in the past, well there were never many ever at events, but Kevin was a well-known name in cricket and a tall guy too.

I don't know if he was having a joke but he didn't seem to understand me asking to do a back to back...😄 He was caught by surprise...