Kevin Pietersen's Height
6ft 4 (193 cm)
South-African born former English cricket player. On his website, he
used to list
his Height as being 6ft 4 and Weight as 14stones, 9 pounds (205 pounds). I met Kevin at a Birmingham Comic Con in 2018, I had 0.3 inch more sneaker than him that day.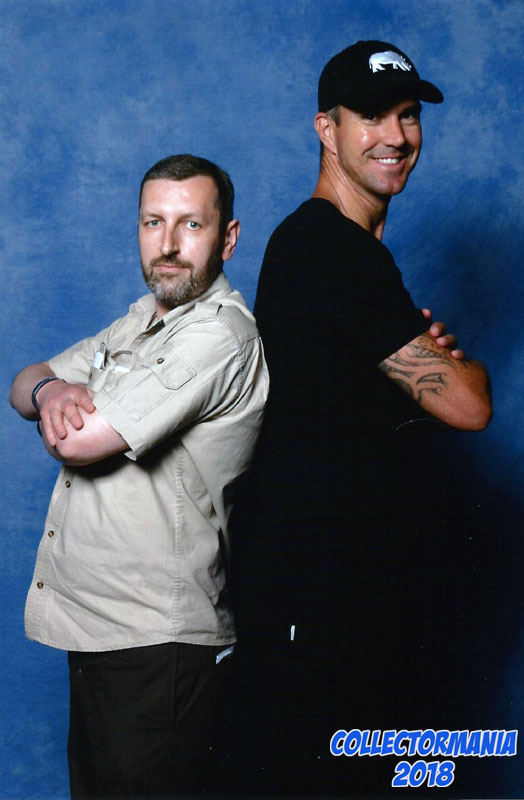 5ft 8 Rob and Kevin
Add a Comment
18 comments
Average Guess (15 Votes)
6ft 3.97in (193cm)
184guy2
said on 15/Jun/18
Looks no taller than Guy Henry
M Anas Jamshed
said on 14/Jun/18
Rob,KP is almost 6 inches taller than you so how could he is 6'4? i think he is 6'2 or 6'3(max)

Editor Rob
I think I'd say that was more than 6 inches.
Trust me, Kevin is a good example of a real 6ft 4 guy.
Aman patel
said on 13/Jun/18
If you wanna add more cricketers here's my picks:
1. Andrew Flintoff - 6'3.5
2. Ab de Villiers - 5'11
3. Virat Kohli - 5'9
4. Wasim Akram - 6'2
5. Chris Gayle - 6'2
Big T
said on 12/Jun/18
A very solid 6'4" who if anything might be a fraction over. He's the type of guy who embarrasses someone like "6 foot" Shane Warne by clearly being 5.5-6 inches taller.
Rob, you should google "Will Smith Kevin Pietersen"- what do you make of their pics together? I am struggling to see Will as even 6'1" with big KP.

Editor Rob
He could be 6ft 1 with him
Alex 6'3.25
said on 12/Jun/18
With a perfect posture he should be 6'4. Yep, 6'4 is fine.
Junior Hernandez 1990
said on 12/Jun/18
Look at least 6'3 5/8 (192)
Christian-6'5 3/8"
said on 11/Jun/18
6'4" is fine
Andrea
said on 11/Jun/18
Hard to say where the top of his head is with the hat, but somewhere near 6'4 is believable here, especially considering his footweard disadvantage. At worst a fraction under.
Zahid
said on 11/Jun/18
@Rob: I remember you had Joel Garner listed before. Am I correct?
KP is 6'4" at the very least. He is very close in height to Ishant Sharma, who is about 6'4.5":
Click Here

Editor Rob
I've never had Joel on the site.
Mahesh jayan
said on 11/Jun/18
What difference do you see b/w him and Abhishek bachchan Rob
Click Here
Do you think Abhisheks listing is perfect based on these pictures

Editor Rob
Certainly Abhi claiming 6ft 3 is way too much, he can look 6ft 2 at most, maybe even under that.

Agent Orange
said on 11/Jun/18
Solid 6'4 without great posture in the photo with Rob.
Aman patel
said on 11/Jun/18
193 cm seems legit so,Nice listing Rob, Looks at least 5 inches (i personally thought the gap was almost 6 inches)taller than 5'11 Rahul Dravid(Indian Cricketer). Btw will you be adding more cricketers in near future.

Editor Rob
I'm not sure, I'd like to meet more in the future.
Micky
said on 10/Jun/18
Yeah, looks close to this here.
jessman
said on 10/Jun/18
He always looks a solid 6'4. During his playing days with England he edged Flintoff, sometimes looked close to one inch taller. Could possibly be 6'4.5? Flintoff is more of a weak 6'4 and maybe 6'3.5 is better for Flintoff. Saw KP on Graham Norton recently and John Cleese was also a guest. Graham got the guests to stand up and KP seemed to have the edge on JC.
joe###
said on 10/Jun/18
No look 6'4
Sakz95
said on 10/Jun/18
Good addition Rob. I believe this is the first cricketer you've added 👍.
Sandy Cowell
said on 10/Jun/18
A cricketer at a comic convention! That's cool!
Kevin gets a cool 6ft4 to boot!
Zampo
said on 10/Jun/18
I was actually going to request him a month or so back. I think he is the first cricketer listed on celebheights which is a little surprising, with the likes of Andrew Flintoff and a few other popular names.
On the photo he looks 6'4 range to me and that's the height he has been listed at during career.

Editor Rob
I never got any cricketers in the past, well there were never many ever at events, but Kevin was a well-known name in cricket and a tall guy too.

I don't know if he was having a joke but he didn't seem to understand me asking to do a back to back...😄 He was caught by surprise...