American actor best known for roles in TV series such as Band of Brothers, Oz, Fringe, 12 Monkeys and appearences in films such as Dawn of the Planet of the Apes and The Thin Red Line. He mentioned his weight on twitter:
"I'm used 2 running at 152-158lbs Put on 2 much muscle I'm 165-168"
and in 2019 said
"I'm 5"10 and 170 pounds shredded."
. In 2021 he tried to claim
5'11
.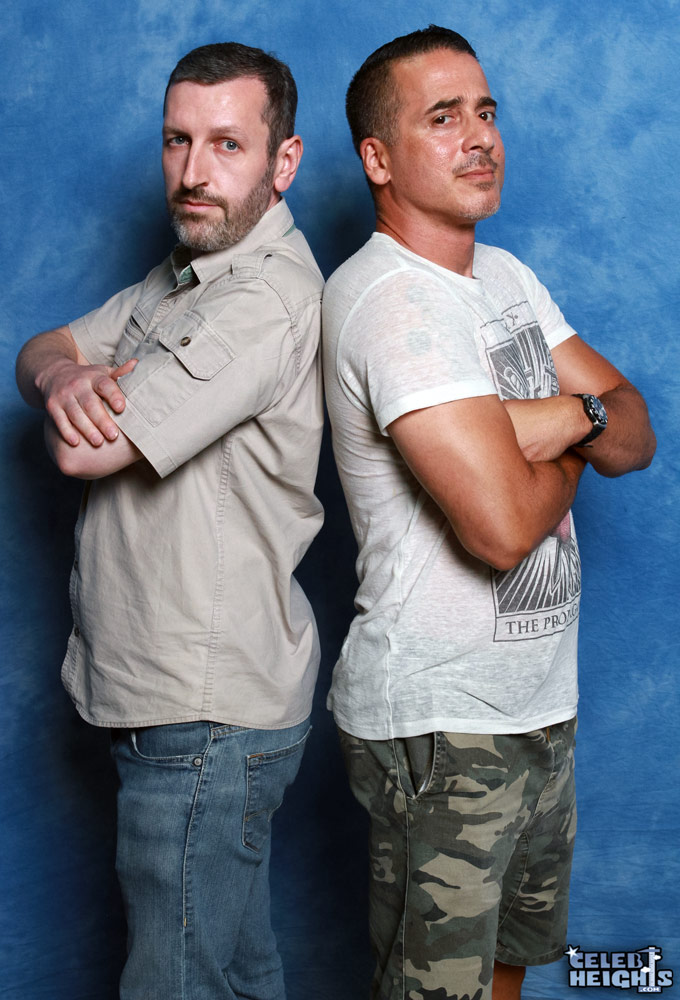 5ft 8 Rob and Kirk @ LFCC, July 2019
I'm 5'10 and 1/2. If ya wanna be specific.
-- Twitter, 2021
Savagetez
said on 1/Mar/23
Rob you are 5'10.5 range if this guy is 5'11 lol!!!!!
Slim1.75m
said on 7/Feb/23
I Believe that title belongs to liam payne.
5'7 and a fraction
said on 1/Feb/23
This guy isn't the ultimate A-hole by any chance Rob?

Editor Rob
No, just an actor with an interesting height claim.
Eric W Tam
said on 15/Jan/23
Not 5'11 but he looks a stronger 5'9 imo.
Slim1.75m
said on 18/Nov/22
Hey Rob what did you men by he tried to claim 5'11?

Editor Rob
Well he tried to claim it and hoped I wouldn't call it out...5ft 11 barefoot is impossible.
Hyper
said on 9/Aug/22
Rob, this may sound arrogant but do you think I could edge this guy out?

Editor Rob
If you don't fall under 5ft 9, yeah I think you would measure taller.
Duhon
said on 28/May/22
If this guy will lie about his height what else would he lie about?

Editor Rob
Say a height long enough and you start to believe it.

One other actor said this same thing "I lied about my height for so many years. I almost believe I'm 5-foot-8½ instead of 5-foot-7" - John Mills.
IceCold
said on 13/Apr/22
1 cm taller than Rob
khaled taban 5ft9
said on 26/Mar/22
174-174.5 cm
Hattie
said on 24/Mar/22
Adding around 2 inches to his claim.
Original
said on 20/Feb/22
5'8.5", maybe 5'8.75, but thats it.
Andrea
said on 23/Jan/22
Big LOL at his claims!
I'm gonna stick to my old 5'8.5 (tops) estimate, with 5'10.5 likely being another 2-inch claim (and 5'11... pure greed xD).
Btw, Rob, is there a particular reason why you only posted the pic on YT? :)

Editor Rob
It was a Youtube Bonus. A 5ft 10.5 and 11 claim is outrageous for Kirk.
MaskDeMasque 5'9.5
said on 27/Oct/21
I remember this guy from Oz. He looked around 5'9 in it. 5'8.75 is fair.
josh b
said on 4/Sep/21
Bumped his ludicrous claim up to 5'11 on twitter, what's next six feet? :D

Editor Rob
He's claiming a taller height than yourself...which is of course eye-opening.
slim 6'1
said on 29/Jan/21
Listing seems close enough, looked below average but not short in arrow
Slim 6'1"
said on 3/Aug/20
174.5cm like 10cm between him n amell
Vexacus
said on 3/Apr/20
This guy was also on The Walking Dead , his body shape helps him to not look short . I think 5ft 8 ¾ is spot on.
Jkiller
said on 11/Mar/20
5'8 and a half.
Heller
said on 4/Jul/16
He's taller JK Simmons wearing flat low top shoes and hbo oz was filmed at 6pm so there is some change of height morning height to afternoon. My guess he is very weak 5'10 morning and weak 5'9 in late afternoon. For a Hispanic actor in 90s he is considered tallish.. 178cm morning and can go to inch and half 175cm I think he does not like wearing thick heels.
Paul872
said on 29/Jun/16
I saw him at the mall back in March last year. He's solid 5'9 guy somewhere between 175-177 cm.
Heightguy
said on 24/Feb/16
This guy doesn't care about his height though
5"8 or 5"9
Dame
said on 19/Feb/16
He always wore flat shoes so it appeared. He is either 175.half flat.
Andrea
said on 10/Jan/15
Rob, he actually can look no less than 4-4.5 inches shorter than Dean Winters in Oz! But again Dean looks nothing over 6' with Lance, even if he can look very similar to Adewale, taller than Eamonn Walker,...
Sam
said on 29/Dec/14
Could you add The Walking Dead to his TV credits? This looks a pretty accurate listing.
Andrea
said on 27/Dec/14
Yeah, 5'8-5'8.5 seems his range! In Oz he can look a bit shorter but he wears converse a lot so he could have some disadvantage next to the other "inmates"...