Lainie Kazan's Height
5ft 5 (165.1 cm)
Peak height was 5ft 7 (170.2 cm)
American Actress and Singer known for appearing in My Big Fat Greek Wedding and Beaches. A 1965 news article mentioned she is
"five feet eight, and likes to keep her weight in the 135-pound bracket"
.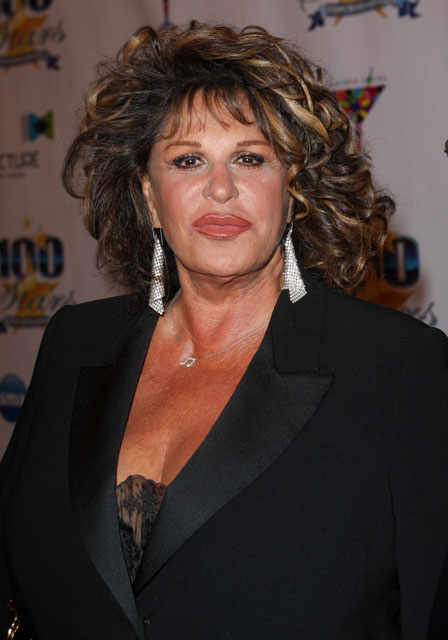 Photos by PR Photos
Add a Comment
41 comments
Average Guess (1 Votes)
Peak: 5ft 7in (170.2cm)
Current: 5ft 5in (165.1cm)
All wrong - it was 173cm
said on 4/Apr/14
All wrong - it was 173cm. Read the autopsy report.
All wrong - it was 173cm
PolaccoGuerrilla
said on 30/Mar/14
Che was no higher than 170cm. This +5cm is just a lie, as in case of many celebrities who are 170 but want to be higher above. Short stature is not a shame, it is pride, while people of high stature are usually not as good in sex, have wicker physical condition, and are flegmatic.
dejan
said on 2/Sep/13
Tito was 170 cm and on this picture Che is couple of centimeters taller. My guess he was 172-173 cm...
Click Here
Chris
said on 21/Aug/13
I was in his memorial and museum of Che in cuba and it said in his papers 1.72cm (5'8)
Ania
said on 11/Feb/12
I think he's 178 cm (5' 10'').
john
said on 13/Jul/11
remember that Castro's father is from Spain (Galicia) so he has european genetics, he is mix cuban
Charles
said on 15/Jul/08
That is absolutely ridiculous. Not much taller than 1,60m? That is 5'5"!!! No way in hell he was 5'9"... Look at his pictures around Fidel, who WAS around 190 cm (6'2
Anonymous
said on 25/May/08
Che is listed from 5'8 to 5'11 he def was not over 6 ft he was about 3-4 inches shorter than Fidel so i would say 5 10 3/4 5 11
glenn
said on 5/Apr/08
i never heard of this person.
Che height
said on 3/Apr/08
i think he was from 173 to 175 cm, so i prefer take the average of these suggested heigts putting him at 174,(possible 173 cm without boots on) don't forget the average height of that time was i think about 5 7" for a male, so it's why he towered over the crowd, and u can see also the camera angle that advantages him in many cases, and also don't forget he wears constantly military boots, that gives him some height...what do u think Rob and Glenn and readers too? thanks...
G-unit
said on 1/Jun/07
doesn't 5'9 sound a bit short for che? Give him atleast 5'10, I don't really believe the autopsy.
macgog
said on 7/Jun/06
oops here is the link to the picture of Castro and Stone
Click Here
axe
said on 3/May/06
castro is wearing ridiculously high platforms and is not even close to be 1.90m.
Che's daughter is around 1.60m and according to her, her father was not much taller.
hombre
said on 23/Mar/06
I don't think he looks 180 cm in these pictures with Fidel.
Click Here
Click Here
hombre
said on 17/Mar/06
Found another picture,better than the last one I posted.
Click Here
hombre
said on 16/Mar/06
Here is a picture with Fidel and el Che,both standing.
El Che to the right.
Click Here
Glenn
said on 12/Mar/06
And these autopsy measurements can be shady,with tupac at 6 feet!
Glenn
said on 12/Mar/06
Nixon was 5-11.my guess is castro was 6-2.che 5-11.I just coincedently watched a bio.he didnt look short.not even in his body veiwing
hombre
said on 21/Feb/06
Oliver Stone and Fidel. According to this site Oliver is 183 cm.
http://www.amnation.com/vfr/stone%20and%20castro.jpg
Fidel,185 cm?
Gotxo
said on 2/Feb/06
Anshelm, maybe you're right.
I've seen some photos of him next to Chaves, andalucian president (Not Chavez the venezuelan leader) who's 5'11" and Castro looks not much more than 6'1". Also i've found that he's not that much taller than the Spanish president Rodriguez Zapatero, who's 184cm. So he might be near 6'2"-6'3". I'm collecting evidence before posting a simple rough guess.
hombre
said on 2/Feb/06
Here is a picture of him, standing besides Nikita Khrushchev(160cm).
http://www.libertaddigital.com/fotos/noticias/sucheguevarakruschev.jpg
JR
said on 1/Feb/06
Che was 5'5" at the most. Even in military boots, he looked no taller than 5'5". He was historically known to be short, handsome, and charismatic. He seems to have short legs, short waste-line, and short arms in his photos.
Nixon's 5'11" listing is also exagerated. Nixon was more like 5'7". He was noticably taller than the Russian and Chinese leaders (Mao, Kruschev, and Breshnev at 5'3" range), but not 8 inches taller than those men.
Anshelm
said on 10/Jan/06
Gotxo, I only used the pics available here, and hinted that I could be wrong. As for Cuban average height I found this:
http://home.erin.toronto.edu/~arvand/Average_Male_Height.html
If this information is correct (I know that Finnish men averaged 179.2 cm/5'10.55" in 1998, so the figures may not be the most recent ones), I'd say 185 cm is pretty noticeable around a crowd averaging 174 cm/5'8
hombre
said on 8/Jan/06
Rob: How tall do you think Che Guevara was? :)
hombre
said on 12/Dec/05
Che was around 173-175 cm for sure.
Gotxo
said on 11/Dec/05
Anshelm, what do you think 6'1" for a cuban? Obviously is tall, but nothing exceptional. Castro is a person that towers over people in almost every image you can get of him along other people. That's imposible for a 6'1" one. 6'4" is very possible.
Anshelm
said on 11/Dec/05
Says here (picture caption text) that Castro's 190 cm/6'2
Anshelm
said on 11/Dec/05
Hmm, I get 180
Gotxo
said on 9/Dec/05
Mr.R. I suggested shyly a comparation between Che and Castro in terms of height cause the last is still alive and is famous. Do note the way i did, i meaned i wasn't comparing them in terms of dids and achivements, Che is avobe reality now.
Castro could be 6'4" w/outh promblem, some Cubans are huge, i saw a list of
cuban terrorist born between 1920-1940, the half where 5'6-5'8" a 40% 5'11-6'1"
and they where 3 of 6'3" born in the 20's decade.
Mr. R
said on 9/Dec/05
Fidel is definitely over 6 feet, and Che does not seem 4 inches shorter in the first pic.
The funny part: Benicio Del Toro was just signed to play the lead in the new biopic of Che. Of course, Benicio is about 6'2", so Hollywood will once again "stretch" the truth!
Gotxo
said on 8/Dec/05
I like your cautios aproach Rob, yes i suggested Castro to compare el Che because he's one of the few famous and still alive guys that shared protagonism with him im photos. People here took seriously that task and had done it all. Sadly there aren't any neutral reports on Castro's height, and we know they can be biased due to cuban regimen propaganda. Whatever is the case El Che looked conveys an image a lot closer to 5'11" than to 5'7".
THNX for your serious & impartial treatment to the case. :D
[Editor Rob: I don't rule out 5ft 10...that might actually be the closest for Che, it's just hard to find any people too compare the guy against...apart from Castro.]
Gotxo
said on 8/Dec/05
A nice effort from you hombre. Great quality pics in terms of definition/KB.
Though from the 2nd one again is harder to judge, but as from the first one it's clear that the Che was never in hell 5'8
hombre
said on 8/Dec/05
Found some other pictures:
http://www.el-comandante.com/chef04.htm
http://www.el-comandante.com/chef13.htm
Gotxo
said on 7/Dec/05
Interesting, if both wear boots any difference between them is anulated.
In none of those pics el Che looks 5'8" but more like 5'11", the 2nd one has more quality but El Che is further away from the camera and it has some anlge in relation to ground.
The #1 has worse quality, but they are closer. Not 20cm between them even if we take Che's beret.
hombre
said on 7/Dec/05
According to IMDB, Fidel Castro is 6' 4" (1.93 m).
He is much taller than el Che for sure.
Look at this pictures:
http://www.pbs.org/wgbh/amex/castro/peopleevents/images/p_guevara_03.jpg
http://www.elveraz.com/images/MORGAN2.jpg
In the first picture we probably know that both of them are wearing boots like in the second picture. Keep that in mind. So I guess Fidel is 1.85 m - 1.90 m.
My thoughts.
Gotxo
said on 7/Dec/05
As MD requested it would be a great idea to make petitions about certain heights, it would charge you Rob with a lot of extra work. But you could pick the most desired ones. I was wondering how tall Castro is, i'm not comparing him to el Che,
but he's obviously huge. Revolutionarian heights? :P
hombre
said on 7/Dec/05
Well,he is around that height for sure.
I do wonder if they did measure him with boots on or without?
Antonio
said on 6/Dec/05
In his death confirmation, is only an approximation. And he did have Irish ancestery. Like Gotxo said, he came from an upper class family.
hombre
said on 6/Dec/05
Yup,if you look at several pictures with Che and a group of people. He is for the most part the tallest one.
Gotxo
said on 6/Dec/05
Yes, the usual iconography gives him a lanky frame and a tall image.
At IMDB his given height was 182cm!!! Dunno what to say, but coming from a rich family he had the chances to become tall.
Anyway as hombre said he was tall for his time.
hombre
said on 5/Dec/05
He was pretty tall for his time.