Linda Barker's Height
5ft 7 (170.2 cm)
British television presenter. In Now Magazine in 2013 her height/weight was given as 5ft 7 and 8st 12lbs.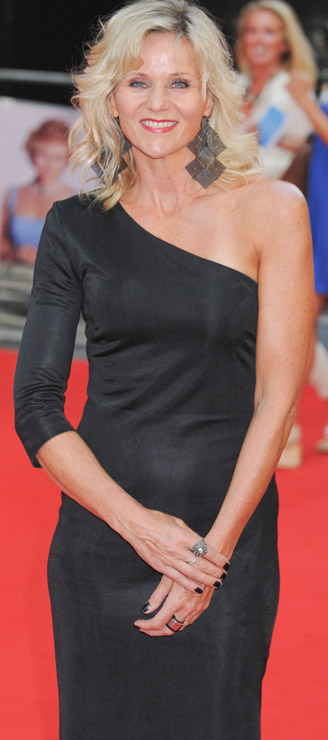 Photos by PR Photos
Add a Comment
10 comments
Average Guess (3 Votes)
5ft 7in (170.2cm)
Nik
said on 7/Apr/18
@ Sandy Cowell
I can imagine that Linda did cheer up the camp on "I'm a Celebrity...", she does have a friendly look about her! She is an interesting celebrity and I have done some research about her on-line!
Linda was born in Shelf, on the outskirts of Bradford, and attended Bradford Girls' Grammar School before embarking on a career as an interior designer, in fact it is a coincidence that she is from somewhere called Shelf with her then ending up choosing this career path! Interestingly Linda has designed and advertised beds for DFS, talking about DFS adverts, adverts from this company seem to be on the television all the time these days!
She has also appeared on television a lot as a prominent TV presenter and she took part in "Splash!" on ITV in 2013, mentored by Tom Daley!
It is so true that our heights govern how well and how smoothly we can operate within our own homes and things do seem to be designed more for the average sized adult in mind! A job like washing the dishes is accomplished more easily if someone comes up to an ideal position in relation to the sink!. I can only hope that doing the dishes in high heels makes this task easier for those women! How many women do the dishes in heels, I would love to know!
It sounds like a good idea for you to wear those shoes you mentioned about, they will certainly be a benefit to you when you want to reach for things which are high up on shelves. Also you said about your leg being painful still, is it a lot less painful than it was before your operation?
The word "dinky" sounds really nice and quaint, I think I would have looked dinky in the company of your friend Pam and the 6'4" man, particularly if Pam was wearing heels! Also you recently commented on the page of a lady called Pam Stone (Boy, I had to scroll a long way back through the new celebs to check out her surname!) who is 6'1", she would make many a person look dinky, but I prefer the word average myself!
Good Evening!
Sandy Cowell
said on 4/Apr/18
@ Nik - I agree 5ft7 does sound a nice and elegant height. I don't doubt that Linda is that either. I started liking her when she was in 'I'm a Celebrity...' and she made the whole camp look cheerful! I thought she showed a lot of ingenuity and she was always even-tempered, which is more than can be said for some of the contestants!
I wonder how many women actually do their washing-up wearing high-heels? Even at my height, it would present problems because I'm so used to where I come up to on the sink! Actually, now that I mention it, I have done it in high shoes and it wasn't the breeze it usually is! It's amazing how we get used to our heights, isn't it; it effects how we position ourselves when we get in and out of the bath, when we climb stairs and when we reach for things! That is why I noticed I was shrinking, having got used to my eye levels on my mirrors, and when I reached for cups and plates etc., I had to go on tiptoe far more than usual! What is useful to know is that I have an extremely comfortable pair of shoes which make me 5ft3, and I must try wearing them round the house in order to do the things I did before I shrank... unless I regain the height again. I might well try that when my leg isn't so irksome! Yes, it still hurts!
Thanks for liking the word 'dinky'! I hadn't used it in ages! My friend Pam, who was 5ft10 and didn't like it much, used it to describe me in a conversation involving her, a 6ft4 bloke and me! I could hardly argue with that!
Cheers Nik! 👍😁
Nik
said on 3/Apr/18
@ Sandy Cowell
Too true Sandy! In fact it can beggar the question, "Is she really 5'7", or does it just sound nice?! In most cases though a lady who is listed at 5'7" will be this height! I know that you have joined me in estimating Linda to be 5'7", I have seen pictures of her on-line and I must say that 5'7" is a very good call for her height, she is very attractive too! I agree with you that some 5'7" women do look dinky on TV, I like the word "dinky" so 👍 to you for that! I don't know what causes some of them to look dinky, it is probably their builds like you said! I also think that the contestant who towered over Linda on that particular edition of the show would make men of average height look dinky!
So Linda, like myself, is slightly smaller than a man of average height, but she would tower over me in her (Killer!) heels! However her high heels aren't part of her body and all men should realise this when they are unfairly compared to heel wearing ladies in terms of height! In any case we all are how we are and no level of height is better or worse than any other, for men and for women! Everybody in the world needs to realise this!
So a heel wearing Linda Barker would make me look dinky, and she in turn looked dinky compared to that particular male contestant on "Who's Doing the Dishes"! So you could say that this gentleman would give me a "double towering"! Not that I care!
Cheers!
Sandy Cowell
said on 2/Apr/18
@ Nik - Yes, he was, but who he was, I don't know! I don't generally watch 'Who's Doing the Dishes', but sometimes I catch the tail end of it when I want to see the repeat of the Soaps!
I'm often rather surprised at how dinky some 5ft7 women appear on TV, but that probably has a lot to do with their builds as well!
Nik
said on 1/Apr/18
@ Sandy Cowell
He must be very tall indeed if he towers over Linda when she's wearing heels! I would look tiny next to this man too, bearing in mind that I am Linda's height and I don't wear heels!
5'7" is liable for Linda!
Sandy Cowell
said on 28/Mar/18
I'm looking at her at the tail end of an edition of 'Who's Doing the Dishes'! There must be a very tall bloke among the contestants, because 5ft7 Linda looks tiny next to him - AND she's got heels on!
5ft7 it is then!
Arch Stanton
said on 20/Oct/16
Always came across as overconfident and annoying on TV I thought.
M
said on 10/Aug/15
Yes she is the one of very few females, who is very honest about her height.
jazz
said on 28/Nov/14
She says herself she is 5'7. But she is one of those celebs who
underestimates here height . She is at least an inch taller
than 5'8 Gabby Logan and on Im a Celebrity get me out of here
she was at most 3 inches shorter than 6'1 John Fashinu . Come
to think of it she could be 5'10 .
JED
said on 5/Nov/14
Looking at her in photos standing beside 5'8 Gabby Logan and Tara Palmer Tomlinson she looks about an inch taller . I think she could be 5'9.