Lisa Origlasso's Height
4ft 11 ½ (151.1 cm)
Australian Singer from The Veronicas. I think Lisa is the shorter than twin Jess. Both look very short. Maybe Jess is close to 5ft 1.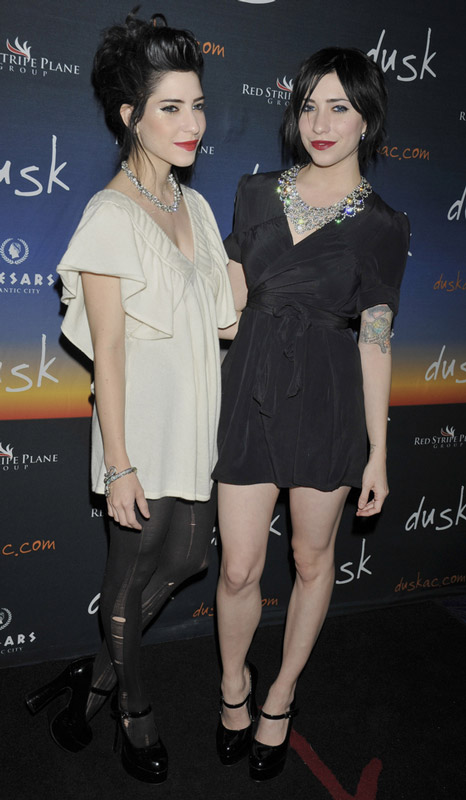 Photos by PR Photos
Add a Comment
20 comments
Average Guess (2 Votes)
4ft 11.75in (151.8cm)
lee168cm
said on 1/Jul/18
If Jess is near 5ft 1 I'd guess ruby rose was 5ft 7.5 ruby looks a good 7 inches taller in photos
lucy
said on 21/Sep/14
I think this listing is accurate. In a few news articles Lisa is quoted to have said "[Jess and I] are barely five foot and our mum's even smaller." Here's a link: smh.com.au/news/people/veronicas-lisa-gets-engaged-to-her-idol/2008/04/28/1209234732356.html
lara
said on 22/Jul/14
A friend of mine met them back in 07/08, stood right next to them and got a photo with them. My friend is 5"0 and said both Lisa and Jess were very small, they were about three inches shorter than her and said she was looking down at them. She said neither of them could be over 4"10.
Bill
said on 19/Oct/11
Mary please lol i have met them both Lisa is a sweetie and she is 4'11 Jess is a tiny bit bigger 5'0 maybe 5'1
Mary
said on 6/Mar/11
This is wrong. Lisa is 5'1" and Jessica is 5'2" 1/2.
Magickster
said on 4/Feb/11
My siblings went to high school with them and while they are short, 4'11 is ridiculous. A little over 5 foot each.
charlie
said on 4/Jun/09
i read in a magazine that they are 153(lisa) and 154(jess) and they do seem kinda tiny. though i thought they were taller. i'm also a really short girl, i'm 151, but i'll keep growing, though i wouldn't like to be much taller. maybe 155 MAX. before i really had a problem with my height, 'cause all of my friends are much taller then me, but i noticed that most celebs are short and most of the ppl i admire and my role-models are short, so i don't really have a prob with that anymore... i'd like to stay short. i can always wear heels... :D ::))
carla
said on 1/Oct/07
I remember they went on a TV show once and everyoen made fun of their heights, and considering people like Hilary Duff and Shakira are 5"1, they must have been INCREDIBLY short.
Jayde
said on 3/Jan/07
I live on the Gold Coast (in Austrlaia)and my friend recently saw them both in a clothes store. She said that they were extremely short, so short that she was looking down on them even though my friend is only about 158cm. So they must be REALLY short.
Karma Babe
said on 2/Nov/06
I said I saw them at a concert back in April, this time I saw them when I went to the Arias on the weekend. They are way under 5'2. Jess is taller. Both were wearing huge heels ( I saw them on the red carpet, like at least 4-5 inches, and neither came up past James Matheson's shoulder.) Now he is pretty tall, but not that tall.
Sandrine
said on 27/Oct/06
I think Jess is 5ft1 and Lisa is 4ft11. I am 5ft9,and when I saw them at a taco bell,they looked really tiny compared to me.I am a bit tall for a girl. but I like that :P
poop
said on 12/Jun/06
i was backstage at their concert once and when you like meet them and stuff, i noticed in a mirror we're the same height pretty much, I'm almost 5'1" so, that settles that dilema =]
androo
said on 8/May/06
i live in melbourne n i saw the veronicas at d vic market d other day. i'd say both are around 5'1. just a guess tho.. =) very beautiful
Karma baby
said on 28/Apr/06
I saw the veronicas almost two weeks ago in concert! They're really little, Jess is taller than Lisa though. I don't think either of them would be taller than 5'2 though.
Tarryn
said on 3/Apr/06
i saw them shopping when they were still in Australia, and i can tell you, they were TINY! I'm 5'4" and they were about a head shorter than me. Very beautiful though!
jess
said on 9/Mar/06
i think that the veronicas are d best i wish i could go and see them live at their concert but i cant im going to america maybe next time i can
mel0deez
said on 19/Dec/05
woahhh they ARE tiny! i thought they'd be taller than that but most celebs look taller in photoshoots and stuff than they are in real life i guess
Jess Origlasso
said on 6/Dec/05
I am the veronica's second cousin (jess origlasso) and i can tell you that Jess is taller than lisa but not by much, lyk less than an inch.. thnx xox
gyllenhaalic823
said on 24/Nov/05
lol i know i saw them on TRL and alone they look tall (because they are really proportionate) but then seeing them next to dameon im like, OMG THEY'RE TINY! (actually im being a hypocrite here because im only 5'0" but im 13 and still growing!!)
sianna
said on 22/Nov/05
i new that they were short! on a site, it has the girls posted as 174cm!