Loren Gray's Height
5ft 8 ½ (174 cm)
American Internet Personality, who rose to fame via Musical.ly, gaining 18+ million followers and also 6+ million on Instagram. In 2017 she says she is standing tall at
"5'9" 😼"
and her model agency
5ft 8.5
with measurements: 34-25-35.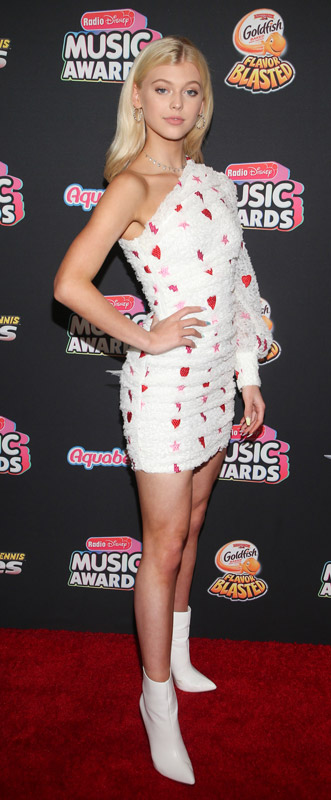 Photos by PR Photos
You May Be Interested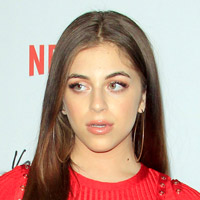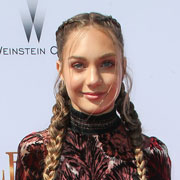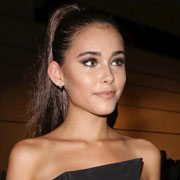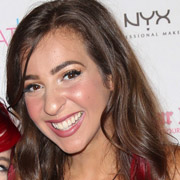 Add a Comment
23 comments
Average Guess (30 Votes)
5ft 7.85in (172.3cm)
Robert007
said on 13/Jan/20
@me myself and i
You can put any height on there
me myself and i
said on 14/Sep/19
5"9. Stated on her driver's license.
Martin Yarleque
said on 17/Apr/19
She is 5'10 she has grown since then and in many pictures you can see that she is.
madd5 d4e
said on 18/Mar/19
she doesn't look 5ft 8!!
Brynn
said on 17/Mar/19
Guys stop saying max... SHE POSTED ON HER IG STORIES SHE IS 5'8 omg
Speedy
said on 7/Jul/18
Loren confirmed on twitter that she is 5'8.5":
Click Here
Tremo Kapast
said on 14/Oct/17
She is 162cm! (5'4) Source:
Click Here
Well, this height seems to be more logical than 5'9!
Editor Rob:
I'm sure at one time in her teens she was 5ft 4, but she did look like she grew.
This girl
Alexis Joy claimed 5ft 4...I don't think if Gray is 5ft 4 that Alexis is lying 5 inches.
Siam abedin
said on 1/Oct/17
She does look pretty tall
Sandy Cowell
said on 20/Aug/17
@ Nik - What a nice comment! I've only just found it, and I'm feeling all the more cheerful for reading it! Let's see if I can do the same for you...
I bet you'd be able to create some wonderful home videos of Jasmin! Animals are all natural little actors and they look terrific when they're filmed, or photographed! Mine certainly do - ha ha ha ha ha! I used to even take photos of other people's cats before we had photo facilities on our phones!
I got tired of time after time seeing a gorgeous cat or - my favourite - lots of them together, that I decided to photo my favourites and my 'regulars'! It even helped in finding a missing cat once, as the cat's owners didn't have any photos of their ginger and white tomcat, and I did! It turned out that the cat was the father of a tortoiseshell cat who was later named 'Tortertoise', who 'adopted' me one Summer! She came more and more often for food and milk, and eventually started staying the night! The rest is history, and extremely predictable history at that!
I did once catch the most fantastic farting incident on video camera of a male friend of mine letting rip and Honey, another Tortoiseshell cat, sniffing the air afterwards! It was about as funny as a home video can get, and the bloke looked extremely befitting of such an incident, what with his long, greasy hair and biker jacket! He rode a pushbike and was irksomely smelly! I once phoned the DJ Bob Harris to tell him ON AIR that his bathwater was ready! Bob willingly obliged with the request and the said dirty person had his bath but was still smelling 😷 bad afterwards! I only came up to his shoulders, and that is where his problem area was; it's just as well it wasn't anywhere else! 😨 I really would have put my foot down then!
You say Susan Calman owns 5 cats and I think I have heard that myself, probably on an edition of 'Cats Make You Laugh Out Loud!' I mean, if you're going to be on such a show, that's exactly the sort of thing to spout off about, isn't it?
Cheers Nik and here's to a great new week ahead! 🍻
Oh, and the same goes to you Sally, if you should read this!😉
Mekas Tsim
said on 16/Aug/17
5'6 Max, she looks shorter than my mom who is 5'8.
HIbro
said on 15/Aug/17
Flamingeos has said me on Instagram he is 5'7 (in January) and a guy said in a comment on YouTube Flamingoe is something like 5'8(in june),what s your opinion @rob?
Nik
said on 14/Aug/17
@ Sandy Cowell - Hi!
Yes, the celebrities from social media are flooding onto this website! What comes to mind when you mentioned about people performing stunts. having mishaps, etc, is "You've been Framed", but like you said most of the clips involving humans are stage managed! There is nothing like seeing animals doing daft things and the natural and unmanufactured clips are always the best ones.
People also post on Facebook recordings of animals getting up to daft and amusing things, spending time with Jasmin reminds me about this but unfortunately I have never recorded her when she has done such things!
I did trawl the net after putting in a page request for Susan Calman, and I do believe that she had got 5 cats!
Loren's height is difficult to pin down in my opinion, I think that she is one of those people who could give you the illusion of being taller than what she is so I may be under the illusion she is 5'8" where as in actual fact you may be right in saying that she could be lower than this, I think she might be as low (no it is not low, it is high!) as a flat 5'7"!
Like you said, beauty comes in all shapes and sizes, and Loren most certainly is beautiful!
Cheers!
Sandy Cowell
said on 14/Aug/17
🍥 Correction Time! 🍥
and 🍥 Grammar Lesson 🍥 combined!
I wrote, by mistake I might add, 'WILL MEANS so much to them'. That is WRONG! ❌
I should have written 'WILL MEAN... Now that is RIGHT! ✔
The subject, ie 'them' is plural and that will result in the verb 'to MEAN' being written in the singular, and that is without the 's'!
Kylan
said on 13/Aug/17
It doesn't add up though. Here is Mark next to
Liam. Mark is just a little bit shorter. (Don't know footwear) but here he is next to Cameron Dallas who is listed as 5'9 and King Bach listed 5'8.
Mark with Cameron Dallas and King Bach:
Click Here
With Liam Payne:
Click Here
Sandy Cowell
said on 13/Aug/17
@ Nik - Yes, social media again!
I've just been watching a programme which consists of video clips from social media - of cats! You've probably seen that sort of thing yourself; clips of cats, dogs or humans doing daft things! I prefer the animal ones by far because they are all natural and unrehearsed.
Oh, and Scottish comic Susan was on it, talking about her catS - it was nice to find out that she has a bundle herself, but she didn't say how many!
Social media is a whole new world now and anyone can star in it, and that includes our pets!
Young stars like Loren will all want to look their best, and I did notice that she must practice her 'selfies'! The way they look will means so much to them, but it shouldn't matter a jot whether they are small or tall. That picture of Loren, though undoubtedly a very pretty one, completely obliterates any chance of her claim of 5ft9 - just look at what some other visitors have thought, and I am even thinking that 5ft8 is too tall myself now!
I might come back and vote again in a few weeks if I find any evidence in picture form or otherwise to back up that she's shorter.
But she'll still be every bit as beautiful! 👸
teez
said on 13/Aug/17
thats a tall woman
Nona
said on 12/Aug/17
Not more than 5'4"
HIbro
said on 11/Aug/17
@Rob how tall do you think Flamingeos is??
Editor Rob: not really sure on the guy.
HIbro
said on 11/Aug/17
@Rob
She looks shorter than Flamingeos Who is 5'7
Nik
said on 11/Aug/17
@ Sandy Cowell
Ha ha! I voted for this girlie-whirlie and went for 5'8.5". I think I may have over quoted her on reflection and she is probably a flat 5'8" like you said! Yet another person to become famous from social media!
👍
theL4st
said on 10/Aug/17
Rob, how tall does the boy next to her look ?
Click Here
Editor Rob: I doubt he's more than 1.5-2 inches taller, I think she is losing between 1/2 to 1 inch in posture.
Sandy Cowell
said on 10/Aug/17
Ha ha! You can tell she practices taking her selfies! She has the art down to perfection! (thumbnail picture!)
The full-lenthie is far more of a guide to our young girlie's
heightie-whitie, which I think is less than 5ft9, by a good inchie-winchie!
Loren gets 5ft8 from meezie- weezie!
Arch Stanton
said on 10/Aug/17
Would never have guessed 5 ft 9 in the above photo!! I'd have guessed 5 ft 5 looking at it, looks too short in the leg for a legit 5'9 woman here but I'll take your word for it.