Luca Argentero's Height
6ft 0 (182.9 cm)
Italian actor best known for roles in films such as The Legendary Giulia and Other Miracles, Eat Pray Love, Different from Whom? and Saturn in Opposition. He had claimed both 183 and 184cm and on his imdbResume had 6ft 1/176 pounds.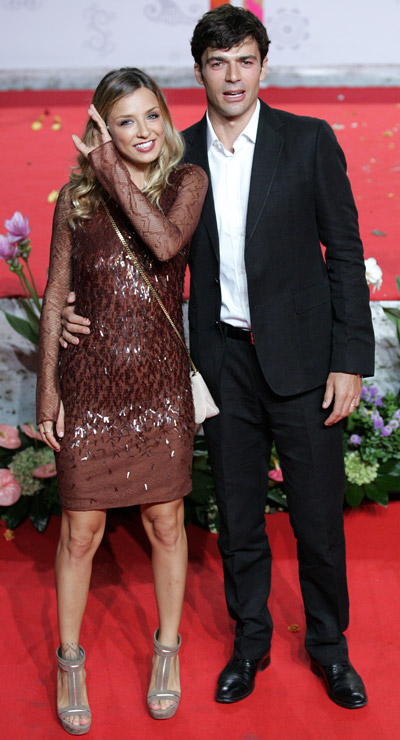 Photos by PR Photos
Add a Comment
9 comments
Average Guess (6 Votes)
6ft 0.08in (183.1cm)
Rampage(-_-_-)Clover
said on 16/Sep/17
Good chance he's been measured both 183cm and 184cm. Does look in that solid/strong 6ft range. 6ft1 is slightly rounded up
Andrea
said on 4/May/16
While 6'0.25 is not impossible, i think 6' flat is a good listing! Again, Appe told me he met him and that he didn't look over 183 in person!
In any case, a 6'0.25 listing wouldn't explain why he looks so tall next to Javier and James... He does look nearer 6'1 than 6' for sure with them!
But of course you'll say they generally look near their listing with other celebrities, right? Whatever...
Javier does look more 179-180 range (at most) and James barely 5'9!
With Matthew, you can say it's hard to tell from just one photo considering that Luca might have some camera advantage but 179 for Mat has always been a big possibility...
Editor Rob: 179 has always been an arguable range for Matthew
Andrea
said on 3/May/16
I don't think there's much difference in footwear between them... In any case you can see their footwear in photos!
James looks barely above Luca's eyebrows, i doubt he looks any less than 3 inches shorter!
Same thing with Javier, he looks at least 1.25 inches taller, actually easily 4 cms taller in some photos!
Also, look at him with Matthew:
Click Here
Editor Rob: 6ft 0.25 is certainly a very arguable figure for him.
Andrea
said on 2/May/16
I am sure you yourself said he could pull off 6'1 with Javier in photos and he actually can look near 4 cms taller in some pictures... Haven't seen the movie and i don't know if they have some scenes together... The absolute minimum difference you can argue is 1.25 inches, i think, but there's noway he's just a couple cms shorter! He also does have 3 good inches over James Marsden!
Editor Rob: with James he can look about 184cm, he might have a little more sneaker, I wasn't sure on James footwear.
Andrea
said on 1/May/16
So you have nothing to say about Luca looking taller than his claim next to these guys???
Editor Rob: he can look about an inch taller than javier, I'm not sure he looked 1.5 inches taller than him, but I've not seen much of them.
Andrea
said on 29/Apr/16
Lol, Rampage, don't tell me you know this guy too... The taller they are (listed), the better it is, huh?
6'0.25 is probably not 100% impossible but 6' is a good shout! Appe did meet him and thought he wasn't over 183 and it seems quite believable...
Rob, do you honestly think that Javier looks 181 in photos with him? Maybe you'll play the "bad posture card" but i doubt they look much different, as for the posture in photos...
He also makes James Marsden look 5'9 flat at most!!! And there was a photo, somewhere, with Matthew Mcconaughey where he can look at least 2 inches taller!
If he came out with 185 i guess you would have given him an easy 6'1, right? In any case, he's not so tall...
Andrea
said on 28/Apr/16
Thank you, Rob! This is a good listing, i think he's just an honest 183 guy... He looked just a bit taller than Raoul Bova in a movie!
But again there's noway he's just 0.75 inches taller than Javier Bardem, that's quite "clear"...
Rampage(-_-_-)Clover
said on 28/Apr/16
Rob, maybe 6ft0¼?
alexbigguy
said on 27/Apr/16
nice listing...always looked that