Lucas Till's Height
5ft 9 ¼ (175.9 cm)
American actor best known for roles in films such as X-Men: First Class/Days of Future Past, Paranoia and Stoker. On TV he starred in MacGyver.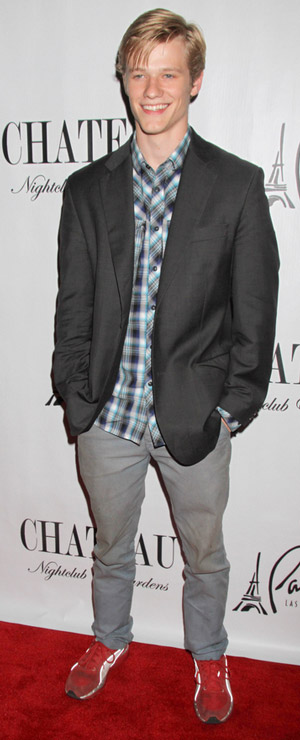 Photos by PR Photos
Add a Comment
24 comments
Average Guess (8 Votes)
5ft 9.03in (175.3cm)
176cm guy
said on 2/Apr/18
Hey Rob, through your estimation. Which do you think he seems closer to? Being a weak 5'9" (closer to 5'8¾") or a strong 5'9" (closer to 5'9¼")?

Editor Rob
last time I looked I thought about 5ft 9, but not had a look for a while now...a breif look this moment and I still would go with 5ft 9, but couldn't say if it was a better chance over or under.
oliver
said on 7/Sep/17
Looks a fair bit taller than Taylor Swift in'You belong with me'. Maybe he had footwear advantage over her at that time. But I think Taylor needs a downgrade to 5ft 9 and Lucas should be upgraded to 5ft 9.5.
Strong 5ft9
said on 5/Feb/17
Hey Rob, do you think a little over 5'9" is a possibility? He did look tall in Monster Trucks.
what!!!?!!!
said on 9/Oct/16
damn 5'9 and looks so tall probably because he is skinny... What i must look like at 1.81. I feel short. whyyyy
Ren
said on 4/Jul/16
Lucas Till is 5'10 or 5'9 with high boots. Without boots he is 165 or 168 either Ty is 5'3.
MD
said on 16/Apr/15
I read a piece in I think New York Magazine a year or so ago (could have been longer) where they were detailing with how popular superhero movies have become in Hollywood who the studios wanted to groom as the next big superhero stars. I think they mentioned around five or six actors and Till was in the mix. Lucas was kind of at the tail end of the list. He had the face, but he didn't end up growing as physically large and tall as they expected him to, and he also wasn't interested in doing the things that would be required to make him big (ridiculous workout regimes, steroids, etc...)
Anything, really apropos of very little, but I found the article interesting.
Chris
said on 14/Apr/15
I thought he was taller. He's very well proportioned though, long arms and legs.
SAMMY DERRICK
said on 29/Nov/14
Lucas Till:5'9(175cm)
HAVOK:6'0
JAMES MARSDEN:5'10(178CM)
CYCLOPS:6'3
I wonder why they take good looking but short actors to portray tall characters.
Chris
said on 28/Aug/14
I don't think he's into guys though, Jon. But he is cute
Realist
said on 16/Aug/14
@Jon Rob has a separate section for weights, u could go check out.
Jon
said on 11/Aug/14
He's a very good looking guy, makes me a little jealous. What would you say his weight is Rob? And have you ever considered adding weight estimates on celeb heights as well?
James B
said on 27/Jul/14
Looks 6ft in the PR photo
Sean
said on 23/Jul/14
I guessed a high 5'8, I have no trouble believing this listing.
SAK
said on 23/Jul/14
@Pedro, fair enough.
But adding an inch to your own height is so common that its almost expected that people/celebs would do that.
That is why I come to this site, because despite what celebs claim, the actual listing wont be overly influenced by that.
Pedro
said on 22/Jul/14
@SAK My point is that he claims being 5'10". I am aware that many celebs are listed higher on their websites. But I think that his height-claim should be at least taken into consideration and added on the top info.
SAK
said on 22/Jul/14
littlesue says: His legs look fairly short
--------------------
I do agree his legs do generally look shortish. But i think the camera angle is causing his legs to look shorter.
Realist
said on 22/Jul/14
Rob thank u. I wanted this guy, Hunter Parrish and Luke Hemsworth are still left.
174-75 is fine i think.
littlesue
said on 19/Jul/14
His legs look fairly short
®
said on 19/Jul/14
5'8 guy.
lelman
said on 18/Jul/14
Is he Matt Damon's son, or twin? lol
Byron T.
said on 17/Jul/14
5'9'' is a fair listing for him.
JohnGB
said on 17/Jul/14
I thought he was more 5'8 to be honest.
SAK
said on 17/Jul/14
Many celebs are listed a higher on their personal websites. What's your point.
5'9 is correct for him.
Pedro
said on 16/Jul/14
He is listed 5'10" on his personal website:
Click Here