Lucy DeVito's Height
4ft 9 ¾ (146.7 cm)
American actress, known for appearing in TV series Deadbeat and films Leaves of Grass and The Comedian. In a 2008 Seattle Times, it mentioned
"Just 4-foot-11, with chocolate-drop eyes and a girlish voice, DeVito confides, "I come from a long line of shorties." "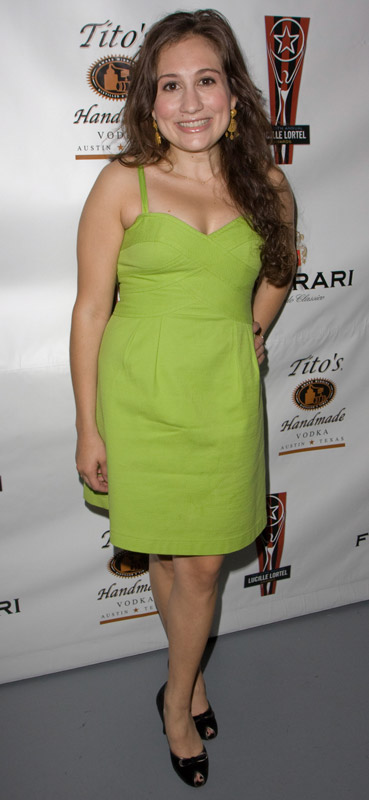 Photos by PR Photos
Add a Comment
21 comments
Average Guess (17 Votes)
4ft 9.44in (145.9cm)
Hanov
said on 22/Mar/20
@abster she needs a page
abster
said on 24/Feb/20
I know this is completely irrelevant but I have a new submission for someone who is 4' 6" = Ragan Smith.
Littlelee5ft6
said on 10/Aug/19
There's a tall Lucy Sandy called Lucy Montgomery and she was in a comedy series called tittybangbang and is at least 5ft 10 about a foot taller than this lovely lucy
Sandy Cowell
said on 19/Dec/18
I have never known a tall Lucy, so I thought I should make that statement on the smallest Lucy's page. I was going to say that on Lucy Davis's page, when I read that someone thought she was 5ft2 IN SHOES, which I doubted.
This little Lucy gets 4ft9.75, which is over 6" less than the average Lucy, who I found just tops 5ff4! 😁🎄
Lee168cm
said on 22/Sep/17
I do apologise sue your alittle taller than I thought you were
Height Sky
said on 20/Sep/17
I like girls between 152 cm to 177 cm and girls with good proportions between 146 cm to 181.5 cm. I'm 5'8
littlesue
said on 19/Sep/17
Lee168cm said on 16/Sep/17
Only by a quarter inch sue
Well I'm between 4ft 10 1/4 and 4ft 11 depending on time of day
Lee168cm
said on 18/Sep/17
And I can say I'm 6'3.5" but I think they could of mistook her for her sister Lois winston who I heard is about 5'10"
Ferdinand
said on 16/Sep/17
@Lee What!!?? How can someone get a height wrong by 9.5"?! I might start calling myself 6'8" then..
Lee168cm
said on 16/Sep/17
Only by a quarter inch sue
Lee168cm
said on 16/Sep/17
I laughed at the five foot two listing on imdb. Look at her next to Melissa joan hart whose just shy of 5'2" herself. Really makes you laugh at how bad imdb are at guessing heihhts like listing 5'1" Jaime Winston at 5'10 and a half
Nik
said on 16/Sep/17
I never knew Danny had a daughter until I visited this page! It's great to welcome this lovely young lady aboard'
littlesue
said on 15/Sep/17
Arrrhhhh, someone smaller than me!
Sandy Cowell
said on 15/Sep/17
@ Arch Stanton - Hehe! Yes, he he, she does look amazingly like her Dad! He he he! He (hic!🙊) he!
Anonymous
said on 15/Sep/17
Rob:
Is she Danny DeVito's daugther???
She has same height than her father .. incredible!
Kami
said on 15/Sep/17
She looked closer to 4'10.5 to me, how tall would you say her sister is? She looks like she got as tall as possible for someone whose parents are both under 5'0
Chappy
said on 14/Sep/17
Barely taller than her dad
Danimal
said on 14/Sep/17
Related to Danny?
Editor Rob: I only realised on adding her, that Danny even had a daughter!
Sandy Cowell
said on 14/Sep/17
I didn't know Danny had an actress daughter! I'm assuming that she is Danny's little girl! Not surprisingly she's on the short side, so I'll go for 4ft10 for her.
5'2
said on 14/Sep/17
4'8" max. She is short
Arch Stanton
said on 14/Sep/17
Hehe, wow she really looks like her dad, and similar height.