Marat Safin's Height
6ft 4 ½ (194.3 cm)
Russian Tennis Player.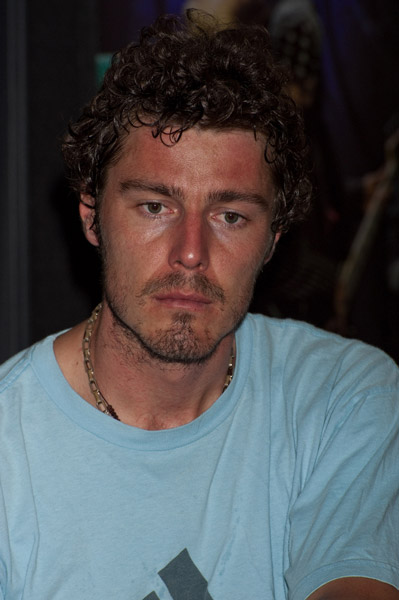 Photos by PR Photos
Add a Comment
124 comments
Average Guess (18 Votes)
6ft 4.61in (194.6cm)
Miiiiiiighty_-
said on 29/Sep/18
No way under 195cm.
That's what he was listed at more than a decade ago by ATP and Roland Garros..
Alex V.
said on 9/Jun/18
195cm
berta
said on 8/May/18
rob i have never seen the guy so have no idea how tal he is but in the only photo i have looked at is with steven seagal and he look taller than 194 beside steven. its 3-3,5 cm beetween them, he could be 6 foot 5
Canson
said on 2/May/18
As listed 194-195
Filivndr
said on 30/Apr/18
Almost 6'6", absolutely taller than 6'4"1/2 ...probably 196.5-197cm in my opinion ; Herebelow a picture with 6'4'' american actor Steven Seagal (Safin looks around 2 inches taller than Seagal).
Click Here
Vera
said on 18/Mar/18
He is taller than 6'4". He confirmed it some time back and many commentators say so. He was measured at 6'4" at 17 and said he was 6'5".
Lima
said on 8/Feb/18
1.97.13cm
blasio stefan.
said on 6/Aug/17
safin 193.7cm - federer 182.89 cm - nadal 182.8 cm - del potro 197.5 -karlovic 210 cm
Reece
said on 8/Jul/17
He looks closer to 6-5 with Del Po. I think 194_195 I think he is rounding down
TenisVal
said on 4/Jul/17
Have been around Marat many times in Valencia
He is at least 6'5" in my opinion.
I am a good 6'2" and a half, and he is definitely at least 2 and a half inches taller than me.
I'd say he is at least 195cm
Rampage(-_-_-)Clover
said on 5/Jun/17
Does look a legit 194cm guy...
Johnson
said on 23/May/17
Safina is just like 8 cm shorter. Just look at the good pics aligned
Reece
said on 22/May/17
Safin looked a good 10cm taller than his 185cm sister though. He looks a big 194-195cm with Del Po
Nona
said on 13/May/17
Marat is 6'4" & 200 lbs and his sister Dinara is 6'1" & 185 lbs. They have good genes on them
luke
said on 26/Apr/17
looked over 2 inches taller than 6-2 Djokovic. i would say 194cm is good.
joe###
said on 26/Jan/17
He can look sometimes 6'4.75 here in the video with big 6'6 Del Potro and Ivo Karlovic 6'11 has towers on all of them and the djovick quew solid 187
Click Here
joe###
said on 20/Jan/17
solid 194 cm
Dave
said on 21/Nov/16
Saw him in Moscow over the weekend. Lovely bloke. Definitely 194cm if not 196 (I am 185 cms).
Gary
said on 20/Oct/16
I just wrote a much more interesting one about Arnold Schwarzenegger...here I'm just commenting, can you get a decent picture of Marat Safin! He's a tennis great, and this looks more like he's a bar room great!
As for height, though, thinking that, as with Arnold S., who was a bodybuilder -- these people are in athletics, and I can't imagine their heights and weights are faked too much. I mean, I suppose they're not all heighted/weighted like boxers, down to their arm length -- but I also can't think that any "official" statement, even by themselves, could be more than a half inch off or so.
anon
said on 7/May/15
There is no chance that he was 2" under Del Potro. Safin is an easy 6'5"
max
said on 7/Aug/14
Looks a legit 6'4 in person, I would even guessed 6'4.5 maybe but he was clearly 2 Inches under a 6'6 Del Potro and I believe a guy Like Berdych who is 6'4.5/6'5 is taller than Marat.
He was a great tennis player back in his day and such a character.
Neilio
said on 18/Jan/12
Marat must be 6ft4. I am 6'8" and met him.
anon
said on 2/Aug/11
Safin definitely needs an upgrade to at least 194cm, he's consistently looked taller than every guy who has been listed at 6'4''.
Korben
said on 18/Jun/11
From a decade of tennis watching (and safin being one of my favorite players in his prime), i cant see less than 195 morning. Berdych is def taller. Del Potro is a good 2cm taller than berdych
Click Here
Delpo is a strong 6'6. Berdych 6'5. Safin prob 6'4.5
Ron
said on 23/Feb/11
Safina is definitely at least 195,probably 196 because in 2009 when he paired his sister Safina in Mixed Doubles in Hopman Cup, he is almost 10cm higher than her sister. Safina is strong 186cm according to 2009 Madrid when she stood beside Federer who is legit 186cm. Safina is as tall as Federer even if Fedrer's Nike shoe is a bit higher than Safina's Adidas
Truthman 6 ft 4.5 in
said on 6/Jan/11
Taking account his leaning on this photo, looks 6'4.5-6'5 here. If he would stood straight, Pierric reach only his nose.
Caca
said on 6/Dec/10
I met Safin in Belgrade Davis Cup Final, I am 180, he is minimum 195, this is true .
lee
said on 8/Jul/09
Marat Safin is 6'4, How tall is Bernard Tomic I met him at Brisbane, With gasquet, Bernard is only 16 yrs old i think, does anyone know his exact height, tho he is still growing probably has you can grow up until 21, He looked a good 6'3 or 6'4, lanky kid.
Ross
said on 4/Jul/09
safin is 193, what are u onabout 197 he is listed as 193cm on atp official sit and everything else he is definetely 6'4 at best.
Doug
said on 23/Jun/09
6'4" is very tall but it depends on how you look. 6'4" guys like Safin, Hasselhoff and Jason Momoa etc are considered handsome guys and better looking than most. Then there are ugly 6'4" guys. I'd take being 6'4" well built and handsome anyday above lets say a 5'5" skinny and ugly. 6'4" is a little too tall though I agree. I doubt many people here would think that being Marat Safin would be a bad thing.
Big King
said on 22/Jun/09
Well, Safin stated 197cm. That's closer to 6'6".
wahsay
said on 14/Jun/09
being 6'1.25 myself i sometimez felt i was too tall but when i went to a modelling industry there i saw some 6'3 6'4 guys now to me ideal is 6'3 with 6'4 being another gud height my opinion ovcourse 6'4 isnt ugly
Roberto2000
said on 12/Jun/09
Hey! I'm 6'4 and I'm offended haha.. Everyone has their own opinion and Marat is definitely 6'4.
Rob
said on 6/Jun/09
Nah john, 6'4 would be an absolutely horrible height, ugly in my opinion. I'm 17, 5'10 or 11, and I just want to be 6'0 or very maximum 6'1. I repeat: 6'4 is ugly, don't know where you got the thing that shorter guys want to be 6'4 and taller guys want to be 6'4. My 6'3, 6'4 friends would prefer to be a little shorter.
jon
said on 10/May/09
Dani dream on , there is a less than zero chance that he isn't at least 6'4", possibly 6'4.5" first thing in the morning. Pictures are not 100% accurate. If you meet this guy you will realise how tall he is- the perfect male height, all shorter guys want to be this height and nearly all taller guys want to be this height!!
Doug
said on 1/Apr/09
Yeah he is 6'4" legit which people forget will always look huge anyway. One wonders how tall the parents are of these tennis pros are as average height for a tennis player male seems to be 6'1", and A LOT of players are 6'3" or over. Its like being in frickin Holland in the world of tennis.
Dani
said on 28/Mar/09
hahahaha says on 28/Mar/09
Dani are you joking? This is one picture, have you seen him tower over the likes of 6'3'' Carlos Moya or 6'2'' Andy Roddick?
Have you? Im not joking i think he's a legit 6"3(190cm). He doesn't look like a 6"4 guy.
hahahaha
said on 28/Mar/09
Dani are you joking? This is one picture, have you seen him tower over the likes of 6'3'' Carlos Moya or 6'2'' Andy Roddick?
Korben
said on 14/Mar/09
looks the same height as 6'5 berdych at the end of this vid
Click Here
i def think hes above 6'4 194 min
Cara
said on 9/Mar/09
Marat is 6'4, big guy, my favorite player of time, my favorite players now are Andy Murray and Evgeny Korolev,I've met evgeny he is the nicest tennis player i' ve met he is cute too, Andy too is nice, not how the media make out, Andy is 6'3 and Evgeny is 6'1
dani
said on 4/Mar/09
Safin looks 6'2 based on the above picture. Pierric is 179.5 and Pierric reached up to safin's eyes and from the eyes to the top of safin's head is 10cm so Safin's height is 189.5cm calculated on that picture.
markj
said on 29/Jan/09
I watch lot of tennis , marat he is 6'4,big man he is not taller than that i wouldn't think, he may be 6'5 at very best,there all a lot of tall tennis pros, i have met john isner he is 6'9, giant and kevin anderson who must be around 6'6 or 6'7 both guys are giants.
hahah
said on 9/Nov/08
im just laughing at the guy judging his height on this one photo saying he is 6'2 or 3, hahahha he towers over roddick who is 6'2 and moya who is 6'3, dont make me laugh
ted
said on 7/Nov/08
On regard to safin he is 6'4, some others main ones ivo karlovic is 6'10, john isner 6'9,dick norman 6'8, chris guccione 6'7, kevin anderson 6'7, sam querrey 6'6, juan martin del potro 6'6, marin cilic 6'6, tomas berdych 6'5, mario ancic 6'5 and andy murray is 6'3.
jacko
said on 27/Oct/08
Yes he;s 6'4, andy murray is 6'3, i hear he's okay although a lot of people donty like him, saty hes arrogant, i am not keen on him really but he is a great player, i will go on a note to say i really like evgeny korolev and ernest gulbis
XX
said on 22/Oct/08
I'm about 6-3, stood next to him and talked to him and the smallest he could be is 6-5, he may be close to 6-6.
Johnny 81
said on 12/Oct/08
Marat isn't standing up completely straight there.
He's 6ft4 no if ands or buts
Viper
said on 5/Oct/08
Hes not taller than 6-4.
Roman
said on 4/Oct/08
The guy is huge. There is just no way he's under 6'4" and I would say he's even taller than that.
Ian
said on 8/Sep/08
He looks smaller than 6f4 compared to 179.5cm Pierric. Not quite the 6ft 4 in my opinion. 6ft 2.5-6ft3
Bud
said on 4/Sep/08
How tall is his sister Dinara? I think she's taller than 6'-0".
colin
said on 24/Aug/08
Murray is 6'3, i saw a long practice session once about 2 months ago, he was with 5 guys on 6 courts ancic,korolev,tipsarevic, cilic and wawrinka, also safin was with berdych,verdasco and seppi and mathieu with mahut and a few american guys too blake came out and hit with marcos daniel i think, murray is cool so is ancic, safin is like a comedian, tipsy is great too he was with young russian korolevand marin cilic was hittin too, great
hs2008
said on 22/Aug/08
I think Murray has definitely grown since he was 6'1". He was listed at 6'2" in the Olympics and his brother at 6'3" but he may be 6'3" as he looks about the same height as his brother.
SafinFan
said on 7/Aug/08
Mr. R he has been listed as 6'3'' since 2006.
ralf
said on 2/Aug/08
why dont you list rafael nadal? he is the next number one and he is becoming one of the most important tennis players in history
Mr. R
said on 31/Jul/08
Hey, for you tennis watchers, when did Andy Murray become 6-3? He was always listed as 6-1. I saw him play the other night, and they kept referring to his 6-3 frame.
carl
said on 30/Jul/08
yeah and john isner is a giant 6'9, an inch under karlovic, dick norman 6'8, chris guccione and kevin anderson are both 6'7, marat is only 6'4 to those guys he aint that tall.
a_name
said on 28/Jul/08
Just started on watching tennis, and I too was surprised how tall some tennis players are. Add to the list Ivo Karlovic. He is the tallest player currently on the ATP tour, at 208cm (6'10"), according to the official website. Now *that* really is serving from a tree...
jax
said on 24/Jul/08
Safin is 6'4,look at the young guys theyre tall cilic is 19 and 6'6, del potro is same age as cilic and the same height,berdych is 6'5,gulbis,zverev and haase are 6'3, sam querrey is 6'6 its frightening how huge these young tennis guys are.
sal
said on 25/Jun/08
marat is 6'4 i saw him play berdych who is 6'5 and they wer virtually the same height,marat is my favourite along with baghdatis and wawrinka, never been a fan of berdych he's arrogant or murray they are both big,tall guys who are good at tennis but they are both big headed.
BK_Daniel
said on 24/Jun/08
Marat is a legit 6'4"er. He has a standard bodytype for that height. In this picture you can easilt see that Marat slouches his neck forward about an inch to inch and a half. He seems 4.5 inches taller than 5'10.5" Pierric but if he had better posture he would no doubt be 5.5 inches taller. I see this guy come up to tennis players of various heights to shake hands all the time. There is zero chance of him not being 6'4".
georgina
said on 15/Jun/08
safin is a really tall guy 6'4 i think, safin is so hot my top 5 tennis hunks are marat safin, tommy haas, andy roddick, novak djokovic and viktor troicki who is gorgeous.
matt
said on 26/May/08
yes, marat is a huge guy, i also like gulbis and zhenya, zhenya is hot and berdych also i like korolev and berdych , not so keen on murray and monfils they both do nothing for me , but safin rules, hope he can be a force again like top 20 but still he will always be my favourite player along with gonzalez and baghdatis.
claire
said on 24/May/08
marat is 6'4 or 193 cm, i love marat he is best, i also like ernest gulbis, andy murray and evgeny korolev good luck to all of them but marat will always be no.1.
Viper
said on 26/Apr/08
Fed is 6-1. Safin looks 6-4 flat max.
Korben
said on 26/Apr/08
id say 195 is pretty spot on. Hes got easily 3 inches on federer
susan
said on 18/Apr/08
marat said he is 1.95 and he looks same as other 1.95 people like berdych.
he should be upgraded to 6'5.
matt
said on 11/Apr/08
theres a picture of marat safin next to berdych on atp tennis davis cup website, standing side by side and they look same height, berdych is listed at 1.95 and safin 1.93 but i tell you its very close.
hugh
said on 27/Mar/08
marat is 6'4, murray and gulbis are both 6'3 i think although gulbis looks taller than murray, safin is bigger than murray when they played ,good luck marat you still rule marat and gulbis are my favourites.
quinn
said on 25/Mar/08
Marat is 6'4, he was a bit taller than both huge younsters murray and gulbis who are 6'3 or 4 i guess, he was a bit taller than gulbis at aussie open and was taller than the huge andy murray at kooyong, i wanna see him with berdych and del potro.
Gary
said on 2/Mar/08
If he is 6'4 the other guy might be 5'10
fren
said on 10/Oct/07
marat safin was talking to andy murray not long back now,and he appeared 2 or 3 inches taller than murray who is listed at 6'3, so i would say safin is 6'4 and andy murray i reckon is 6'2.
hunneybunney
said on 14/Sep/07
i saw him at wimbledon and he was standing next to dmitry tursunov and he looked quite a bit taller than him, at least 5 inches
REds
said on 14/Jun/07
Why looked the same difference between him and that guy name Pierric whose suppose to be 179.5 like the pics with Glenn and the actors about the same height of Maret !?
nick
said on 3/May/07
marat is at least 6'4, he is taller than the 6'2 roddick and the supposedly 6'4 murray i saw him side by side with murray and was at least 2 inches taller. 6'4 is right
ed
said on 17/Apr/07
i saw him play vliegen in 2006 at madrid they were the same height, both are listed at 6'4,so as far as safin goes he is at least 6'4
cumas
said on 16/Apr/07
everyting has 6 foot 4 but i heard judy murray say 6'5 against sela at ozzy open, i say 6'4 though.
Big dude taller than andy murray who is listed at 6'3
TylerDurden
said on 10/Mar/07
im from russia, on his unofficial page he is 193(6'4") and 88.6 kilogram
full name: Marat Mihailovich Safin :)
Masato
said on 17/Jan/07
In the australian open 2007 interview, Marat said his own height was 1.95. Making him 6'4'' and 3/4. He sure looks that height to me.
Anonymous
said on 12/Jan/07
The commentators all call him 6'5", even though he is listed as 6'4", so I figure he is somewhere in between there.
weekly
said on 8/Jan/07
Click Here
Scroll down a little. There is Marat with Sergey Stakhovsky (right) and some other guy on left, whose name I've been trying to remember for an hour and still can't find out it, in massage room, so I think they're all barefoot. Marat looks 2 inches taller than Stakhovsky, who is on
Click Here
listed at 6'4.
Viper
said on 7/Jan/07
I wonder how much the ground slopes in that picture, because he really does look no taller than 6-2 there.
MrBlazy
said on 7/Jan/07
Im a legit 6'4" and alot of people often think im taller than that (which i am with shoes on).
St Andrews
said on 17/Dec/06
I saw him in Cincinnati in a shopping mall with his coach during the Cincinnati ATP tournament. I was only a couple of feet away from him. He was definetely taller than 6'4". I am more than positive that he is 6'5" and there abouts.
Jason
said on 20/Nov/06
It would have been changed by now if he'd grown.
Aussie Bloke
said on 19/Nov/06
Compared to Lleyton Hewitt, I would have to say around 6ft5. He's surely grown since he won the US open back in '00, and his height has not been changed for over 5 years
Anonymous
said on 3/Nov/06
He's often described as 6'5". I'd put him at 6'4" 1/2.
Viper652
said on 26/Sep/06
It seems like Tennis heights are fairly legit for the most part.
filippo
said on 25/Sep/06
I saw two times marat in person and he is surly not shorter than 6'4''..i'm 6'1''(185cm) and he was at least 10cm taller than me.Safin is on ATP circuit from 1997 when he was 17 and his height on ATP tennis site is not changed from that time.Probably he is now at least 1 inch taller! I'm sure
weekly
said on 25/Sep/06
I think Pistol is 6'0 because of his slouching and Andre max. 5'10.75 (180 cm)
ATPtennis says 6'4, but the question is if they indicate true heights or exaggerated like in almost every other sport.
Jason
said on 16/Sep/06
Exactly. A real 6'4'' is 6'6'' to most people.
Viper652
said on 15/Sep/06
A legit 6-4 guy will look taller to a lot of people.
Kevin
said on 14/Sep/06
I saw Marat Safin on March in Miami and i'm sure that he is taller than 6'4"..he is 195cm at least.Look this pics with 6'1'' Pete Sampras and 5'11'' Andre Agassi
Click Here
Click Here
Viper652
said on 12/Sep/06
Id go with the 6-4 official height.
Anon
said on 12/Sep/06
People in the tennis world (Agassi, McEnroe, Brad Gilbert) all call him 6-5. He's probably in the middle somewhere.
Viper652
said on 12/Sep/06
He looks 6-4 in those other pics. Strange how he only looks 6-2 on this page.
filippo
said on 10/Sep/06
federer with 6'2''andy roddick
Click Here
filippo
said on 10/Sep/06
Click Here
safin with 6'1/2"(186cm) roger federer
filippo
said on 8/Sep/06
Click Here
marat safin with 6'1 1/2'' roger federer
weekly
said on 11/Aug/06
Dmitry Tursunov described him as " two-meter embodiment of a female's dream".
r
said on 14/Jul/06
i met safin before and he is very tall. i agree with 6'5. probably 6'6 in tennis shoes. tall guy and definitely looks it in person.
Jason
said on 17/Jun/06
I can't open the pic with Federer for some reason, but the pic with Carlos Moya is on an angle (look at the left tilt of everything in the background) which makes Safin appear taller than he is against Moya.
filippo
said on 14/Jun/06
look this pic with 6'3'' carlos moya.moya is not more 6'2'', but safin is 6'5'' at least
Click Here
filippo
said on 13/Jun/06
in this pic marat safin with 6'1 1/2''(186cm) roger federer
Click Here
Jason
said on 13/Jun/06
Looks closer to 9 than 10-12 to me even in that pic man, but you may disagree. Thanks for filling me in on who the commentator is, I don't know my tennis that well! :) 184cm for those not familiar with metric is 6'0 1/2''.
Kevin
said on 13/Jun/06
i'm agree with filippo...marat safin is very tall!he's 195-196cm for me.look this pic with 173cm anna kournikova,he's more than 20cm taller for me!
Click Here
[Editor Rob: yes, that's a good picture...either showing anna is a little less, or safin a little more...actually take 1/2 inch from her and give him 1/2 inch and that would look closer...this assuming the path slope doesn't favor anybody]
filippo
said on 13/Jun/06
the 184cm commentator that you remember jason,is the great jim courier...and in my opinion he is 10-12cm shorter than marat safin...you can see this link to confirm your or mine opinion
Click Here
Jason
said on 12/Jun/06
I remember a 184cm commentator (former tennis player) interviewing him after he won the Australian Open in January 2005 and he looked no more than 9cm taller.
weekly
said on 12/Jun/06
I remember a newspaper's article 6 years ago where he was described as 195 cm. Though the title was "2-metres-cannon".
filippo
said on 11/Jun/06
in this pic there is an evident slope of the ground. I'm 185cm(6'1'')and when i met him last year in rome he was at least 10cm taller than me!he is very tall...i'm sure that he is 6'5''at least.
Viper652
said on 11/Jun/06
He doesnt look 6-4 in the pic.
Jason
said on 9/Jun/06
Philippoussis isn't 6'5'' man, he's officially listed at 193cm, which is smack bang on 6'4''. Knowing how some tennis heights are exaggerated though, he could very well be more like 191-192cm. Marat Safin's listing is legit, though. He is every bit of 6'4'', but he really doesn't look over it.
Kevin
said on 8/Jun/06
I saw safin this year in miami in a double match with 6'5 mark philippoussis, and marat was 2cm taller!he's 6'5-6'6 for me
tiburon
said on 4/Jun/06
I saw him in a shopping mall during Cincinnati Masters 2005. He looked taller much than 6'4''.... I say he is legitimate 6'5" or more.
Jake
said on 29/Apr/06
He doesn't look 6'4" in the picture.
Patricia
said on 24/Apr/06
He is definitely 6'4" if not a little bit taller. I've met him and he's one tall guy.
ds
said on 27/Mar/06
A true 6'4" should seem VERY tall.
filippo
said on 20/Feb/06
I met marat in rome last year..he is taller than 6'4",for me he is surly 6'5".
ds
said on 11/Feb/06
Actually yeah I think Hewitt is 177cm not shorter, and judging from pics Marat is his his height, not 6'5".
RLG
said on 6/Feb/06
A fan of Marat told me that Marat himself has said both 195cm and 196cm, which are slightly below and above 6'5".
ds
said on 30/Jan/06
haha I met Hewitt he's like 176 cm maybe 177cm. I also met Martina Hingis who's like 167 cm maybe 168, making Kournikova also shorter...
Jason
said on 16/Jan/06
Always thought Safin's 6'4''. Hewitt's height here is wrong though, yeah he's listed as 5'11'' ... but his real height is about 5'9 1/2''.
Hani
said on 15/Jan/06
He looks a couple of inches taller than Lleyton Hewitt so i guess he is 6'4
http://editorial.gettyimages.com/source/search/details_pop.aspx?iid=52083702&cdi=0
316
said on 14/Jan/06
He does look a solid 6'4 guy to me.