Marine Le Pen's Height
5ft 7 ¼ (170.8 cm)
French lawyer and politician.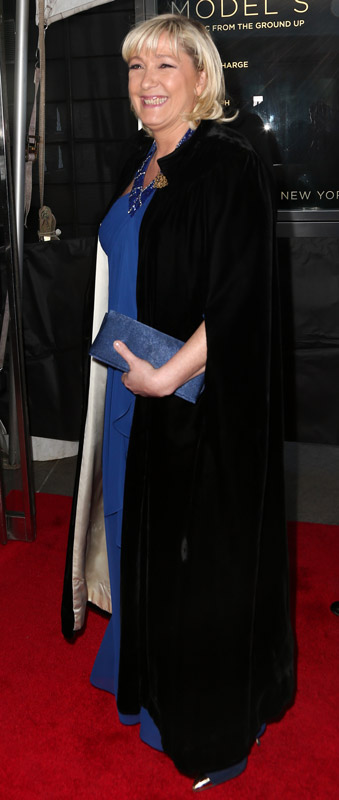 Photos by PR Photos
Add a Comment
21 comments
Average Guess (21 Votes)
5ft 7.45in (171.3cm)
Dalfi
said on 29/Jan/19
Her old ID describes her as 174 cms and green-eyed. Thus far she looks alike 172 cms
ice
said on 12/Dec/17
@Matt she wearing heels, not to mention the angle at which this pic is taken is prob making her look taller.
Matt
said on 4/Jun/17
I have a trouble believing she is this small, she usually towers in pics standing up.
Click Here
She seems more like 174-75 cm.
Dom
said on 31/May/17
Looks a bit over 5'8''
Nina
said on 31/May/17
I think she's taller than her listing.
Tunman
said on 30/May/17
Strange that so many see her at 5'8.5-9,in another site some ridiculous guessers even gave her over 180 just funny to see all the nonsense,of course always a possibility for 5'7.5 but no more.She seemed about 4cms taller than her father but then she had decent heels advantage.Jean Marie Le Pen is listed at 177 which is okay for a peak height but today he won't be more than 5'7.5 (and that's assuming perfect posture) so possibly it's her height?Must still say she looked about 3"taller than Vlad with 2"shoe advantage but is it impossible he's only 5'6 flat and she 5'7 flat?always arguable imo.
horacle
said on 30/May/17
she is a weak 5'9 (without heels), same height than Macron
Peter175
said on 30/May/17
They're close. She looks 170 and he looks 172ish
Chb
said on 30/May/17
Le Pen is taller than Macron though..She's 174cm (while average height of French women is 164cm)
Phil
said on 29/May/17
Macron is much more important than Le Pen, Rob.
Editor Rob: I'm giving him a page...
Nik
said on 9/May/17
@lasla
I have just put in a page request for President Macron!
👍
max
said on 7/May/17
She always looks quite tall around her entourage but with heels and males on a little average height you can see why.
lasla
said on 7/May/17
Click Here
5'7/5'8 seems right for marine. Fillon looks around 5'9, melenchon around 5'7 and macron a weak 5'8.
When you will add President Macron, rob?
Rick
said on 1/May/17
Francois Fillon looks 5'9, Macron and Melenchon closer to 5'8.
mande2013
said on 1/May/17
IMO, Macron gives off a weak average vibe while Fillon gives off a bang-on average vibe.
Hans Meiser
said on 1/May/17
Rather tall for a French woman.
totigno
said on 1/May/17
macron has 5'8'' listings do you agree?
mande2013
said on 1/May/17
Rob, how tall do you think Macron is?
James
said on 1/May/17
Rob how tall do tou reckon Fillon and Macron are based on her?
Editor Rob: not looked as much at macron
Dom
said on 30/Apr/17
She's closer to 5'9''
177 cm (GER/NRW/CGN)
said on 30/Apr/17
Naah 5ft 8.25