Mark Cuban's Height
6ft 2 ¼ (188.6 cm)
American businessman, author and TV personality. On twitter he once said
"Thx for #Entourage props 1st thing every1 ALWAYS says 2me: they thought i was 5'5. Its from standing next to 7' footers all the time.Im 6'3"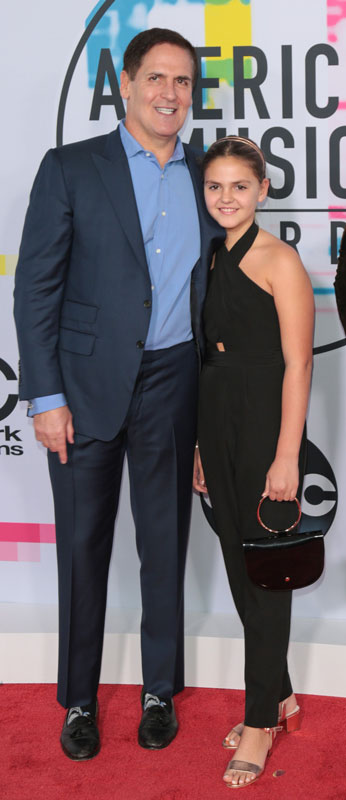 Photos by PR Photos
Add a Comment
20 comments
Average Guess (26 Votes)
6ft 2.3in (188.7cm)
ALIEN
said on 20/Dec/19
KIND CORRECTION: SEE IN THE PIC OF SHARK TANK, ALL MEN ARE WEARING 1 TO 1.5in heels FROM OUTSIDE AND CERTAINLY HE IS STANDING WITH DISCOMFORT.
Click Here
. PEOPLE APPEAR 10-15% TALLER, BIGGER ON PICS/VIDEO THAN IN REAL LIFE. OBMA IS MAX 5'11 or 6ft, because MRS.OBMA is 1 inch taller than him in slippers. In pics of Cuban + Obma
Click Here
Cuban may be 1in taller. So Cuban is between 5'11 to 6'1' in his 60s as of now.
Milos
said on 12/Aug/18
Saw him last night at the casino I work at playing craps. He stood next to mike ( another dealer) whos is 188cm and was 2.5 cm shorter than him.
Junior Hernandez 1990
said on 11/Jul/18
@Brett Obama can be 6'1 1/4 but 6'4 3/4 Kobe Bryant will be 6'5 1/2. Mark Cuban look right on 6'2 1/4 and i don't think he did ever measure 6'3 but maybe out of bed he hit it on the spot.
Brett
said on 23/Apr/18
Rob,
I was in NYC for a wedding last week... long way from down under!
A friend of mine and I walked straight into Mr Cuban... on Madison Avenue and 63rd... initially we werent sure if it were him, until folks walking past confirmed it was...
Having never really paid much attention to his stature before, my immediate reaction was " Is that Marc Cuban?.. He's clearly had a lot of cosmetic surgery done, as his eyes look like they have been pulled back..." :)
Then as he walked toward us, because hes quite chunky, he doesnt look tall from afar... but all of a sudden when hes next to you, we were both like " Jesus, hes actually a big guy" ... We were on uneven surfaces, but even so, I'd say he had easily over an inch on me... potentially 1.5+... I wouldn't so much debate his 1.90m claim... perhaps hes just under... so he may have been 6'3" in his youth...
Him and Brosnan are still the only celebs who presented way taller than I was expecting in person :)
It also made me wonder if Barack Obama is downplaying about his own height... he must be pushing 6'1.5" in reality ... as judging by pictures, with Cubab... 6'1" flat is clearly too low for him. I have a friend whose 187 and just goes by 6'1"... he confuses everyone, as people think hes 6'2" at least... having a wide shoulder set and low body fat gives impression of height.
Rampage(-_-_-)Clover
said on 9/Apr/18
Looks near 189cm w/h Obama
TRUTH
said on 15/Jan/18
Upon examination and stringent review, Mr mark cuban is no more than 6'1'.5''. Half inch awarded because of photographic proof is not enough to determine height and all people deserve half inch credit.
Cho
said on 7/Jan/18
Can you explain why he was considerable shorter beside Alistar Overeem?
Editor Rob:
when you are photographing very close and one person (mark) is a couple of inches away, it's going to be tricky to tell actual difference.
I think Mark is similar to someone like
Tim Tebow
.
Jake
said on 6/Jan/18
Solid 6'2"
Anonymous
said on 5/Jan/18
I can't lie I was expecting around 5'9-5'10 when I clicked on this page
Paul NS (6ft0.5)
said on 5/Jan/18
He looks pretty good for 59, but then again he is crazy rich.
His wealth might not stop him from losing a fraction in the next few years though......
Big Rob's Long Lost Son 6'2.5
said on 5/Jan/18
:Kevin said on 3/Jan/18
:He looks very tall. Proof that a legit 6'2 is taller than people think.
You're right man, so many people think I'm 6'4. I'm honest about my height though, so whenever I get asked I tell them 6'2. 6'2 is also the most abused height ever, so I feel like I have to remind everyone what it really looks like. I hope I'm making Daddy proud!
Anonymous
said on 5/Jan/18
@Cameron
He looks tall on Shark Tank. I thought he was 6'3
Psychedelic Earth 187
said on 5/Jan/18
He might be 189cm.
Cameron
said on 5/Jan/18
Weird, I always got a shortish vibe from him. Surprised he's this tall.
Faza
said on 4/Jan/18
How tall would you guess the girl at the side of him?
Editor Rob: might be his daughter, not sure...but 5ft 1-2 possibly.
Rampage(-_-_-)Clover
said on 4/Jan/18
Wow he didn't think he was six-footer!
Haven't really watched him though
Editor Rob:
I think he's comfortably taller than a guy like
Obama
.
Anonymous
said on 4/Jan/18
You should add some US football personnalities, Rob. Like Peyton Manning (easy, because there is picture of him with Yao Ming). Peyton made Woods look 5'11 at best.
Editor Rob:
he's had a page here a while
Click Here
.
Animus
said on 4/Jan/18
I thought he was 187cm range based on how he looked next to Steve Nash. Did he even edge out Trump in the 90s?
I'd say 187-188cm from what I've seen, but perhaps he is taller.
Koreanorigin188cm
said on 3/Jan/18
Rob, do you think he could be 191 cm out of bed but he drops down to 189 cm at his lowest?
Editor Rob: I think he could hit that range out of bed, but generally can't see him a 6ft 3 afternoon guy, seems too much.
Kevin
said on 3/Jan/18
He looks very tall. Proof that a legit 6'2 is taller than people think.