Martin Garrix's Height
5ft 7 ¼ (170.8 cm)
Dutch DJ and Record Producer, known for "In the Name of Love", "Animals" and "Don't Look Down".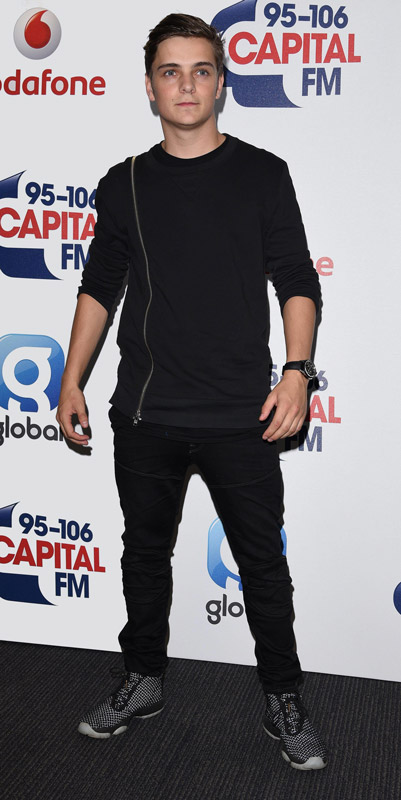 Photos by PR Photos
Add a Comment
64 comments
Average Guess (64 Votes)
5ft 7.1in (170.4cm)
MD
said on 31/Jul/20
5'9dude said on 21/Jul/20
Honestly. If Rob has Troye Sivan at 5'8 then Garrix for sure is 5'9.
Just watch the video for "There For You". Garrix clearly looks taller in the video. 2 inches if not 1 tbh.
lol
Said Ayadi
said on 29/Jul/20
He looks a bit shorter than my sister,who is solid 173cm. I guess 171,5m.
5'9dude
said on 21/Jul/20
Honestly. If Rob has Troye Sivan at 5'8 then Garrix for sure is 5'9.
Just watch the video for "There For You". Garrix clearly looks taller in the video. 2 inches if not 1 tbh.
Nik
said on 1/Jul/20
Cool guy, cool height!
He is clearly short for a Dutchman but he is not exceptionally short, human height is so fascinating and diverse!
TheHawk
said on 1/May/20
@Chris Junior Hernandez 1990 are you saying that Garrix is 5'6 ? No way. Garrix 170-171 around
Chris Junior Hernandez 1990
said on 3/Nov/19
@Paul Wood It's 3" not 1-2". Average Dutch male is 6'0 and American male 5'9.
Paul Wood
said on 21/Oct/19
Short for a Dutch man, where the average male height is an inch or two taller than the UK/USA.
Junior Hernandez 1990
said on 27/Mar/19
Martin Garrix is one of the most successful youngest EDM DJ/producer on earth holding up 22 million of networth at 22 of age. 5'7 tops.
Heightguy
said on 23/Mar/19
Beiber used height tricks in the pic with garrix.
Click Here
This is a more accurate picture and beiber is still using height tricks. They are wishing a half inch of each other's height. Good listing rob
soccer
said on 11/Mar/19
He looks so short
Estesisale
said on 18/Nov/18
With fake 1.76 ,
Click Here
Warren
said on 14/Jul/18
Don't forget that he's a dutch man
hhai
said on 12/Jul/18
i would say 173
HeightContributor
said on 10/Jun/18
Every single height sources claim and conclude that the Dutch DJ Hardwell is 173 cm. Garrix is almost identical to Hardwell when standing together in Google Images that you can find. They can both be slightly taller than the other on different occasions. Most people may say that he is no more than 170 cm. But remember, he is only 21 years old. I think it makes sense that he is 173 cm. Rob, do you think that it is possible for him to have gained almost like an inch of height in the past few years?
Gracian
said on 12/May/18
Please Rob, add Martin Garrix to the DJs category.
Khaled Taban
said on 5/May/18
170cm solid
Milton19292
said on 29/Apr/18
@Rob why's Martin Garrix not 173cm he looks like 173cm
Dercos
said on 17/Jan/18
175 cm for me
Warren
said on 12/Jan/18
Bieber is 171 and Garrix is 168-169. I don't think he's reaching 5'7" flat
Anonymous
said on 29/Dec/17
In Netherlands he is about 4th percentile at most for men and roughly 50th percentile for women so that would be very very short. In the rest of Europe he would be considered short but not to point out. In latin speaking countries(Portugal, Spain, Italy, France, Romania) he would appear below average height but nothing special.
I think he might even be 169cm but that's the least. If he's 171 then Bieber is 174 and I don't see him that tall.
Warren
said on 8/Dec/17
Will u create an Alan Walker's page Rob? he has been super famous almost 2 years but still hasn't on this celebheights?
Rick
said on 23/Nov/17
I'm pretty sure I read somewhere that the average height in Sweden hasn't changed for many decades.
Maybe I'm confusing Sweden with Norway but I'm pretty sure Scandinavian countries have consistently remained at an average of 5'11 since at least the 80's, maybe even further back.
Of course there would have been a time where 5'11 average would have been considered enormous hence the reputation of Nordics being so exceptionally tall.
robertven8
said on 24/Oct/17
Very short by a DUTCH men.
randomuser
said on 10/Oct/17
@Revisionist there is absolutely no way the average young Swedish man is only 5'10.5. Aged 20-29 the average was measured at 5'11.5 in 2008, and it is probably taller by now since Swedes are growing
Slim
said on 11/Sep/17
5'7" absolutely max, gosh he's very short considering he's a 21 year old Dutch man.....
Bee123
said on 28/Aug/17
Looks shorter than Justin 168
Nisu
said on 17/Aug/17
It's an ok height Great Dj
Tash
said on 19/Jul/17
I met Garrix 2 times, I am 1.71 and he was slightly taller than me I would say 1.73. I also met him in a boat and we were both barefoot and he was again just a bit taller. 1.73 is corrent in my opinion
trickytricky
said on 7/Jul/17
.25 heights are the worst. can't really claim the next inch
HIbro
said on 21/Jun/17
Garrix no tattici * 😬
HIbro
said on 19/Jun/17
@Rob have you seen the photo of martin tattici and fedez?Fedez is listed as 5'9 and seems a lot shorter that Garrix,what s your opinion?
Click Here
Shubhendu
said on 1/Jun/17
He is b/w 5.6-5.7ft.
Justin is 5.7ft.
World Citizen
said on 24/May/17
In the country where he lives the average height there is almost 6 ft 1
CC
said on 3/May/17
He looks much taller now. He might have grew. Check his instagram page.
Leo
said on 26/Mar/17
Hey rob, what height would u guess for Kygo?
on google he is listed as 5'11" everywhere!
What do you think, rob?
Click Here
Editor Rob: 5ft 10-11 may be possible.
Wizo
said on 26/Mar/17
Here's a picture with his parents
Click Here
His mom has a slight shoe advantage over him+angle while Martin has a camera advantage over his dad, but I think his dad is a comfortable 2.5-3 inches taller than him. Must be 5'10".
Another picture but here his dad looks even taller
Click Here
cc
said on 17/Mar/17
Check his latest instagram photos. He looks over 5`8 . Could have grown.
Revisionist
said on 28/Feb/17
Seeing Martin with Bieber, I have difficulty believing that there's only a quarter inch between them. Bieber is at least 1.5 inches clear of him, making Garrix's 175 cm listing everywhere a complete farce.
Wrs567, It's a small nation anyway and isn't the norm for the rest of the world. Even young Swedish men are only around 5'10.5" average. Unless otherwise proven, these national average numbers should be taken as mid-morning to early afternoon heights, not minimum heights like on this site.
Solid 5'11" fella, don't feel too sorry for him. He's young, rich, good looking (much better than most of the world), and is still taller than average Dutch women. Wouldn't you much rather be him than some random, average 183cm Dutchman?
Ultimate
said on 27/Feb/17
@Hans Meiser
The average height in Netherlands is 182cm since about 20 years ago and in the USA is 5'9.25
Ultimate
said on 27/Feb/17
5'7 - 5'7.25 are impossible for Garrix.
Wrs567
said on 27/Feb/17
Only my opinion
I think the Dutch's average height is a bit exaggerated
Solid 5'11" fella
said on 26/Feb/17
Poor guy. Must suck being a 5'7 male in the Netherlands. A great DJ nonetheless
Leo
said on 23/Feb/17
i would say 5ft 6.75, but im ok with anything between 5ft 6.5 - 5ft 7.25. Honestly this one is hard to guess imo
Shredder
said on 23/Feb/17
" MD said on 20/Feb/17
@Christian, feel free to post some pictures, then. "
Because not everybody has time on their hands like you do? All you have to do is search yourself you know.
Also he is right. You can't judge on one pic.
TJE
said on 21/Feb/17
I admit Bieber's pulling the Demolition Man on Garrix, but even then he still looks shorter, even with the extra footwear.
This is them standing more equally:
Click Here
I doubt the actual difference is far off from what's shown here, and again, this is with more footwear.
I'd say he's in the 169-170 range. Certainly no more than 170.
GP
said on 21/Feb/17
I remember seeing him listed as 168-169cm before he became popular. I know he started out pretty young so he could have grown a little but from everything I have seen, it doesn't seem that.
Ally182
said on 20/Feb/17
He is between 5'5 - 5'6 from what I've seen
divincodino92
said on 20/Feb/17
He looks about 5 feet 5.5
Johnson
said on 20/Feb/17
David Guetta 178 and Garrix
Click Here
I know Guetta is 178 because he is quite taller than Michel Salgado the footballer 174
MD
said on 20/Feb/17
@Christian, feel free to post some pictures, then.
Johnson
said on 19/Feb/17
@Christian accept Bieber is 5'8 and don't blame to lifts...
Mario Antonio Crespo
said on 19/Feb/17
He's taller than me
Peruvian 1.73m
said on 19/Feb/17
Hi Rob! Can you make a tag of DJs?
Editor Rob: yes, I have added one, there wasn't that many on the site to begin with though!
Allie
said on 18/Feb/17
Love some of his songs, but I don't think the skinny jeans plus sweater in this picture looks flattering for his proportions. Anyways I'd say a solid 5'7.
Hans Meiser
said on 18/Feb/17
Strange. Very short for a Dutch guy. That's like 13cm below average for young Dutch guys like him. That's the equivalent of a 5'4 man in the USA where the average is 5'9.5.
Christian-196.2cm (6ft5.25)
said on 18/Feb/17
Guys, you can't estimate someone's height just based off of one person. You need to compare Garrix's height with celebs other than just Bieber. Garrix looks taller than just 169cm when he's standing with other celebs. Bieber may had worn lifts that day.
Wrs567
said on 18/Feb/17
No tricks
Justin is taller than him with less footwear
Click Here
Click Here
Click Here
This listing is right for Martin though, he looks a strong 5'7''
MD
said on 18/Feb/17
@Rob,
Out of curiosity, why'd you start him at this height, when the whole debate around him on the board has been around the fact that he's shorter than Justin Bieber?
Editor Rob: everybody has a potential range, this could be the top of it.

I would say Bieber is trying a few height tricks with Martin to try to look taller than he is.
Face
said on 17/Feb/17
I would say 173 cm
Johnson
said on 17/Feb/17
Garrix 170.5 Bieber 173
+*
said on 17/Feb/17
same height as Bieber
Peruvian 1.73m
said on 16/Feb/17
Good addition Rob!
Garrix looks 2-2.5cm shorter than 5'7.25 Justin Bieber. I can buy 5'6.5 for him.
TJE
said on 16/Feb/17
2 cm shorter than Bieber
Johnson
said on 16/Feb/17
Surprised... he was shorter than Justin Bieber at the end of 2015.