Martin Kemp's Height
6ft 0 (182.9 cm)
British actor best known for the film The Krays and as Steve Owen in Eastenders. As a musician he was part of Spandau Ballet. On his spotlight resume he has
"Height: 6' (182cm)"
and
"Weight: 12st. 12lb. (82kg)"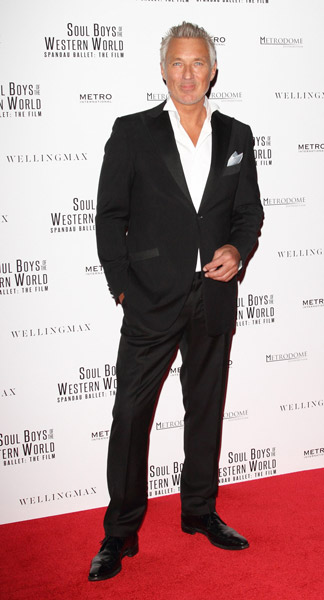 Photos by PR Photos
Add a Comment
43 comments
Average Guess (17 Votes)
6ft 0.06in (183cm)
Miss Sandy Cowell
said on 10/Oct/19
🎁🎂🎉 Happy Birthday Martin! 🎉🎂🎁
Hey, I think you're 58 today, so you were born in the same year as me!
I absolutely love you and your acting is supreme. I once had a ding dong with my boyfriend because he thought that you and Gary were twins! Well, only in 'The Krays' where you did indeed excel yourselves! 😉 XXX
6ft tall.
🎁🎂🎉🕯️🎁🎂🎉🕯️🎁🎂🎉🕯️🎁🎂🎉🕯️
Chris Junior Hernandez 1990
said on 9/Oct/19
Martin is def solid 6'0 than Chris and Luke Evans. He probably typically waking up at 6'0 3/4 and goes to bed at 6'0.
Nik Ashton
said on 5/Sep/19
The average guess is 6'0.06" (16 votes!) and he will soon have 41 comments! 🌒!
The Ben
said on 8/Oct/18
Watching Celebrity island
He went in at 210lbs, 15 stone.
Dropped to 180lbs after 4 weeks of not eating so I'm not sure how long ago the above 12 stone 12 weight listing was from.
Sandy Cowell
said on 19/Sep/18
I saw Martin this morning in an episode of 'Heartbeat' called 'Bully Boys'. Throughout the production, there were references to his large stature, necessary in order to play the part of a usurer convincingly. The episode hailed from 2007 I believe, and Martin will have turned 46 in the fall of that year, his birthday being in October. I feel quite certain after seeing this that he was still his optimum height. Why, at 45, so was I!
I know that Martin only recently decided to become a silver fox, and I think it suits him very well indeed! That indicates that the above picture is bang up-to-date, and hey presto - he still looks a sturdy 6ft to me! Just to make sure, I have ordered a film starring him and his brother Gary - and one Danny Dyer! It'll be smashing to check the Kemp brothers with the just below 6ft Danny, and I'm sure I'll really enjoy the film into the bargain!
Heart-throb Martin can have 6ft.
Junior Hernandez
said on 7/Feb/18
Martin Kemp with Craig Fairbrass who called himself 6'3 and tilt up head still not over 1.75" taller than Kemp.
Click Here
:
James B
said on 3/Dec/17
Rob he looks similar in height too George Michael
Click Here
What do you think?
Editor Rob: they weren't really long on the same flatter part of the stage, as it is sloping a bit from where George enters.
Rory
said on 12/Oct/17
Yh but then Chris Pine only claims 6ft and he's at 6'0.5...I don't think 6'0.25 would be unreasonable for Martin.
Rory
said on 11/Oct/17
Rob, out of interest how come Martin isn't listed 6'0.25 ? I can think of few people more deserving of strong 6 foot range.
Editor Rob: he only claims 6 feet, although I can understand how he could look a stronger 6ft than some folk.
Alex
said on 25/Sep/17
Yh I agree that's how they both look separately but if you looks a images on google standing next to each other, and they either look the same height or Martin Kemp looks taller.
Rory
said on 24/Sep/17
Yh I think Martins more than just a solid 6ft. I think he is or at least was 6'0.25-0.5 range and has rounded down a fraction. I've never seen this guy look under 6ft but have seen him pull off near 6ft1 at times. His brother Gary is what I'd call a solid 6ft, but Martin I think clears that range.
177cm
said on 23/Sep/17
6'0.25 peak
alex
said on 19/Sep/17
Would you say there's a definite three inches between him and Craig fairbrass?
Editor Rob: there's a chance Fairbrass is just shy of 6ft 3, though the lowest I'd have said was 6ft 2.5 range. Kemp regularly looked a solid six footer.
Rampage(-_-_-)Clover
said on 19/Sep/17
He actually looks the same height as Tony in some photos!
Rampage(-_-_-)Clover
said on 10/Aug/17
184cm peak
Rory
said on 4/Aug/17
A flat 6ft is a undercutting Martin a little bit I feel. He always seems to me to look minimum 6ft, I think 6'0.25 is more realistic and I wouldn't be surprised if he measured 6'0.5 in his thirties either. Gary looks a flat 6ft.
Rory
said on 15/May/17
His son Roman looks 186cm in person. Martin looks an inch shorter than him. I'm sure he'd be a solid 183 today and quite probably near 184 in his 30s.
Sandy Cowell
said on 2/Mar/17
Martin is in tonight's episode of 'Heartbeat', playing a gym-running, debt-collecting, hard-man! He looks a good six-foot in this! He gets a quarter-inch over from me this evening!
James B
said on 26/Feb/17
Yes I agree arch he looks a bit over 6ft compared to Hadley and 6'3 Craig fairbrass
Rampage(-_-_-)Clover
said on 18/Jan/17
He was never much shorter than Tony Hadley
Sandy Cowell
said on 16/Jan/17
It just goes to show how big a true 6 footer really is!
When he stood up with his brother Gary in 'the Krays' to defend his Mum, I thought they looked huge! I remember Billie Whitelaw to be 5ft3, and her 'boys' towered over her.
I can't see Martin being less than 6ft now! He still looks as tall as ever in that above photo!
Rory
said on 7/Jan/17
I think rly a strong 6 foot is in order for Martin, I've never seen him looking under 6ft and with smaller guys like Billy Murray and Gary Barlow can pull off near 6'1. He's the type of guy who can showcase a genuine 6ft as still being quite tall. Edges his brother Gary who himself look about 6ft. I think in their Spandau days Martin Kemp 6'0.25-0.5 and Gary 6'0.
Rampage(-_-_-)Clover
said on 29/Nov/16
Martin Kemp: 183-184cm
Gary Kemp: 182-183cm
Rory
said on 12/Oct/16
Martin Kemp- 183.5cm at night
Gary Kemp- 182.5cm at night
Today probably Martins a flat 183 and Gary 182.
Rampage(-_-_-)Clover
said on 11/Oct/16
Looked at least 1in taller than George Michael
Rampage(-_-_-)Clover
said on 12/Aug/16
Wasn't remarkably shorter than Tony Hadly.
Maybe a fraction over 6ft peak, Rob?
Tubbs
said on 11/Aug/16
upgrade required, looks at least 184cm in everything he's been in, maybe even 185cm.....was not that much shorter than 6'2" John Taylor in a movie they did together
peted
said on 8/Aug/14
I dated his wife years ago before they got together. He was taller than me, so I reckon he is 6ft. Wished I was still with her lol
Rampage(-_-_-)Clover
said on 14/Jan/14
Could look 184-185cm on Eastenders
James
said on 9/Jan/14
He could look 5'11 on eastenders
Rampage(-_-_-)Clover
said on 17/Dec/12
Martin Kemp 6ft(183cm)
Gary Kemp 6ft0.5(184cm)
Tony Hadley 6ft3.75(192cm)
Arch Stanton
said on 11/Nov/12
Sold 6 ft. 6-6'.5" looks accurate James yeah.
Mike
said on 7/Sep/12
I was in the audience when he went in to big brother and saw him,
definitely about 6ft.
James
said on 6/Jul/11
184cm is not impossible?
Rampage(-_-_-)Clover
said on 21/May/11
Looks 6"1-6"2 range next to Tony Hadley...
James
said on 24/Apr/11
does not really look over 6' compared next to george michael
Rampage(-_-_-)Clover
said on 23/Mar/11
I think Martin could be 184cm....certainly not below 6ft
I reckon he's exactly 3 inches shorter than Tony Hadley
theenforcer22
said on 15/Nov/10
UK Actor from The Krays and EastEnders (Steve Owen). He's listed as 6ft by his agency
-------------------
Erm,,,,,no mention of the fact he was the bassist in Spandau Ballet?!!!!!!
James
said on 21/Oct/10
I woulden't put him over 183cm. In 6 years might be 182cm.
Alison
said on 25/Apr/09
I met Martin Kemp a few years ago I was wearing flats (5 ft 7") and he was at least 5 inchest taller if not 6. So definately 6 foot or maybe 6.1"
Joe
said on 20/Apr/08
He was an easy 6 footer. Nothing more, nothing less. What do you think of his height, Rob?
Tubbs
said on 2/Feb/06
His brother Gary must be between 6'0.5 to 6'1", as he has always looked slightly taller, this picture shows the difference.
http://www.red-passion.com/images5/spandauballet.jpg
james007
said on 30/Oct/05
hi there ive met martin kemp today while working on the new drama love lies bleeding in mancheter nice guy.