Marvin Humes Height
5ft 11 (180.3 cm)
English Pop Singer from the band JLS.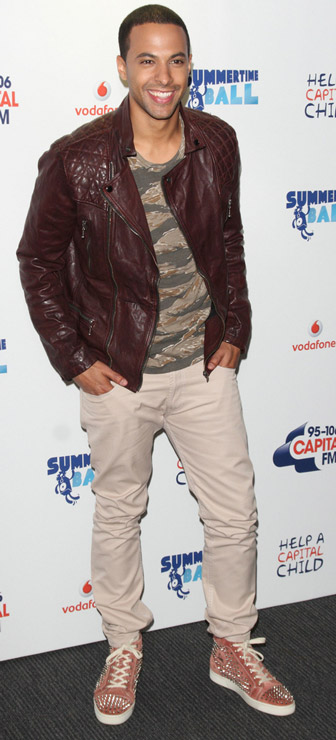 Photo by PR Photos
Add a Comment
18 comments
Average Guess (11 Votes)
5ft 10.89in (180.1cm)
MD
said on 17/Jun/19
@Rob,
Back with this one. He's just not 5'11".
With Liam Payne:
Click Here
With David Guetta:
Click Here
With Charlie Puth:
Click Here
With Olly Murs:
Click Here
Honestly, he looks a solid 5'10" to me at the most. Just average, but with the kind of build, I guess, that can make him look a tiny bit taller in solo shots. I guess I could tolerate 5'10.5", but even that's pushing it.

Editor Rob
With Murs he seemed closer to 5ft 11 than 10, given the size of Olly's quiff. At worse he might be 5ft 10.5.
adam
said on 8/Jul/17
rob what about the other jls members please do them? they have many picture together of course so it'd be easy. Also they were one of the biggest selling boy bands ever, so i feel they all deserve a page. peace.
MD
said on 16/Mar/16
Another with 5'8" Tinie, but this time right next to him:
Click Here
Really not sure how many more of these I'm going to have to post before he gets listed at a more realistic height.
MD
said on 12/Jan/16
Tinie's a step or half-step closer to the camera, but with 5'8" Tinie Tempah:
Click Here
joe joe
said on 16/Jul/15
Rob You have a few height really wrong here. Tonight I met both marvin and craig david at his gig in the Oslo in Hackney. IM 185 and marvin in similar footware was reasonably close to me in height. I would put him at 181/182, Craig who you have at 182 is a good inch shorter than Marvin and at 185 I could nearly see the top of his head. Defo need to downgrade Craig David
MD
said on 6/Jul/15
Rob,
I'm going to keep bugging you about him until we get a more accurate listing. Here he is recently in another pic with 5'7" Nick Jonas:
Click Here
And with 5'10" Jason Derulo:
Click Here
Yeah, that 5'10.5" is a much better listing for this guy.
[Editor Rob: 179 or 180, either can be argued at times.]
MD
said on 10/May/15
Rob,
Here he is with Niall Horan. Everyone is in footwear and right next to each other on fairly level ground. If anything, Marvin has a very slight footwear advantage, though, that's cancelled out with him with slightly poorer posture:
Click Here
I really can see him as just 5'10", but 5'11" is too much. To further the point, here he is with a 5'7" Nick Jonas:
Click Here
[Editor Rob: 5ft 10.5 is arguable for him]
MD
said on 26/Mar/15
Wow, if he's 5'6" the even smaller guy in the band must be like 5'4"-5'5". I didn't realize they were this short.
MD
said on 25/Mar/15
Rob,
Besides looking at my December 14th post, I was wondering how tall his old bandmate JB Gill looks in this picture?
Click Here
I never realized he was this much taller than him for some reason.
[Editor Rob: maybe he's around 5 inches smaller, sometimes can look more of a difference when in thinner footwear. I can't see Marvin as just 5ft 10 though, always a chance he is a fraction shy of 5ft 11 but generally I've thought he can pull off that mark a lot of the time.]
MD
said on 16/Dec/14
With Ryan Tedder (listed as 5'10", here):
Click Here
With One Direction:
Click Here
With 5'10" Jason DeRulo:
Click Here
I really think this guy is closer to 5'10" than 5'11". He's definitely not a full 5'11", though.
Crash
said on 24/Jun/14
@Arch, they look like brother and sister lol. It's always kinda weird when two mixed race people get together haha, people are always going to ask if they are related. I was always asked in school if the next mixed guy was my brother.
He's listed at 6'0" all over the place. But he's short than that.
Being the tallest in the group also makes him look taller than he is.
MD
said on 20/Feb/14
With 5'10.5" Jimmy Carr:
Click Here
I think even were Marvin were to straighten up, they'd be nearly identical in height, still. He doesn't look to be loosing any discernable height from the lean. I'd always guessed Marvin between 5'10" and 5'11", anyway. Not quite a full 5'11".
Arch Stanton
said on 21/Nov/13
He and that chick from the Saturdays are one of the best looking couples I've ever seen. Their kids are going to be super cute!
truth
said on 20/Nov/13
Looks your typical guy who can be between 179.0-180.9cm
MD
said on 20/Nov/13
With 5'7.5" Gary Barlow:
Click Here
Click Here
The pictures are terrible in the sense that very little can be judged from them, but it gives you a very rough comparison nonetheless. You definitely have to use your imagination a bit.
lelman
said on 19/Nov/13
Surprised to see him this low, thought he was like 6'4 or something.
SAK
said on 19/Nov/13
Click Here
How tall are the 2 guys in the middle?
Arch Stanton
said on 19/Nov/13
I'd have guessed 5'10.5".