Matt Dawson's Height
5ft 10 ½ (179.1 cm)
English former Rugby Player, tv host on Question of Sport, Celebrity Dancing. While at Northampton Saints
his profile
listed his height as 5'10" and weight as 13st and 8 pounds.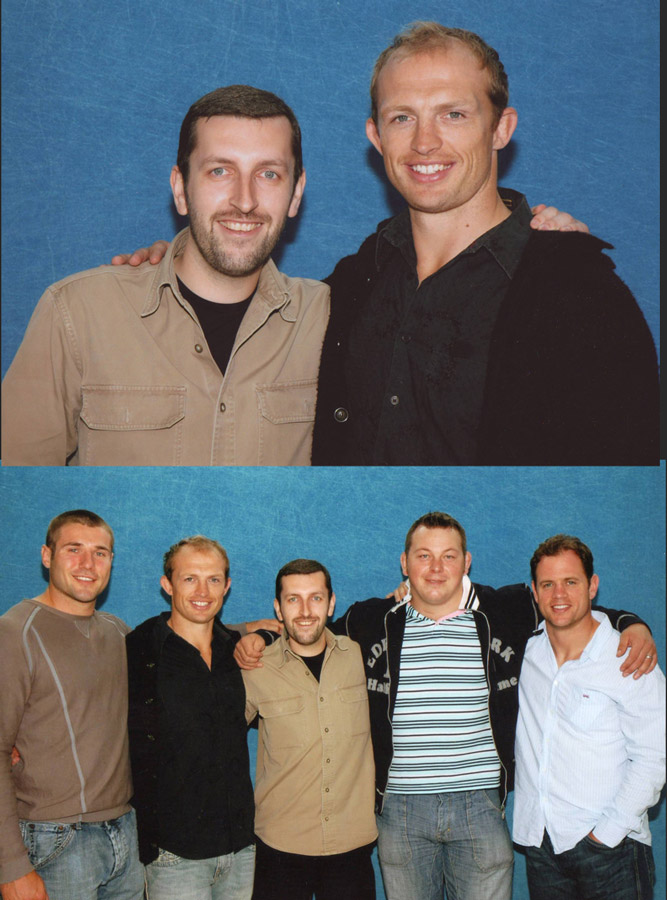 Official Heights: 6ft 2 Ben Cohen, Matt Dawson, 5ft 8 Rob, 6ft 2 Steve Thomson, 5ft 11 Kieran Bracken
Add a Comment
51 comments
Average Guess (19 Votes)
5ft 11.07in (180.5cm)
Roots4828
said on 18/Oct/20
What about adding Phil Tufnell? He is listed 6ft on IMDB.
Nik
said on 11/Mar/20
Maybe Rob is losing height!
Csimpson6ft
said on 12/Mar/19
I don't get this listing he looks a full 5'11 with you Rob, that's easily a 3 inches difference.

Editor Rob
There are many photos an actor might drop height, or I might drop more height and other factors like someone being closer or the photographer reducing/enhancing difference...but in person I thought beside the photographer Matt is 5ft 10.5.
Colberto
said on 15/Dec/18
Looks like he's in the 5'11" range
180cm at worst
Bobby 5'10
said on 18/Oct/18
He does look 5'11 though, and the average guess has him at essentially 5'11.
Nik
said on 23/Sep/18
It's nice to see the honesty of Northampton Saints!
Paul Wood
said on 7/Sep/18
That looks more like a 3 inch height difference to me but I presume it was footwear difference that makes it look 3 inches.
Zampo
said on 13/May/18
I know this photo was taken a while ago but would you say there was really a difference between Matt Dawson and Misha Collins in person?

Editor Rob
Not much really, but I'd still say Misha had an edge...though it may not be that much really.
World Citizen
said on 16/Feb/18
Perfect listing.
Rampage(-_-_-)Clover
said on 27/Nov/17
Luke Evans looks near 6ft1 in that photo
Jeremy
said on 24/Nov/17
Looks 5'11" next to you Rob
Editor Rob:
Look
, his eyes are at luke evans mouth, doesn't mean he is under 5ft 10...
Rory
said on 9/Nov/17
I actually think Dawson looks 5ft11 in both pictures with Rob.
richard tweedale
said on 5/Mar/17
I briefly stood next to matt. I am 6 foot but I had my walking boots on and I thought I was a little taller. I think he's 5 11. Perfect height for a great scrum half.
That guy
said on 18/Apr/16
looks 5'11
Rampage(-_-_-)Clover
said on 6/Dec/14
Bracken looks a weak 5ft10
Steve stallion
said on 9/Mar/14
5ft 10 is about right. I have met a d shared a pint with him and he is a couple of inches taller than my 5-8
Rampage(-_-_-)Clover
said on 12/Feb/12
Thomson's been listed from 6ft1 up to 6ft3
so 188cm is probably spot on for him. Same
for Ben Cohen.
Big T
said on 8/Feb/12
SBW just fought a 6'5" listed boxer and was clearly slightly taller than him. His 6'3" listing seems a strange anomaly but it's everywhere
Physics Enemy
said on 16/Nov/11
Rob's losing height here due to that big guy on his right. I think Dawson is 5' 10" & 1/8th or so and they just rounded it off to 5' 10". He has about 2" on yourself if you both stood up straight. Not 179 though. Strong 5' 10".
SAK
said on 6/Nov/11
Braken is not 5ft11/180cm.
On All star family fortunes, standing next to Vernon Kay (6ft4) and he is was definitely 6-6.5" shorter, both had similar shoes. He is @ highest 5ft10/178cm, he could even be 5ft9.5/177cm. No way 5ft11.
Big T
said on 15/Oct/11
I was in a lift with Samoan halfback Kahn Fotuali'i the other day. I am 5'10 1/2" and he is listed at 6' or slightly more (183cm and 184cm). He seemed 5'8"- MAJOR benefit of the doubt 5'9", because he doesn't look as short as 5'8" in pics, but he was right there and he wasn't even close to my height. So, sometimes listed Union heights are worse than WWE!
SAK
said on 12/Oct/11
Steve Thomson looks slightly shorter then 6ft2/188cm Ben Cohen here. I think Thomson is 187cm/6ft1.5.
Big T
said on 10/Oct/11
Rugby heights are not that accurate. For the All Blacks 191cm listed SBW is slightly taller than 196cm listed Kaino and about 2 inches taller than 192cm listed Vito. Carter's 178cm listing is weird as he is clearly taller than 5'11"-6' listed teammates- I think he is at least 5'11. He is easily taller than Weepu but they have the same listing
SAK
said on 11/Sep/11
Rampage(-_-_-)Clover says on 12/Apr/11
Wilkinson looks 177cm, SAK. But in all fairness rugby players heights are reasonably accurate because they get measured as part of their conditioning....
----------------------------------------------------------------------
Thanks.
Yeah i noticed that Rugby player height listing tend to be reasonably accurate compared to other sports like football.
I would agree with 177cm for Wilkinson (may be even dropping near 176cm in evening). But overall 177cm for Wilkinson, with a stocky, typical rugby player build, which makes him look shorter and stumpy.
Rampage(-_-_-)Clover
said on 29/May/11
That's fair enough Rob. But more rugby players need to be added. The ones that come to mind are Dan Carter, Johnny Wilkinson, Brian O'Driscoll, Gavin Henson and Martin Johnson
Big T
said on 25/May/11
Anyone have a thought on how tall Sonny Bill Williams is? I have a photo with him but not sure I want to add it....anyway, his 6'3" listing has never made much sense to me as he has always looked taller than that. He gets mentioned at 6'4" all the time and I reckon that might be more like it. He looked taller to me in person than 6'5" listed Lomu!
Rampage(-_-_-)Clover
said on 24/Apr/11
Hold on Rob you "give him 179cm because he's a nice guy"?
[Editor Rob: I'm joking a bit...because if I went by the England and rugby club listings of 5ft 10 I think I'd be going *against* how tall i believe he looked,

which was no less than 179cm.

in fact I believe he looked an inch taller in person than another 'measured' 5ft 10 guy like Tyson did...
]
Rampage(-_-_-)Clover
said on 12/Apr/11
Wilkinson looks 177cm, SAK. But in all fairness rugby players heights are reasonably accurate because they get measured as part of their conditioning....
SAK
said on 12/Feb/11
Is Johnny Wilkonson really 5ft10, he looks 5ft9 to me,
Rampage(-_-_-)Clover
said on 29/Jan/11
Rob, I can't believe Matt Dawson of all rugby players has a page here yet real and far more talented players such as Dan Carter, Jonah Lomu and even Johnny Willkinson don't?
Dawson was never even that good to begin with
[Editor Rob: since I had a photo he was worth adding, since he's also a tv personality aswell.]
Comets
said on 25/Feb/09
Hey Rob, can we have athletes heights too like rugby players, soccer, basketball, baseball and football stars ?
ddi
said on 3/Sep/08
In response to Gordon D'arcy comment. He's listed 5'11 but said himself in irish times article that he's 5'10 and gives himself extra inch for match programmes! funny and honest! this ties with o Driscoll height who I've seen in the flesh a few times. at least my height, 179/180 but he's probably a legit 181 morning. and he's a very big framed guy. I'm a lean 83kg and o driscoll is not neccesarily more muscular but he's quite big boned. huge head and very broad back.
Big T
said on 18/Jul/08
I saw Lance Hohaia another two times (don't know why I keep running in to him). I actually served him at my shop. I now think he is min- 5"7" max- a weak 5'8".
I saw Glen Osborne, 6'1" listed ex All Black, he looked near enough that height, definiely 6' minimum.
I had a very good chance to size up Jerry Collins recently as I spent about 4 hours at a bar and he was there the whole time in my line of sight. Then I went to the bathroom and came out to watch the game we were watching (the third State of Origin ftr) and stood next to him for about 5 minutes watching the game before heading back to where my friends were standing (it was a really packed bar and I didn't want to miss any of the game). He is listed 191cm, once again that is pretty close to the truth, I'd say anywhere between 189-191cm. He is taller and leaner looking in person than you might expect.
And today, massive fluke, I went to play golf and who should be lining up to pay in front of me but current All Black Richard Kahui. He is listed as 6'3"/190cm, although he doesn't give me the impression of being very big on the field. I can confirm he is, like Collins, within an inch of his listed height- my guess is actually that these guys really have been measured barefoot and their heights recorded quite accurately.
Mattiew_-
said on 24/Jun/08
99% of rugbymen's heights are exactly what they are listed at .
Lomu is one of the rare exceptions IMO , looking a strong 6'4 but no 6'5 .
Having met him in person I think he was a bit shorter than 6'5 maybe 194cm when standing straight in his prime ( has an horrible posture )
To Rob : Zinzan Brooke is 192cm and was about 105kg ( 235 ) back in his playing days :)
I reckon he can look pretty average on the screen , but afterall his height isn't surprising considering he was playing 8 and his bro Robin is 197 cm :)
dmeyer
said on 2/Mar/08
does look 179 by rob
big t
said on 4/Feb/08
John Key, leader of the National party in NZ, is between 5'9 1/2" and 5'10"....seen him up close and standing still twice now in my shop....whenever I see anyone half-way famous I always think of this site lol
Big T
said on 30/Dec/07
Also...Rob Waddell (Olympic gold medal winning rower) is 6'7", as he is always listed, and New Zealand cricket captain Daniel Vettori is close to the 6'4" he is often stated as being, although maybe more in the 6'3 1/2" range
Big T
said on 30/Dec/07
Another NZ sportsman for yall.....Adam Parore, former NZ cricket wicketkeeper, and currently B-grade local celeb as he owns "Adam Parore Mortgages" and is married to Sally Ridge, who is the ex-wife of Matthew Ridge, who is a former rugby league and rugby international and well known TV personality..if you can follow all that
I figured Parore would be about 5'8", to my shock he gave me the impression of being 5'10" plus! This is a guy who, like most wicketkeepers, always seemed to be the shortest guy on the field. I even remember reading a profile where he listed his own height as "not much". However, I do have a tendency to think that people are my height when they are actually shorter (funnily enough, I know other people who have the opposite tendency, not sure why), so my conservative estimate is that he's 5'9", which is still taller than expected. All the other evidence is that he can't be more than 5'9", yet in the flesh he looked at least this tall.
Big T
said on 24/Dec/07
yeah. Zinzan is about 6'3" I would say. And probably around 240lbs in the old money.
Big T
said on 7/Dec/07
Another one on rugby- tonight I saw former All Black Ant Strachan. I'm 179cm, and I got ample opportunity to really size him up. I decided on 175cm/5'9". Looked him up and he is listed 175cm exactly!
[Editor Rob: one time at the airport years back I remember seeing the all blacker Zinzan Brook. I had thought he was just average guy for some reason, but was very surprised to see how big and tall he was. I'm talking many years mind you... ]
Big T
said on 12/Sep/07
I mentioned Hodges in a post that seems to be deleted
When Hodges had that fight with Grothe in Origin, Grothe was clearly at least 2 inches taller. However, Grothe is listed 187cm and Hodges 190cm.
I also mentioned Melbourne- Inglis is listed 197cm yet often stands next to 190cm Matt King and looks shorter
OutBenchThis
said on 11/Sep/07
NRL players aren't always accurate. A few recently i've met that have been listed at 195cm (think Melbourne Storm) would be about 191-192cm and others such as Justin Hodges (broncos) who is listed at 190cm (sometimes listed at 192cm!) would be 188cm..I think the smaller players around 5'9"-6'0" are pretty accurate in their measurements but the taller guys hieght's can jump up dramatically..the AFL players are the same..Jonothan Brown (Brisbane Lions) is 191-192cm but gets listed at 195cm (and is referred to as a "big 6'5ft" )..AFL draft system states it measures players in barefoot but i think thats a crock..more likely they are measured in their boots or atleast in training shoes..a friend of mine is looking like he may get drafted to a melbourne club in the AFL, I'll have to ask him how his height is measured, without sounding like a weirdo.
ian
said on 11/Sep/07
i reckon rugby players heights are usually pretty accurate. Have to agree with big T about Lomu. Never quite looked the 6'5" he was billed. The second rows really towered over him so i don't think he was fully 6' 5". Maybe 6'3" - 6'4". Another one i doubt is ireland centre gorden darcy. Listed as 5' 11" he always looks 2 inches shorter than Brian O'Driscoll
Big T
said on 10/Sep/07
hmmmm. Plenty over the years, I guess. I ran into Marc Ellis twice over the last week or so, me and him are almost identical height (I am exactly 179-179.5cm barefoot). I looked him up and found a listing at 178cm- something tells me if he was an actor, particularly American, he would advertise himself as being about 6'1''!
Jonah Lomu is one I have a big question mark over, he was always referred to as 6'5'', but to me he never looked that tall compared to other rugby players, and when I met him I thought he was about 6'3'' max.
Lots of NZ Warriors players, e.g. Simon Mannering who I have seen in person twice, he is definitely taller than the listed 190cm imo, probably at least 193cm. Also, there were a lot of photos taken earlier this year with Warriors players bosing with WWE wrestler Batista. Batista is listed at 189cm on this site last time I checked, with some people arguing for him to be shorter, but interestingly he looks massive next to the Warriors players.....although I think the 189cm is about right. He looks about the same height when standing next to 189cm Manu Vatuvei, but MUCH bigger, which is worth noting for American fans since Vatuvei is, in American terms, about 250lbs.
Just generally I think it would be interesting for us Antipodean heightaholics to have something closer to home to talk about lol.
JK
said on 10/Sep/07
Steve Thomson is a Legit 6'2'' if not 6'2.5''
OutBenchThis
said on 10/Sep/07
Big T, which sportspeople have you seen and in what sporting code(s)? I know a lot of NBL players (past & present) and a few NRL and AFL players..some heights more dubious than others..
Big T
said on 10/Sep/07
Often I actually think heights/weights for rugby and league players are slightly low, especially when weights are taken very early in a player's career and not changed when he beefs up in the gym. Also they are often a little inaccurate, but are as often underestimates as overestimates.
btw I've met/seen a lot of NZ/Australian sportspeople who I could comment on, any chance of expanding the site in this way?
Jason
said on 10/Sep/07
Rubgy listed heights/weights are the most honest of the lot. I think they're all pretty much 100% accurate.
[Editor Rob: they are accurate but in Britain they don't list half inches, so all the guys who fall between. I noticed even the clubs in cm, i.e. Northampton, they are just converting from the inches. In Australia I see they actually list 185, 186cm etc...]
dmeyer
said on 9/Sep/07
he does look 2.5 in over you so 5'10.5 no less
OutBenchThis
said on 9/Sep/07
Ben Cohen looks 6'3" not 6'2" here in both the photos..
[Editor Rob: in second pic cohen is closest to camera by a few inches, but this is an example of how legit 6ft 2 guys should look (not your leo "6ft 2" dicaprios ;) )

both thommo and cohen are proper 6ft 2ers, in person very similar height, thommo slight edge. Bracken looked very similar to dawson, his 5ft 11 seems rounded.]
JK
said on 9/Sep/07
Matt Dawson looks bang on 5'10.5''