Max Von Sydow's Height
6ft 1 (185.4 cm)
Peak height was 6ft 3 ¼ (191.1 cm)
Swedish actor best known for films such as The Greatest Story Ever Told, The Seventh Seal, Hour of the Wolf, The Exorcist, Three Days of the Condor, Flash Gordon, Never Say Never Again, Hannah and Her Sisters and Minority Report. In a 1977 newspaper he mentioned his height, saying
"I'm just over 6 feet 3"
.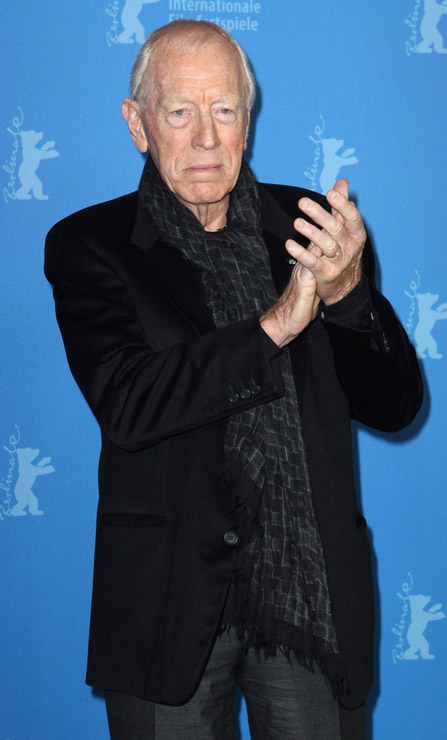 Photos by PR Photos
Add a Comment
100 comments
Average Guess (35 Votes)
Peak: 6ft 3.79in (192.5cm)
Current: 6ft 1.57in (186.9cm)
Fred82
said on 30/Jun/19
He looked about 6'1 in Starwars 7 . If he says 6'3 peak , i buy it
Miss Sandy Cowell
said on 21/Jun/19
Max was outstanding in 'The Exorcist', playing the knowledgeable part of the title role. I can easily believe that he topped 6ft3; in fact, I used to think he was 6ft4!
6ft3.25 peak
6ft1 now.
Nik123
said on 27/Feb/19
Yeah on game of thrones he was just a litte taller than bran's actor, who is listed at 5'11, so I'd say no more than 6'1
Jug
said on 22/Dec/18
He was certainly close to 6'4 at peak. In The Quiller Memorandum he had about five inches on George Segal who was a strong 5'11.
berta
said on 11/May/18
there is a chans he never was taller than 191 but there is a bigg possibility that he was a little taller tnad went with 6 foot 3 to get more roles. i mean there is no way this guy was only 4 cm taller than arnold 40 years ago :P
Ben
said on 1/Mar/18
@Canson I think so too. I was quite suprised when I found out he lives in the same town as I did.
However, Avicii lives in the town I live in right now, he usually drives around in his car. If I'm correct he's only there during the summer.
Canson
said on 27/Feb/18
Solid 6'3 guy at his peak don't know today
Tall Sam
said on 10/Feb/18
He said just over 6'3" which certainly doesn't rule out a 6'3.5" peak though. I mean in 1977 he was in American roles and it certainly wouldn't help him to get parts saying "I'm almost 6'4"." Anyway, I think Gunnar Björnstrand, the other male actor most often used by Bergman at his peak, would've stood maybe a strong 6'1", I think there could be 2 inches and some change between them.
Junior Hernandez
said on 8/Feb/18
I would like to see Donald Sutherland standing next to Max Von Sydow. They seem very close in current height.
James
said on 10/Dec/17
6'3" was his peak height.
Willes188
said on 29/Sep/17
Absolutely don't agree with this, but it's Robs site
Jtm
said on 28/Sep/17
I would have thought 6'3.5 or 6'3.75 but I guess this is possible.
berta
said on 26/Sep/17
really? :O well i havent seen him in that mutch so i guess this could be right but i must say that beetween this guy, cliint eastwood and donald sutherland i would say max was the tallest at peak. I thought at peak he could seems 192-193,5 by seing him in a couple movies. Today i feel he still can be over 6 foot 1 if he stands tall. He could have claimed shorter to get more roles. It really seems little low for him. I still give him 6 foot 4.
Canson
said on 26/Sep/17
If he was just over 6'3" in 1977 (doesn't say what time of day) I think 6'4 is nonsense. I agree with rob downgrading him and he may have only been 6'3" flat. 6'3" at ones lowest is unappreciated. I have a legit 190.4 at night friend who I can barely tell a difference with if he's in a thick sneaker and has a little more footwear than I do even being 3.5cm taller than him barefoot
Canson
said on 25/Sep/17
Rob may upgrade or downgrade anyone without explanation Willes because it is his site. We have to accept it when he does. At least have a balanced mindset tho and respect if he downgrades as much as you often approve of him upgrading people when he does
Editor Rob:
one thing with celebheights is that every single quotation I put up exists, seen by my own eyes or heard with my own ears 😇 Some claims I can never find though, I've wasted 1000's of hours over 13 years looking for some bigger names and never found anything.
But Max, he
Said he's just over 6ft 3
...
Willes188
said on 24/Sep/17
Rob this downgrade needs some explanation... Is this all based on his 1 claim? Despite what he looked in real life?
Because as I've said before if we're going to list every celebrity as they claim you've got a lot of upgrades to do, but apparently it's a different thing if the person claims less height...
Some really big downgrades have been made this year without any proof just 1 claim in most cases. Very few upgrades has been made despite the obvious facts/claims and public agreement that points towards it...
Editor Rob: I had over-listed him.

I was looking at him in an early film and thought he wasn't as tall as this listing and spent considerable time trying to find a quote and eventually did. Max said he was just over 6ft 3, seems rather a specific statement.

I certainly believe him.

even
said on 11/Jul/17
losing 8 centimeter at this age is very unlikely
Arch Stanton
said on 7/Jul/17
Christian-196.2cm (6ft5.25) said on 26/Nov/16
A 3 inch loss is a lot, even for a 87 year old man, especially when he didn't have any back, hip or knee surgeries.
Actually it's pretty usual, after 60 men on average lose an inch a decade, he's nearly 90.
Rampage(-_-_-)Clover
said on 6/Jul/17
I think he might still clear 6ft1 if measured today. Definitely a full 6ft4 peak
JJAK
said on 25/May/17
Absolutely love this guy superlative villain cool authority figure good comedy!
Dont watch got so I haven't seen him in about 10 years he was still towering the fake 5 10 guys then.
I'd say was down to about 6 2 or so in his 60s to 70s.
Aside from the painfully british accent he reminds me of charles dance size and ability.
Christian-196.2cm (6ft5.25)
said on 26/Nov/16
A 3 inch loss is a lot, even for a 87 year old man, especially when he didn't have any back, hip or knee surgeries.
Sandy Cowell
said on 20/Nov/16
I know I have seen Max in things other than 'the Exorcist', but that is the film that I think of when I see his name!
Not many truly terrifying films get 5 Stars in practically all its write-ups, but this one does!
Max Von Sydow's part in it as the exorcist himself was enormously impressive, whatever height he was at the time. It just so happens that he was very tall, but the man had the type of screen presence that oozed authority and commanded respect.
Did this have anything to do with his height? Well, it probably did! It's all part of the package that was and still is, Max Von Sydow!
S.J.H
said on 1/Nov/16
Max Von Sydow peak height certainly look taller than donald sutherland and clint eastwood
berta
said on 30/Jun/16
yeah he have probably lost about his mutch height. My grandmother was 172 when she was Young and now at 91 i measured her at a Little under 167.
Rampage(-_-_-)Clover
said on 3/Jun/16
He was probably 6ft2-3 range in Minority Report. In his prime he was every bit of 6ft4, sometimes even 194cm. He reminded me a lot of Alexander Skarsgaard in his older films
Judd
said on 2/Jun/16
Actually I do not agree this listing at 100%.
At peak he was 6'3-3.5" in my opinion while today he's over than a flat 6'1"...I remembered a couple of years ago he did look 1,5-2" taller than Tom Hanks...he might brush 6'1.5" or a weak 6'2" today.
Rampage(-_-_-)Clover
said on 2/Jun/16
I imagined he'd be somewhere in the 6ft2 range but some guys lose 3in in their 90's.
Sam
said on 1/Jun/16
Yeah, he does look 6'1" tops now and has had noticeably stoop at least as far back as Minority Report (but still towered Tom Cruise there). How many active actors today could claim to have worked with so many great directors, been in so many awesome films and 60 years of masterful performances? GOT was lucky to have him.
Rampage(-_-_-)Clover
said on 15/May/16
He actually does a lot shorter on GOT, now. Around 6ft1 range today, but might stretch to 6ft1½, Rob?
Editor Rob: it's arguable...at nearly 90 the average loss is well over 2 inches.
Michael
said on 10/May/16
If he is 6ft 3 then isaac, the actor who plays brann in game of thrones must be in the 6ft zone.
Rampage(-_-_-)Clover
said on 26/Mar/16
He looked a strong guy at peak.
Rampage(-_-_-)Clover
said on 29/Feb/16
6ft2-3 today
Jack
said on 26/Jan/16
After watching The Force Awakens, I'd say he barely reaches 6'2. I'm sure Kylo Ren had at least a few cm's on him.
Arch Stanton
said on 13/Aug/15
@Sam I'd have guessed 6'1-6'2 but not sure. I don't think he looked a legit 6'3 with Sydow. You could argue 6'3,5 peak for Sydow but in fairness he really looked around a legit 6'4", looks strikingly tall in The Passion of Anna
which I'm watching now and doesn't look under this.
Sam
said on 6/Jul/15
Arch (and Rob), how tall do you think Gunnar Bjornstrand was? He looked big and commanding, even next to Von Sydow although shorter, in The Seventh Seal. Gunnar was more chameleonic in Bergman's films, while Von Sydow was (except for supporting roles like Winter Light) almost always a similar kind of tortured protagonist/anti-hero in Bergman's films.
jtm
said on 5/Apr/15
his peak height was probably 6'3.5 and 6'2 tops now.
Rampage(-_-_-)Clover
said on 3/Apr/15
"Max Van Sydow's height is 6ft 2½in (189cm)"
Maybe 190cm. Does look a fair bit down from his peak.
Arch Stanton
said on 6/Mar/15
Rob can you add a photo? His profile in Three Days said 35 inch inseam. Seems about right.
Arch Stanton
said on 6/Mar/15
Mm, doesn't look 6'4" with Robert Redford in Three Days of the Condor.
Sam
said on 8/Dec/14
That kid in Through a Glass Darkly looks pretty tall as well, all three men in that film were definitely over six feet, Von Sydow being the tallest. He looked similar height to Donald Sutherland and was maybe just edged out by Daniel Stern, so he for sure was never anything over the 6'4" mark.
Arch Stanton
said on 29/Oct/14
Haha, Sam I just requested Ullman and Harriet!! Great minds think alike. Sydow actually looks near 6'6 in Through a Glass Darkly.
Sam
said on 22/Sep/14
Would be great to see some of the other actors from Bergman flicks added here. Liv Ullman, Gunnar Björnstrand, Ingrid Thulin, Erland Josephson, Harriet Andersson & Bibi Andersson were (in order I'd add them) all top-knotch! Unfortunately, more classic Hollywood or British actors sit higher on the queue.
Arch Stanton
said on 24/Aug/14
Rob, can you squeeze The Seventh Seal in here, it should be even before Hour of the Wolf I think? The Seventh Seal yeah I agree, probably his most iconic role, that image of him playing chess on the beach with death is one of the most iconic images of world cinema, but I hadn't seen it at the time of mentioning these films!! The thing is I'm not sure international audiences, particularly younger would know him more for Seventh than films like the James Bond one and Flash Gordon.
Sam
said on 20/Aug/14
Thoughts, Arch?...Not to step on your suggestions but I think those might be Von Sydow's best roles alongside The Exorcist and Pelle the Conqueror.
Sam
said on 19/Aug/14
I think The Seventh Seal and The Virgin Spring are must-adds, I'd say drop Flash Gordon and Never Say Never Again if you must to add these all-time greats w/ Bergman.
Guy
said on 26/Jul/14
I think his peak height was 190 but nowdays he has a bad posture a look like 186-187
Rampage(-_-_-)Clover
said on 20/Jan/14
Looked 6ft2 range in Minority Report.
Arch Stanton
said on 5/Jan/14
Thanks for adding those. Watching The Greatest Story Ever Told now, seems shorter in this film for some reason.
Arch Stanton
said on 30/Dec/13
Rob this isn't going to be easy but
Swedish actor known for films like The Greatest Story Ever Told, Hour of the Wolf, The Exorcist, Three Days of the Condor, Flash Gordon, Never Say Never Again, Hannah and Her Sisters, Father, Minority Report, and Extremely Loud and Incredibly Close might helped you out a bit!!
The Seventh Seal,
Arch Stanton
said on 30/Dec/13
Yeah I think Sydow could look 6'3 range in Hannah and Her Sisters although his posture is really bad. Caine looks 6'1" range in that film.
Sam
said on 23/Dec/13
I recently rewatched Hannah and Her Sisters, and Von Sydow looks maybe half an inch shorter than Daniel Stern, though his posture is looser, they both seem close to 6'4". Both clearly have a couple inches range over Michael Caine, one of the few instances I've seen of Caine look relatively short.
Rampage(-_-_-)Clover
said on 18/Dec/13
"Peak height was 6ft 4.25in (194cm)"
"Max Von Sydow's height is 6ft 2.75in (190cm)"
Looked huge in his early films.
Rusty
said on 22/Aug/13
Did not look more than a couple inches taller than rick yune in snow falling on cedars. yune is listed as 6' but is likelyl closer to 6'1"
Rampage(-_-_-)Clover
said on 11/Jul/13
194cm peak, Rob?
Rod
said on 11/Sep/12
He looked really big in the Sevnth Seal, a 1957 swedish masterpece. His squire in that movie also looked very big, around 6'2, and Sydow was clearly taller than him. I ould say he was a bit above 6'4 when young, he was pretty lanky back then.
Sam
said on 24/Jan/12
The picture with Daniel Stern has a weird angle. As I recall, Von Sydow and Stern looked to be around the same height as did Von Sydow and Donald Sutherland, so a 6'4" peak is believable.
Kalle
said on 4/Jan/12
Do you expect him to be 6'2.5 now well in his 80`s if he only ever were 6`3??? He was 6'4 for sure!
avi
said on 18/Dec/11
never over 6'3 seems ot be 6'2.5 nowadays
george555
said on 3/Dec/11
i saw him next to 5'9.5 Redford in Three Days of the Condor-he is at least 6'4
LAN Jiao
said on 27/Oct/11
@dmeyer says on 19/Aug/11
rob look at victory he looks 3 in over 6 ft 2 caine when in good posture he could be 6 ft 5 peak.
michael caine was more like 6'1 at peak and 6'0 now(never a legit 6'2 don trust the claim) , max von sydow could be right on 6'4 standing tall at peak so resulting 3in.
Nick
said on 22/Aug/11
Here with Daniel Stern listed at 192cm he was taller than both Caine and Von Sydow
Click Here
Nick
said on 19/Aug/11
With 182/3cm Giulio Base in 2005 he looked about same height maybe he is 186/7cm nowaydas..
Click Here
and 190cm in the past..
dmeyer
said on 19/Aug/11
rob look at victory he looks 3 in over 6 ft 2 caine when in good posture he could be 6 ft 5 peak
dmeyer
said on 19/Aug/11
he is mush taller than 6 ft 2 michael caine and stallone in victor aleast 6 ft 4 peak
Minerva
said on 24/Jul/11
"Scandinavia" isn't a country. Max von Sydow is Swedish.
Sam
said on 6/Jul/11
At age 73, he towered above Tom Cruise in Minority Report, looking about a head taller (also much taller than Colin Farrell there)
Bon
said on 5/Jan/11
although there might be a possibility he was a fraction over 6'4.
Bon
said on 7/Dec/10
as listed, no more.
Rusty
said on 29/May/09
Looked more 6'2" in Rush Hour 3
yoyo
said on 25/Apr/09
looks exactly 6ft3 in 1993 Stephen King's Needful Thing. Nowadays at least 6ft2.5 ~ 7.5.
Source
said on 10/Apr/09
191cm seems right. He turned 80years old today, great actor.
jackharry
said on 23/Mar/09
Look at Sydow walking with Redford in "Three Days of the Condor" He has at least 6" on Redford ,if not more. I'd say Redford at 5'10" is generous.
guyfrommars
said on 23/Jan/09
He's probably this tall. During his early days, acting in the films of Ingmar Bergman he seemed to have an average height because he was surrounded by other tall Swedish actors, like 6ft3 Gunnar Bj
RisingForce
said on 24/Dec/08
David gives his height as 5-9 aram x.
aram x
said on 15/Dec/08
Just curious about David Stern's height? I know he isn't an exceptionally short or tall individual as he's dwarfed by many players but he isn't exactly a shorty standing next to most 'ordinary' individuals.
raison
said on 19/Sep/08
In rush hour3 he looks 2inch taller than cris turker, turcker is 6'1" so sydow is 6'3"ish now
This plus
said on 25/Jun/08
Very good actor , solid 6-4 when he was young
BC88
said on 23/Apr/08
He always seemed real big in Bergman's movie and was probably 6'4". He is probably 6' 3"ish now.
Anonymous
said on 23/Jan/08
i met many scandinavian , All of them are very tall and have long legs :)
John
said on 20/Jan/08
It seems like all the sweds in hollywood are tall, i'm from sweden but only 5 ft 7 =P
Tommy87MI6'4"
said on 18/Jan/08
Thanks for updating, in his prime he really looks 6'4" and he has shrunk a few, tough being 79 years old - hope I'll do like him.
Anonymous
said on 17/Jan/08
6"4' is more flexibe , anyway he looks very nordic swede.
moose
said on 11/Jan/08
because of his leptosome , he looks slightly taller than his height mabe he is
191 or 192 when he was young
Tommy87MI6'4"
said on 5/Dec/07
In bergmanian movies he's clearly over 6'4" and now is still very tall... I'd say 194cm in his prime and now, 78 years old and still very active, 191-2.
glenn
said on 26/Oct/07
ill buy that he was a hair over 6-4.in fact i think thats very accurate.he still films.or at least did 4 or 5 years ago.
Viper
said on 26/Oct/07
Its funny how he looks close to what he looked like in the Exorcist now. I didnt realize he was a lot younger then and they made him look older. I originally thought he was dead a long time ago. Maybe he was 6-4 1/4 exactly?
poldo
said on 25/Oct/07
internet sources give him 1,93 or 1,94.He's taller than vittorio gassman(i saw gassman walking with his wife and he was very taller of me(1,80),i think 1,90).
glenn
said on 25/Oct/07
its a known fact he was 6-4.why rob has him this low is beyond me.
Gonzalo
said on 24/Oct/07
Clearly downgraded in this page. 1`94 sounds realistic for him. He was much taller than Michael Caine in Victory or in Hannah and her sisters. Caine is listed 1`88 here. Rob, watch those movies and tell me Sydow was just an inch taller. He also looked as tall as David Stern, listed here 1`93. And, if I remember properly he looked taller than John Wayne in The greatest story ever told. But I am not fully sure about this last one. Now, he seems to have lost several cms.
Time to upgrade the Swedish
Viper
said on 13/Oct/07
He looked 6-4 in the Exorcist to me, or at least gave more of a 6-4 impression.
King
said on 13/Oct/07
rob, time to increase! 6ft4½ it is.
raul
said on 10/Apr/07
Click Here
this link says 196 cm.
He's taller than gassman(190)in "deserto dei tartari".
mino
said on 1/Apr/07
i read 193 and according to me when he was young he was 194.
denny d.
said on 27/Dec/06
Dario Argento said that Sydow is 1,96.
Click Here
OnCapeCod
said on 3/Jun/06
SOLID 6'4" watch "Three Days of The Condor"....
ForensicNYC
said on 2/Jun/06
Classic Max Von Sydow pose almost anybody would recognize...
Click Here
At 6'4" (in shoes) plus the FEDORA HAT, Max almost bumps the door frames...
Click Here
He was the TALLEST JESUS...
Click Here
Gonzalo
said on 10/May/06
He was clearly taller than Michael Caine. He was at least 6`4 in his prime
Glenn
said on 28/Mar/06
Yes, he is 6-4.5 in his prime.
EJ
said on 25/Nov/05
Did you notice that in the end of "Minority Report", he appears to be around the same height as Tom Cruise when they are standing together? Tom must have been standing on a couple of phone books for that scene!
McFan
said on 18/Aug/05
I think Von Sydow was closer to 6'4 in those early films.