Michael Kenneth Williams Height
5ft 10 ¼ (178.4 cm)
American actor best known for his roles on TV series The Wire and Boardwalk Empire. In film he has appeared in 12 Years a Slave, The Road, Gone Baby Gone, Snitch and Robocop.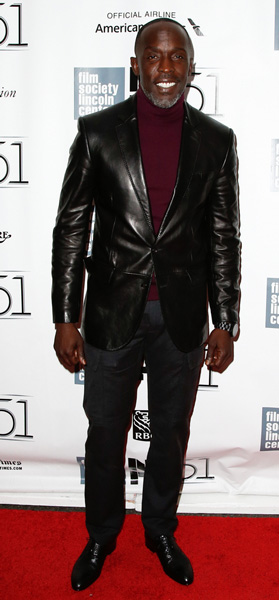 Photo by PR Photos
Add a Comment
9 comments
Average Guess (10 Votes)
5ft 10.53in (179.1cm)
Sandy Cowell
said on 15/Apr/18
How about this for a wonderful comedy moment? Chalkey White and a mate break into someone's house (early episode in Series V of Boardwalk), for financial gain.
The first place they head for is the kitchen - to greedily raid the fridge! 😂😂
🐸 🍶🍰🍪🍯🍣🍕 🐷 👍👍
Sandy Cowell
said on 27/Mar/18
I think Michael is FANTASTIC as Chalky White in 'Boardwalk Empire', and having just Googled him, I find that his facial scar is as real as it looks in the series, and acquired by him in a bar fight!
Well, it is hardly going to put people off when employing him to be cast in any gangster material!
At just over 5ft10, though often appearing taller, Michael plays the part of an early 20's ally of Nucky Thompson's, but being a black fellow, is up against the unsavoury likes of the KKK, who at the beginning of Series II, wipe out some of his friends, including a woman.
At the end of the First series, Chalky certainly shows his strength, killing a man with his bare hands, his chosen method being strangulation, so it isn't too difficult to expect Michael to be a bit taller, not that he needs to be, because his strength is in his physique! It's psychological, I suppose, to expect someone who displays such power to be taller!
I will go along with 5ft10.25! I wonder how much he weighs?
Rampage(-_-_-)Clover
said on 17/Nov/14
I had a a dark brown one fairly similar to the one he's wearing but nowhere near as pricey. Bought it in New York in 1997 or 98. I remember going out that night to a rooftop bar on 9th avenue, feeling like I was in a Tarantino flick. A lot of the one's they make now are horrible.
Anyway this guy was always around 4-5in below Elba on The Wire.
Arch Stanton
said on 10/Nov/14
I've got one just like it Rampage only its three quarter length and looks like something Seagal might have worn in the early 2000s!! Personally I prefer the tan/red one I've got. I'd bet his is worth several thousand dollars though!
Rampage(-_-_-)Clover
said on 8/Nov/14
178-179cm is spot on.
I'd kill to have that jacket he's wearing.
cole
said on 6/Nov/14
Good call. It's pretty much what he always looks, a solid 178 cm.
Sam
said on 5/Nov/14
Yeah thanks! I knew 5'11" was a bit much, I'd say he can look a bit taller than 5'9.5" listed Jeffrey Wright, similar to 5'10.5" listed Michael Pitt. On the other hand, he actually looks 5'10" flat compared to 5'8" listed Wendell Pierce at times.
Arch Stanton
said on 5/Nov/14
Good call, about as good an example of a solid 5'10 guy as you can get.
Andrea
said on 5/Nov/14
Finally, Rob! It's been a while since i've seen him in the wire but i remember i thought he was somewhere between 5'10 and 5'10.5, so 5'10.25 seems a good guess!