Michael Landon's Height
5ft 9 (175.3 cm)
American actor best remembered for his roles as Little Joe Cartwright in Bonanza, Charles Ingalls in Little House on the Prairie, and Jonathan Smith in Highway to Heaven. One of his Little House co-stars - Melissa Anderson - commented upon his stature in her book, saying
"He wore lifts almost all the time back then. Our wardrobe man, Andy, said that between the lifts on the inside of his 'Charles Ingalls' boots and the heels on the outside, he gained quite a few inches."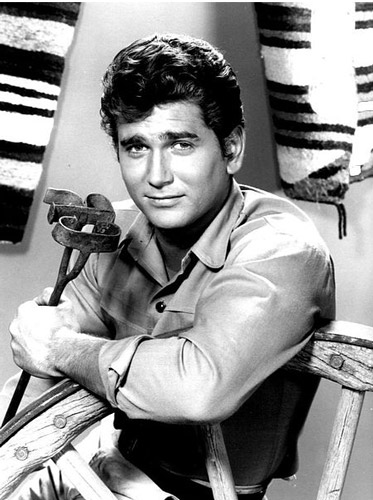 Michael Landon as Little Joe from Bonanza (NBC Television, 1963).
Add a Comment
55 comments
Average Guess (23 Votes)
5ft 8.79in (174.7cm)
Carolyn Collinge
said on 19/Feb/21
I loved him on Little House and don't mean to put him down. But in 1983 while in Maui with my mom who was 5 ft 2 we saw him and his wife sitting at a bar with their backs to us. I was shocked at how tiny they were. I'm 5 ft 5. He was 5 ct 2 or 3 tops unless he has unusually long legs. The real heights of actors should be transparent so shorter people might feel a little taller.
RR
said on 16/Jan/21
These are their correct heights:
Pernell Roberts, 6ft 0
Lorne Greene, 5ft 11
Dan Blocker, 6ft 3
Michael Landon, 5ft 8
Bonanza was such a great and beloved show! They'll all be missed dearly. I don't think Mr. Roberts or Mr. Blocker were lift wearers. It was like Pernell Roberts cursed the entire show when he departed. Somehow the three remaining cast members believed in the things he said. The later seasons we're never quite the same without the clever wit and humor of his presence.
Beau Dare
said on 23/Dec/20
I first met Michael Landon on the set of "Highway to Heaven" in Studio City, when I was working in Los Angeles as an actor /screenwriter. He stood about 5'9" with excellent posture and bearing, Not long afterwards, I did some business with him personally, on one of my scripts, and found him to be quite genuine and personable..(Very rare in Hollywood). A very nice man.
meezemaker
said on 10/Apr/20
Rob???
Click Here
Just watch his sock....

Editor Rob
Could he have been an early lift-sock wearer? You never know!
Funruffian
said on 25/Oct/19
I saw him in person back in 1980 at a USC function. And I guessed back then he was 5'9". This is correct.
Miss Sandy Cowell
said on 16/Oct/19
@ Annettemarie - I really enjoyed your lovely story about meeting Michael Landon. It must have been the experience of a lifetime, and I, too, would have been totally starstruck, but I would nonetheless have given him a massive hug, and Karen Grassle, the two of whom made the nicest TV couple with their beloved family.
Each of the episodes has a parable-like meaning. I bet he and Karen loved their daughters like they were their own children.
My favourite episodes are 'The Lord Is My Shepherd', which is performed in two parts and guest stars Ernest Bourgnine, and 'He Was Only Twelve', where Charles's young stepson is shot in a bank raid on his 12th Birthday and the doctors give him zero chance of survival, so Charles builds a temple and puts his faith in God, who sends a Biblical figure in the form of a wise old man to talk to Charles who, upon seeing his faith is genuine, the boy, played by Jason Bateman, is miraculously cured. This episode is also in two parts.
Up until very recently, they were showing repeats of the Series on TV and I look forward to seeing it all again some day. I do have a few episodes on DVD, but nowhere near enough!
It's been a pleasure to chat with you about such a likeable star,
All the very best,
Sandy XXX 😁💐
Michael can have five nine.
📏📏📏📏📏 + 9️⃣"
Annettemarie
said on 14/Oct/19
I met Michael Landon in the 70s on the set of Little House. I was wearing flat sandals and only 5' 2" and Landon looked of average height, whatever that is. I am going to say about 5' 8" or maybe a fraction more. I was surprised, as I thought he would tower over me like most men. He did seem taller than that on Johnny Carson Late Night TV Show. He had to have been wearing lifts on the Carson show. But in person, average height, not short, nor, on the tall side.
He was definitely good looking in person, but I think on film he was even better looking. That may sound strange but I think he was extremely photogenic. In person, I wouldn't pick him out of crowd and think, drop dead gorgeous, but on screen I thought he was strikingly handsome. Being tall is considered a plus in male attractiveness. Michael Landon was not tall, but no matter, he certainly had manly appeal. That day he was directing, not acting, and wearing casual clothes. He had beautiful skin and I think he was aware that I was a little star struck. Maybe that is why he went out of his way to make a bit of small talk to a stranger on his set. That was kind of him. It is understandable that women would find him very appealing; he was good looking and so nice.
Joann
said on 8/Oct/19
@Avi
You could be right based on that picture. But who had what foot ware in that picture? It's hard for me to believe that the man playing "Pa Ingalls" exaggerated his height by two inches.
avi
said on 26/Sep/19
@Joann said on 24/Sep/19
Not a chance
Look at him next to weak 6'1 Victor French.
There is almost 4 inches.
Joann
said on 24/Sep/19
Just viewed that on line picture and it confirmed what I thought "Pa Ingalls" height to be. My guess is 5"10 1/2" barefoot.
avi
said on 25/Aug/19
@Ben Solomon said on 16/Aug/19
I looked at that picture. I haven't seen much of McClure but it seems he was a touch over 6'0 , average guess on this site has him 6'0.3.
So assume he was 6'0.5 and Landon has on those pool shoes which may have .5 boost.
The difference in that pic seems to be a solid 3 inches.
assuming Landon was 5'9 and 5'9.5 in those shoes
It's hard to say with the angle in the pic. It could be anywhere from 2.5 (doubtful) to 3.5 inches if they stood next to each other properly.
Point is Landon was not 5'10.
5'9 would be most I'd go with. So maybe Rob has him correct!
Miss Sandy Cowell
said on 20/Aug/19
One of the most beautiful-minded people ever to have lived! XXX 😘
5ft9.5.
Ben Solomon
said on 16/Aug/19
@Editor Rob and @avi
There is a pool side picture on line of Michael standing next to Doug McClure. Mike has pool shoes on(maybe 1/4 or 1/2 inch) and Doug is barefoot. Doug is listed as 6'1" in every on line site and seems to be so. In this pic, he seems to have three inches on Mike, making Mike close to 5'10".
avi
said on 13/Jul/19
@Ben Solomon said on 12/Jul/19
Never was 5'10 in his life barefoot.
He wore lifts.
5'8.5 would be the best shout.
Ben Solomon
said on 12/Jul/19
About 5'10 1/4" barefoot. He was probably closer to 5'9"- by the time he was in his mid 40's and 50's. Heavy weightlifting can expedite height shrinkage.
avi
said on 11/Jul/19
@Editor Rob
Rob,
Take a look at this picture with Victor French who was between 6'0-6'1 (looks this in Gunsmoke) and Landon can look 4-4.5 inches shorter sometimes 5.
Click Here
I think Landon barefoot was 5'8.5 at most . Isn't 5'9 too tall?
We know he wore lifts so can be difficult to pinpoint.he was almost Dean Martin's height - another famous lift wearer.

Editor Rob
5ft 8.5 could be argued at times for him.
Greg99
said on 17/Dec/18
Given Melissa's comments which one assumes are likely accurate, he padded his height by probably two inches - maybe more. On a 1974 clip on youtube on the Johnny Carson show, he looks a good inch taller than Johnny carson (who was about 5'10" then), so I'd guess Michael's height between 5'8" to 5'9". The extra lift height suited him because his physique was quite brawny for his real height, so the use of lifts really doesn't attract that much attention.
James
said on 21/Nov/17
Dean Martin was 5'8".
Tom
said on 14/Aug/17
For what it's worth, Landon was the same height as Dean Martin. Watch the episodes of Martin's variety show he appears with Dean. He mostly wore cowboy boots. But Dean wore lifts. And when Landon was on The Tonight Show with JohnnyCarson wearing a tux and regular shoes, he and Johnny were the same height. I'd say Landon was a solid 5'10''.
Debbie Smith
said on 21/Mar/17
Michael went gray in his 20's. He colored his own hair with ash brown by Clarol until later filming of Little house the hot 90%+ weather reflected light off his hair so he finally let a professional do it. Did you know several actors in little house got cancer? They think that it was from radioactive stuff that was once dumped on the 10 acre ranch where they filmed on. So sad. I wish he was still here as well as the others. I will see him one day I'm sure.
Oh yea, they also drank all day on set of Little house but moderately. You couldnt tell they were drunk because they spaced it out through out the day, then AFTER filming they pulled out the heavy stuff. LOL he enjoyed his life. Rip Michael Landon, you're still missed and it's 2017
Es
said on 23/Feb/17
5-9 is a good height and a solid one at that if it is your actual barefoot height
Sandy Cowell
said on 5/Jan/17
This morning at the start of a film, I couldn't help but notice the name Michael Landon Jnr! He wasn't an actor; I think he might have been the director or producer.
It is good to know that one of his many children made a career out of the showbiz scene, though I must say, the son's job is not going to put him under public scrutiny all the time, which can't have been very easy for his father.
Sandy Cowell
said on 4/Dec/16
@ James - Hello! I didn't know Victor French had died as well, and before Michael. How very sad - I know they were great friends and they worked so well together.
James
said on 3/Dec/16
He was a star athlete at high school, but he began smoking four packs of cigarettes a day in his mid-20s.
Landon gave up smoking after Victor French died, but still drank heavily.
Sandy Cowell
said on 1/Dec/16
@ James - Wow! That's an awful lot of smoking! I didn't know he smoked THAT much!
Neither did I know that he drank! How did he get those muscles? Maybe he fell apart after his Prairie days. I did notice he went grey incredibly quickly, or perhaps that had something to do with the cancer.
It's a shame that the pressures
of Showbusiness have that effect on so many of our stars...
James
said on 30/Nov/16
He can't have been extremely fit - he smoked up to 80 unfiltered cigarettes a day, and drank heavily.
Sandy Cowell
said on 30/Nov/16
Since 'Little House...' was based in the 1800's, it is amusing to think of Michael Landon ploughing his fields, building and making pieces of furniture wearing lifts, which I doubt that they had back then!
He pulled the wool over my eyes, but there's no taking away that he was extremely fit and strong and, I heard something about the fact that there were more pictures of him than anyone else in the American mags, or maybe the American TV mags!
I think he had a heart of gold!
James
said on 22/Nov/16
Landon was actually 5'8".
Sarah
said on 27/Oct/16
I think he might be a little over 5'9
Sandy Cowell
said on 8/Oct/16
I would have given him at least 2 more inches. I loved him in 'The Little House on the Prairie'; never ever saw Bonanza. What an incredible hunky physique this guy possessed and rock star hair! A wonderful contribution to my childhood and even today I enjoy watching his lovely character Charles Ingalls.
Editor Rob: since Landon was a known lift-wearer, I think it is like Burt Reynolds - can fool us into thinking he is taller.
Editor Rob
said on 9/Dec/14

It's true about his lifts, on Little House melissa anderson also mentioned he was always in lifts.
Eamon
said on 5/Jan/14
Maybe smoking 4 packs a day prevented him from being taller?
Mikey P
said on 7/Jul/13
Landon admitted on the Tonight Show (Carson) that he had to wear 4" lifts in his shoes/boots on Bonanza (so Blocker & Green wouldn't tower over him), so 5'9" - 5'10" is about right.
maynard
said on 13/Dec/12
Stood next to him at The Breakers Hotel in Palm Beach in 1986 and he was at least 5'10" or 5'11".
Marcus
said on 7/Aug/12
Landon was nearly a foot shorter than Merlin Olsen on "Little House on the Prairie". Olsen was 6'5" and based on their scenes together, I would put Landon's height at 5'7.5".
Robby D.
said on 9/Sep/11
In the Bonanza Series he looked alot shorter than Lorne Green, Pernell Roberts and Dan Blocker and having the name, "Little Joe" I always assumed he was around 5'7". I am surprised he was as tall as 5'9"
Joe Bloggs
said on 9/Jul/11
Maybe a smidge shorter, but I doubt he was under 5ft6/1m68... you'd have heard about how really "little" "Li'l Joe" was.
AC
said on 12/May/09
5'9"??? That can't be right, I always pegged the guy at 5'3" or 5'4" at most, he was tiny.
Ron
said on 6/Feb/09
Michael Landon did where lifts. His actual height is 5" 7 1/2"
Ron
said on 6/Feb/09
I met Lorne Green in 1976 and I am 5'11'' and he was at least 2 inches taller then me
Scott B.
said on 8/Jul/08
I saw an episode of Bonanza today. There was a scene where Roberts was Barefoot standing next to Landon in Boots. Landon was 5'9 and 6'0 in boots. Roberts was and inch taller putting him at 6'1. Roberts and Blocker did several scenes barfoot, but Landon and Green always had their Boots on.
Roberts 6'1
Blocker 6'3
Green 5'11 3 inch Lifts.
Landon 5'9 3 inch Lifts.
Joab
said on 14/May/08
I always assumed he was shorter in Bonanza because he was called "Little Joe", however, it could have been because his brothers were alot taller.
pjama
said on 13/May/08
I loved his work on Bonanza. I think 5'9 is pretty accurate.
Anonymous
said on 25/Apr/08
Pernell Roberts was not and is not a nasty man. If you go to the Bonanza Web sight, you will see that he was very close to Lorne Green. Also, He met up with Landon in the 80's and they spent some time together.
Scott B
said on 11/Apr/08
Landon was 5'9. He wore 3 inch Lifts on Bonanza making him 6'0 in Boots.
mhaft
said on 5/Nov/07
I met him in Beverly Hills a year or so before he passed, and perhaps due to his declining health, he was considerably shorter than my 5'9" height. I would estimating him to have stood 5'7" max.
Marcelo C.
said on 5/Oct/07
I think 5´9" is correct for Mr. Landon. Though, he was always in a good shape, looking athletic, so used to have a very good presence.
Brad
said on 6/Aug/06
Hard to say, he always wore boots. 5' 8" is about right. That Pernell Roberts was and is a nasty man.
Sam
said on 1/Aug/06
Does anyone have height guesses for the rest of the Bonanza cast? Greene, Dan Blocker (Hoss) or the guy who played "Adam" can't think of his name.
Glenn
said on 13/May/06
He was 5-8.
frank p
said on 11/May/06
Well, going by his appearance to me anyways in Bonanza, Little House, and Highway to Heaven, I would've said under 5"10 to tell you the truth.
Frank2
said on 28/Feb/06
Michael was about 5'8" and wore lifts in his cowboy boots in Bonanza, but so did Lorne Green! By the time Greene was in Earthquake he appeared in person to be my height which is 5'11". I used to sit in the Universal studio restaurant and would occasionally see him at the counter reading the Wall Street Journal. We once discussed the stock market and I got the feeling he was a big investor. Nice man.
Height Detective
said on 16/Oct/05
http://www.imdb.com/gallery/mptv/1317/Mptv/1317/5424_69.jpg?path=pgallery&path_key=Roberts,%20Pernell
In this photo you see that he use more hell in is boots ( and lifts? ) than the rest of the bonanza cast.
CelebHeights Editor
said on 12/Aug/05

I found an old quote that Michael is supposed to have said:
"Back then actors were big, muscular, terrific! And I was still 125 lbs and 5ft 11 I'd always be."
Mr. R
said on 29/Jun/05
For years, Michael Landon was listed at 5-11. Even after he died, this was his given height. As always, I am suspect when a celeb is listed at 5-11 cause if they really were, they would go ahead and list them at 6 feet. This height seems to be a pretty good guess.