Michael Smiley's Height
5ft 9 ¾ (177.2 cm)
Northern Irish comedian and actor, known for appearances in Kill List, Free Fire, Perfume: The Story of a Murderer and TV series Luther.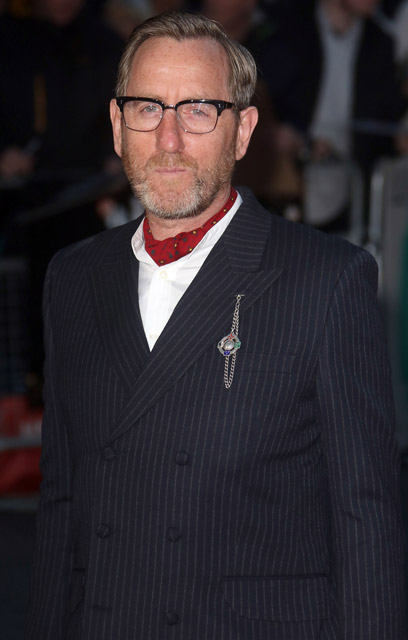 Photos by PR Photos
Add a Comment
19 comments
Average Guess (10 Votes)
5ft 10.4in (178.8cm)
Sandy Cowell
said on 9/Mar/19
Michael was in 'The Other Boleyn Girl' and horror film 'The Hallow'. He's also starred in 'Wire in the Blood', alongside Robson Green, but most memorable for me was that shocker 'Kill List'! 🤦
He always gives an excellent performance and stars in some incredible films. I think Mr Smiley comes over as a bit taller than his actual just-short-of- 5ft10; I will therefore go for 5ft10.5!
Sandy Cowell
said on 9/Dec/18
@ Nik - Whether a celebrity visits his or her page has always been of interest to me, and I should imagine, the great majority of the other visitors to this website.
I remember towards the beginning of my coming here, somebody wrote into Rob asking him exactly that. His reply was on the lines of, 'If you were a celeb, wouldn't you want to find out what's being written about you?'
Right then, I'm off to Kane Hodder's page! 😉👍
Sandy Cowell
said on 9/Dec/18
@ Nik - I'll get back to you on that one! I am watching 'Shrek The Halls' - on TV, so I can't pause it!
Sandy Cowell
said on 8/Dec/18
I have paused my watching of 'Kill List' to say, "Thank Heavens for Michael Smiley", whose been giggling and laughing in what could otherwise have been an unnecessarily angry scene, albeit a funny one!
His mate, and fellow hitman, played by Neil Maskell, whose height I am trying to observe, is EVER so rude to a bunch of born again Christians who are singing in a café! OK, it is ridiculously funny at the same time - he says to the guitarist, after the man politely says, "Well God's love can sometimes be hard to swallow" to which Neil's character retorts, "Not as hard as this dinner plate!" and while belittling him for getting his guitar out in the restaurant. adding "'cos Jimi Hendrix you're not!" - Michael Smiley is true to his name and apologises for his mate and orders them "Double orange juices all round!"
This is one of the most violent films that involves the life of a family; they have a young son. Neil argues with his wife, played by MyAnna Buring, 5ft1.5, and Michael takes the boy upstairs and it is quite lovely how he explains things to the child.
I remember seeing Michael on a TV series, working out in a forensic science department, and I always thought he was around 5ft11 or more, but this film shows otherwise, though he could pass for 5ft10. Now I want to have a good look at Neil's height, and that of Steve Oram, who hasn't appeared yet.
I know Michael will continue to provide a touch of humour and lighten the mood of his friend, but there are no happy endings in this film, alas!
I will settle for 5ft10.
Nik
said on 8/Sep/17
@ Sandy Cowell - Hi Sandy!
It would be great to know how many celebrities visit their own pages and when you see a comment done by someone with the same name as that of the celebrity whose page they are on it makes you wonder if it is that particular celebrity who has made the comment or whether someone else has signed in under that celebrities name, perhaps because he/she is their favourite celebrity! I remember you asking if the visitor who signed in under Kane Hodder's name was actually Kane Hodder or not! It would be interesting to find out!
I imagined there would have been a number of interested people around you and your phone when you sent the comment to Rob in the chemist, I must have been wrong thinking that!
In terms of Michael's height I certainly think he looks on the tall side when you see his face and torso, and at 5'9.75" he is tall for his age and of an high average height for all age groups.
Cheers!
Sandy Cowell
said on 6/Sep/17
@ Nik - Nobody did see what I was writing, fortunately! There are only a very few seats in my chemist, and being allowed to sit on one while you're waiting for your 'script is not exactly a compliment, if you get my meaning!
If they had seen that I was wasting one of their precious seats to fiddle on my phone, bang would go any future chance of using this rare and priveleged facility of theirs ever again!
Yes it would be nice to think that Michael should some day discover the site and, more importantly, that he has a page of his own! I'm always wondering just how many stars come here to see what has been written about them! 🛃📜📑📒📝 💊💺💊📱😜
@ MSJC - he he he! 😂
I see likenesses in quite a few celebrities myself! It's bound to be the case, especially as they, either through choice or to attain different acting parts, frequently change what they look like!
'Normal' non-celebs, ie US, like to change our appearances as well! It's great fun to adopt a new look, don't you think so? 😉
Cheers guys! 👍👍
Rory
said on 6/Sep/17
There's no way he should be listed the same as Johnny Harris, it's clear Harris is half an inch taller.
Editor Rob:
with Armie Hammer
Here
he can look a bit under 5ft 10 I think.
Sandy Cowell
said on 5/Sep/17
@ Andrea - So he also stars in 'Luther'! That's something I've learnt today, thanks to you! 👍
MSJC
said on 5/Sep/17
@Sandy - Glad i'm not the only one who think so hehe :)
Nik
said on 5/Sep/17
@ Sandy Cowell
I bet you were! Did you have some people around you looking to see what you had typed?
Michael would be delighted to know of your interest in him having a page on this website, I hope he comes on this page and reads the comments!
Cheers!
Andrea
said on 4/Sep/17
This guy had a recurring role in Luther, where I think he looked quite average... I can't remember how tall he looked next to Idris, though. I only found these two pictures, which suggest he's noticeably shorter than 5'10 but they're far away from being ideal, I know:
Click Here
Click Here
I should rewatch Luther to see how tall he really looked with Idris but I certainly wouldn't have guessed him over 5'10, from what I remember...
Sandy Cowell
said on 4/Sep/17
@ Nik - Yes! Michael has a page of his own now and I am delighted! You should have seen me when I found out on Saturday! I was like a kid in a sweet shop!
@ G 5'11 - I like that! If he has the face of a 6ft guy that makes it far more acceptable that I had taken him for a 6ft+ guy. Hooray! I do feel better now! 👍
@ MSJC - Hi! Yes, the older Tim Roth and Michael Smiley do look similar, but the howling, squealing Tim from 'Reservoir Dogs' and the juvenile gangster Tim from 'Pulp Fiction' look like a much younger and sillier brother of Michael and Tim Senior!
MSJC
said on 3/Sep/17
Bears a striking resemblance to Tim Roth!
Rory
said on 3/Sep/17
Could be 5'9.5-10 range. He looked shorter than Johnny Harris in jawbone who looks a strong 5'10 range to me.
Sandy Cowell
said on 3/Sep/17
Excellent! You found it, Rob!
No, I had no idea Michael was in an episode of 'Dr Who', but he has been in another Wheatley*-directed film. 'Kill List' was a Wheatley-directed film, and I think the other was called 'Field in England'.
* The director I refer to as 'Wheatley' has nothing to do with novellist Dennis, but his first name also begins with a 'D'! If I find out anything interesting about this director, I'll be back! It might even be worth giving D. Wheatley a page, who knows?
Cheers Rob - and many thanks! 👍
Nik
said on 3/Sep/17
@ Sandy Cowell - Hi!
I am so pleased for you that Rob has granted your page request for Michael Smiley. He is extremely talented so he deserves his page on this website. I hope you have had a great weekend! Well that is a no brainer now you have got Michael his page!
Cheers!
Sandy Cowell
said on 3/Sep/17
@ Rob - Did you get my original 'Thank You' comment, written yesterday while I was sitting in the chemists, having just discovered Michael had been give a page? Boy, I was so excited, and it showed to any passing onlookers and also in what I was writing!
Well, I've come back down to Earth now, and have just observed that Michael is also a comedian! That's news to me! How very interesting to find that out; it certainly isn't reflected in the parts I've seen him in, though I suppose there are Comedy overtones in that punch-up he has with his mate in 'Kill List'!
Editor Rob: yeah, he has popped up in a lot...actually I remember him in an episode of Dr Who and he could look between 5ft 9-10 range there!
G 5'11
said on 2/Sep/17
He has the face of a 6 foot guy.
Sandy Cowell
said on 2/Sep/17
THANKS ROB!
What a fantastic surprise to find you have put Michael Smiley up and found his height as well! I am sitting in the chemists writing this because I just couldn't wait! I am SO pleased!
I was out like crazy with my 6ft1! I will go with your 5ft10, Rob!
Editor Rob: I think he looks nearer 5ft 10 than say 6ft, as other person said, he has a 'taller' face for his height.