British Singer from Liberty X. Celebrity Wrestling gave her 5ft 4.5, she herself in Closer Online in 2009 said about her height and weight:
"Before I went on Celeb Big Brother this year, I slimmed down from 10st to 9st (I'm 5ft 4)and now I love showing off my 27-inch waist"
and Now Magazine,
"I don't really like my stomach and my legs. I'm only 5ft 4in. When I was in Liberty X, the other girls were like 5ft 6in and 5ft 7in, so I noticed my weight a lot more then because you could see it in photos"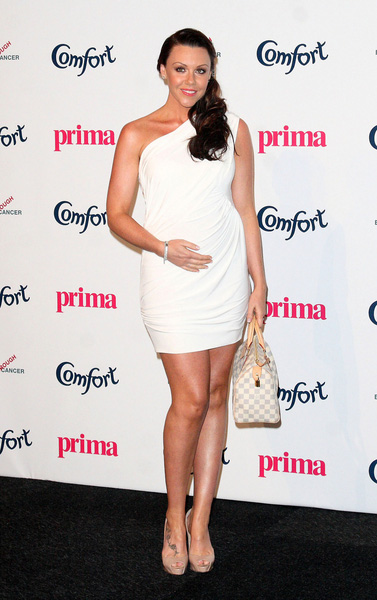 Photo by PR Photos
Miss Sandy Cowell
said on 19/Jul/19
🎁🎂🎈 Happy Birthday Michelle! 🎈🎂🎁
Many Happy Returns Michelle, on this, your 40th Birthday!
5ft4.
🕯️🎉🍰😁🕯️🎉🍰😁🕯️🎉🍰😁🕯️🎉🍰😁
Sandy Cowell
said on 18/Jan/17
Quite a few years ago, Michelle was on our TV's signing up to a truly arduous experiment. This was to change her normal lifestyle in favour of a very boozy one!
Some might think "oh, that sounds like fun! Count me it!". Believe me, it wasn't fun at all! I think it was even worse than she herself was expecting.
She was, of course, deamed medically fit enough for this test at the onset. Michelle was weighed, her BMI taken, fitness levels, the lot! Drinking to excess over a few weeks really changed how she felt in herself and looked as well. Her weight went up just a few pounds, but her BMI soared, proving how all this drinking was changing her physical make-up. Also, her skin suffered, her eating habits were badly messed up and she felt depressed. I thought it was very sporting of her to do that and to show people that drinking to excess surely is not the way to a happy, healthy body and mind.
Now last night, Michelle was on another programme talking about her struggle with internet slimming pills, once again helping her fellow humans by warning us of their dangers. Admitting this was brave of her and could be just the jolt someone needs in order to come to terms with this problem.
I take my hat off to this 5ft4 lady, who now happily keeps fit and slim with good old fashioned diet and exercise, which is the only way. There are no short cuts or miracle cures, alas! 💁👒