Mo Farah's Height
5ft 8 (172.7 cm)
Somali-born British Middle-distance Runner. In his own autobiography he has listed:
"Height: 175 cm Weight: 65kg"
.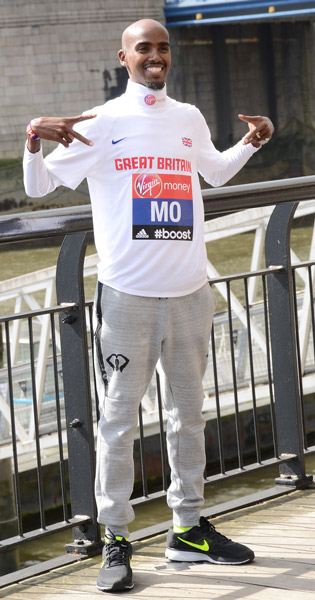 Photos by PR Photos
Add a Comment
24 comments
Average Guess (17 Votes)
5ft 7.46in (171.3cm)
Miss Sandy Cowell
said on 23/Mar/20
🎂🎁🏃‍♂️🎈 Happy Birthday Mo! 🎈🏃‍♂️🎁🎂
Here's wishing Mo Farah a thoroughly enjoyable 37th Birthday. I'm more than 50/50 sure that Mo is the runner my brother was introduced to by his friend, Paul. My brother said he was a very nice fellow. I'd say that he's a rather handsome one! 😉👌
5ft8. 🥇🏆
🎂🎁🏃‍♂️🎈🎂🎁🏃‍♂️🎈🎂🎁🏃‍♂️🎈🎂🎁🏃‍♂️🎈
shiznak
said on 9/Jan/20
for once simon is taller then what google claims they are
Height fanatic
said on 30/Jun/19
Had a recent photo with fans and is way smaller than those at 5 ft 9
Tunman
said on 6/Aug/17
Yeah,very possible.5'8 is still the max he could be 5'7.5 isn't ruled out with many persons.
Frost
said on 4/Aug/17
Didn't even know he had a page. This isn't particularly short for a Somali-born man, but for Somalis in the diaspora I'd have to say it's below average by quite a bit.
Nik
said on 6/Oct/16
I would say just under 5'8, about 172 cm. About 1 inch off what I would consider average for a man (175 cm).
Vibram
said on 9/Sep/16
5'8, 59kg seems about right. 65kg must be the off season.
Rampage(-_-_-)Clover
said on 8/Sep/16
Another Lewis Hamilton-type.
Possibly 172cm, Rob?
Johno
said on 21/Aug/16
Amazing runner, a bit shorter than Lewis Hamilton. 5'7.25.
MD
said on 17/Aug/16
I'd bet the 65kg is what he walks around at, and races lower. I've seen plenty of articles where middle and long-distance runners talk about cutting a bit of weight for competition to get to their "optimal" race weight. I guess this is to say that the 65kg doesn't seem unbelievable, just that it's most definitely not what he races at.
Arch Stanton
said on 14/Aug/16
When I say tiny I mean in terms of build/weight, more than height, though he's under average.
Arch Stanton
said on 14/Aug/16
Rob, it might be worth saying twice Olympic champion in the 10,000 m. Doubt he's 65 kg, in fact most listings say 58-60 kg which is around 130 pounds and seems right. He's a tiny fella, I doubt much over 9 stone.
Pea Sea
said on 23/Sep/15
Did you see him with Gary Lineker on BBC Sports Personality of the Year 2012? He easily looked his 5' 9" claim.
I always thought his 175 cm listings were legit back then. Could have had a slight footwear boost that night though - seeing as the evening was a celebration of London 2012 royalty.
Pea Sea
said on 23/Sep/15
With Ewan McGregor though, the angle isn't great and there's slight sloping. There are other photos from different angles and Ewan looks more like 1.75" taller than Mo.
Pea Sea
said on 23/Sep/15
5' 7" flat is too low, just like it is with Tom Cruise. Look at Mo with David Cameron and Pele. 5' 7.75" could be his low though.
MD
said on 23/Sep/15
Totally agree with you Arch. I think he very well could be adding two inches to his height, but I'll be charitable and assume poor posture. It's always seemed fairly clear to me that he was much closer to the 5'6.5" listing he often got than the 5'9" and 5'10" listings, even though some swore by the latter. What tricks a lot of people is that he's incredibly long-limbed for someone of his height and his small heads can trick folks in solo shots.
184 Matt
said on 22/Sep/15
@MD I'd guess Ant isn't a full 173, probably more a 171.5-172. So Farah probably about the same judging by that photo, the lean makes it hard to tell exactly.
Arch Stanton
said on 22/Sep/15
5'7.5 and assume poor posture. He can look as low as 5'6.75-5'7 in some comparisons but he's not that low.

Editor Rob
Mo does have the advantage of a small head, so his proportions can seem like he is taller at times. I did have a good look at him and 5ft 8 is the most I'd estimate, but as low as 5ft 7 I doubt he's adding 2 inches to his claim. With
David beckham
here. At times I don't think Mo stands as good as he can.
Arch Stanton
said on 22/Sep/15
I'd give him 171cm and assume at times his posture isn't quite the best. Probably the 175cm was a morning sneaker measurement.
Arch Stanton
said on 22/Sep/15
Rob check him out with Ant and Ewan. More 5 ft 7 range..
Matthew190
said on 21/Sep/15
I think he looks a solid 5'8"er anyways
MD
said on 21/Sep/15
With 5'8" Anthony McPartlin, both in similar dress shoes:
Click Here
Speaking of which, it seems hard for me to believe that McPartlin can be 5'8" and Donnelly 5'5.5". Someone has to be listed too or too short of these two.
And with 5'9.5" Ewan McGregor:
Click Here
Angles, whatever. That's quite a bit more than 1.5" difference. lol
Pea Sea
said on 20/Sep/15
Good choice for a listing. Yeah, he's gotta be close to 5' 8" hasn't he. He has pulled off 5' 9" range on occasions too. But has also looked about Tom Cruise's height at times.