Nadia Bjorlin's Height
5ft 7 ¾ (172.1 cm)
American Actress from Days of Our Lives. She said she was "5ft 8" on teen chat and on her twitter she gave her height more precisely:
"Just shy of 5'8""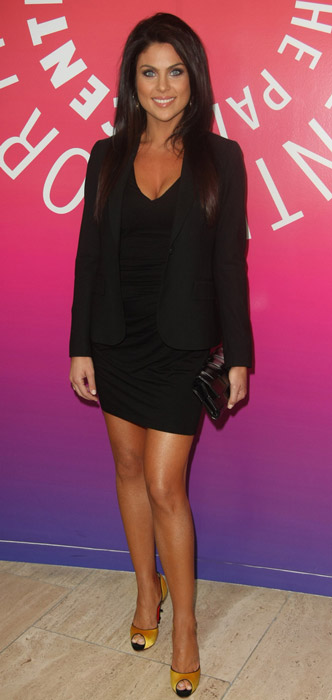 Photo by PR Photos
Add a Comment
13 comments
Average Guess (3 Votes)
5ft 7.25in (170.8cm)
Nik Ashton
said on 24/Mar/19
It's great that she is so precise about her own height!
eminmim
said on 8/Dec/17
Rob, how tall is she in the picture above? 6ft?
Editor Rob: not sure just how big those heels are, I wouldn't have said that much over 3 inches, so maybe more 5ft 11 range if measured in them, than 6ft.
indy
said on 13/Feb/14
Saw her. I'm 5'8.5 and she seemed a bit taller than I am, but she had heels.
Claes
said on 22/Nov/11
Nadia Bjorlin appears to be 5'6 next to her 5'11 boyfriend Brandon Beemer.
Anonymous
said on 22/May/08
She's the exact same height as 5'10" Petra Nemcova (search Getty Editorial for their names) when both are in heels. Assuming Petra has on smaller heels, then Nadia could be 5'8, but there's no way she's only 5'5". You can't have two women 5" apart in height looking eye-to-eye, unless the shorter women has HUGE heels (which Nadia does not -- you can't see her heels in the pictures on Getty; they are full-body pictures)
MadSam
said on 26/Oct/07
This is a picture from a Redline event, and she is wearing driving shoes that won't give her much more than an inch. Here's the pic:
Click Here
Here are the shoes:
Click Here
I mean: look at Griffin, Bow Wow, etc. She can't be 5'5''.
Scotty
said on 26/Oct/07
I know someone who's heels take them from 5'5 to 6'0, so that seems to be the trend, 3" isn't the max by any means. She is quite a bit shorter than most of her costars in the movie "Redline", so I would say she is near 5'5, 5'6. Remember also in pictures with guys, guys tend to have a wider stance and slouch a bit, so even if Wyclef is 5'11 he might not be standing straight up.
Anonymous
said on 28/Aug/07
Both of the guys in the beach picture are around 6 feet, I can't imagine how she could be 5'5'' considering she's up to over their eyes (4.5 inches from there to the top of head)-
Ilovemyipodgirl!
said on 27/Aug/07
Thats funny Blue eyed girl I thought the same thing. There is somthing about her figure that makes her look 5"5-oh you know she has a really long body and kind'a short muscular legs(check out the pic with her on the beach on this forum) that's why she looks shorter.
Blue eyed girl
said on 27/Aug/07
She is sooo pretty-but I had guessed her @ around 5"5-go figure?
BloodySam
said on 15/Apr/07
5'8'' seems correct. Here's a picture of her with Wyclef Jean, who's around 5'11''. Nadia's as tall as him in heels. Let's say the heels give her a maximum of 3 inches and you've got 5'8''.
Click Here
Here she is with Denyce Lawton (who claims she's 5'5''):
Click Here
And barefoot with Kirsten Storms who's 5'3'':
Click Here
She seems to be a sure 5'8''. And yes, a great Wonder Woman choice.
supes78
said on 6/Apr/07
A very tall gal indeed and a great candidate for the Wonder Woman role.
CelebHeights Editor
said on 7/Aug/05
An interesting quote from this actress on a teenhollywood chat:
"What you don't realize is that most actors and actresses (especially actresses) are quite short. So their bone structures are smaller, so most of them are naturally thinner...Myself, I'm 5'8 so I can't possibly be as waify as the people on the show (days of lives) who are a lot smaller"