Nancy Kyes Height
5ft 3 (160 cm)
Nancy Loomis is an American actress known for roles in Halloween, Assault on Precinct 13 and The Fog.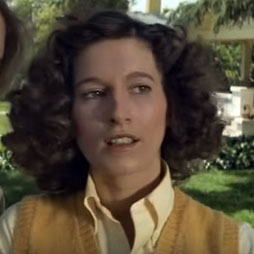 Nancy in Halloween
Add a Comment
3 comments
Average Guess (12 Votes)
5ft 4.08in (162.8cm)
Sandy Cowell
said on 11/Nov/17
@ Rob - Apologies for the delay in answering!
Yes, believe me - what you just said about time has really struck a chord with me! The older one gets, the more one tends to weigh up whether or not our time is being put to good use!
At one time, if I didn't like a film I'd bought, I'd still see it to an end because I begrudged wasting my money! Now, I think, "I'm not wasting my time sitting through this rubbish when I can rather be watching something I know I like or I am likely to like because there is someone in it that I rate very highly!"
I have a bundle of films I know I am never likely to watch and I am certainly not going to lose any sleep over the wasted money! I am careful to buy films with at least one good star in it now, so I can get something out of the film, even if it is sussing out his or her height that much more clearly! Yes, Rob, I do that too!!!
📺 😄💺 📀📀📀📀📀📀📀📀
Sandy Cowell
said on 5/Nov/17
@ Rob - I gave up watching the remake half way through in favour of a DVD of my choice! Perhaps I'll see it through next time it's on the telly! At least I know now not to buy it!
Editor Rob: time is such a precious commodity, but we can tend to waste it. With films, I certainly have switched off many, although some I do persevere as even if it may have became less enjoyable, there may still be some interest or information as to how tall actors appear against others!
Sandy Cowell
said on 5/Nov/17
I always thought it rather appropriate that there should be a real 'Loomis' character starring in 'Halloween'! One of the main characters was a 'Loomis' - wasn't it Donald Pleasance playing someone of that name? I must find that one out and report back if I'm wrong!
Well, Nancy Loomis, who also starred of 'The Fog', and now going by the different name of Kyes, looks fairly tiny compared to tall-and-lean Jamie Lee Curtis in both 'Halloween' and 'the Fog' and is smaller than PJ Soles as well in 'Halloween', so it comes as no surprise to me that she is 5ft3! I haven't seen Nancy in anything else that I can remember off hand. She's memorable for her lovely curly dark hair which looks as natural as ever and does give her a taller impression!
Editor Rob: I'd seen the Fog not that long ago, Jenny hadn't seen it before, it was better than the Tom Welling remake for sure, and Nancy certainly didn't look above average!