Nargis Fakhri's Height
5ft 7 ½ (171.5 cm)
American model and actress best known for roles in films such as Madras Cafe, Rockstar and Main Tera Hero.
5'9" without heels. Add 4 inches with heels.. Pretty tall.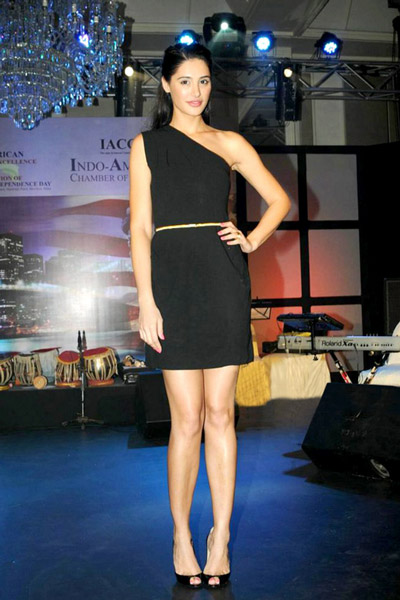 By http://www.bollywoodhungama.com [
CC BY 3.0
], via Wikimedia Commons
Add a Comment
36 comments
Average Guess (66 Votes)
5ft 8in (172.7cm)
Sneha Pahadi
said on 21/Jan/21
Looks 176cm to me.
officer
said on 4/Jan/21
173 cm max i think 171.5 is her lowest limit
Rakta Khabib
said on 21/Aug/20
She's a strong 5'9 idk why people are downgrading her so mch
Nik
said on 12/Mar/20
She defo looks at least 5'7.5"!
Lakheswar Saikia
said on 8/Mar/20
I will go 170cm
Spectre
said on 22/Aug/19
5'8 1/4" least
afzal
said on 10/Apr/19
She is tall from varun dhawan u listed 172 varun maximum 169 if she is 171.5 downgrade varun rob please
afzal
said on 28/Mar/19
I still guess her at 169 cm
Rk Fan
said on 30/Sep/18
In this video:
Click Here
She seems to be a little over an inch taller than 181cm Ranbir. It also looks like she is wearing 3-4 inch heels. So based on this information I would put her at 176cm barefoot.
SHASHI 189
said on 8/Jun/18
looks taller than 5'9
Khaled Taban
said on 11/May/18
She looks a little taller than 5'9"
afzal khan
said on 6/May/18
i think 5.6 nd half
samanth
said on 26/Apr/18
looks 176-176.5 cm
Rampage(-_-_-)Clover
said on 23/Apr/18
Rob, average vote is much higher?

Editor Rob
I'm sure there's a bunch of people who do go with her 5ft 9 claim...I never saw enough yet, to agree with them.
maattt123
said on 22/Apr/18
looks 177 cm.
mainhoonnexus
said on 21/Apr/18
176.5 cm to me she looks.
fff
said on 20/Apr/18
looks 176-176.5 to me.
Nik
said on 20/Apr/18
She appears nearer to 5'8" than 5'7"!
maan
said on 19/Apr/18
in my honest opinion she looks 5.9 1/2 to me
BECHA
said on 4/Apr/18
She looks 6 ft
Jonita
said on 16/Dec/17
@Rob is 173-174 a possibility for her? She looks quite close to 5'11 Ranbir in their film together. I always thought she would 5'9 at least
Peter
said on 25/Feb/17
@Rob Any idea about height of woman in black dress?? she is few inches taller than her even though she is in heels.
Click Here
Editor Rob: could be 6ft 1, she had trainers on I think.
A2Z
said on 27/Jan/17
Ranbir can easily tower her:
Click Here
I'd say she's close to Katrina Kaif's height but def no more than 5'7"-5'7.5"
John
said on 1/Jun/16
Rob, you should pay attention to her America's next top model's claim. I doubt they would lie about their models' heights furthermore she is shorter than Lisa Haydon.
Editor Rob: I couldn't find it, but the 7.5 mention is quite possible, many models in that range have been ended up having 5ft 8-9 agency listings.
sha
said on 18/May/16
@ john
but in times of india virat was mentioned 5'10
John
said on 16/May/16
@syed
No, Dhoni is just an inch taller than Virat who is 5'8 so he is 5'9 and if you noticed, she was tip toeing which made her look slightly taller than Dhoni but still shorter than strong 5'11 John.
syed
said on 11/May/16
But she looks a little taller than ms dhoni in the Reebok ad,who said that he is 5'11 in a TV show
syed
said on 10/May/16
But she is taller than ms dhoni in the Reebok ad and dhoni told that he is 5'11 in a TV show
Qman
said on 10/May/16
any actress about 5.7.5 she say am 5.9.
vfbvfjfvbjfv
said on 21/Jan/16
Click Here
this appears to be before she came into bollywood and for america's next top model they have accurate measurements and it says 5'7.5''/ 171 cm, i think this evidence should be good enough to edit
Aza
said on 6/Jul/15
Beautiful Indian woman.
choosmeralauda
said on 2/Jul/15
Yod, 5.7 is 5'8.4'' since a foot has 12 inches so 0.7*12=8.4
Yod
said on 2/Jun/15
She was measured at 5.7 on Americas Next Top Model.
Height183
said on 20/Dec/14
I don't know who she is Lol, but she's Hot.
linke
said on 20/Dec/14
Looks 5'9"
Amaze
said on 19/Dec/14
always knew she was tall. daym taller than me 5 9