Nick Cave's Height
6ft 2 (188 cm)
Australian Singer, sang once, 'I'm tall, I am thin, Of an enviable height'.
"In person, Nick Cave is remarkably tall and remarkably skinny"
(Creem Mag),
"Cave, an impossibly tall and lugubrious figure"
(Scotsman)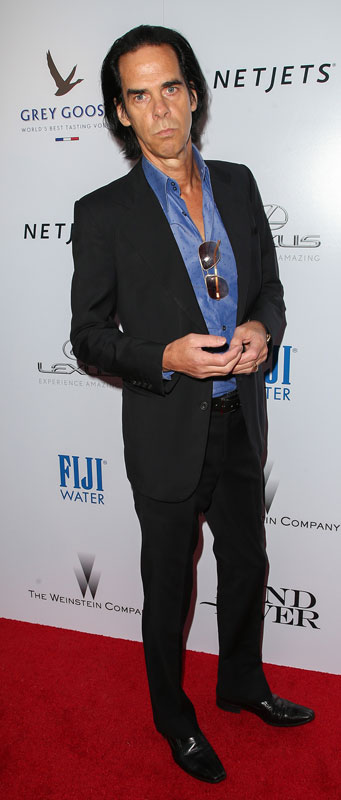 Photos by PR Photos
Add a Comment
40 comments
Average Guess (10 Votes)
6ft 2.3in (188.7cm)
Kale - 186.5
said on 5/Nov/20
Cheers Sam.
I'm a big fan of his music, so it was very cool to meet him in person.
I don't always get it right, but I think i'm pretty accurate on most.
I also sold footwear for 3 years, this has made me far more aware of how much shoe heels can alter people perceptions of height.
Tall Sam
said on 23/Oct/20
That's a cool sighting, Kale, you seem pretty accurate in gauging celebs heights when meeting or crossing paths with them.
Rampage(-_-_-)Clover
said on 20/Oct/20
189cm peak Rob?

Editor Rob

Not so sure about that

Kale - 186.5
said on 20/Oct/20
I met Nick Cave when I was 16, about 18 years ago. I was 184 at the time and grew to just under 187 in my late teens.
I remember he was wearing a pair of cuban heeled boots, which added about 2 extra inches to his height.
If I had to guess? I'd put his barefoot measurement back then at around 188-189. He's a legit tall guy, and his very thin frame would give most people the impression he was around the 190-192 mark.
berta
said on 19/Jun/19
I think he is legit 189 guy. This seems to low, maybe is this height today
185
said on 11/Jan/19
What???? He look shorter than 6ft Skepta even he stretched his posture
Click Here
:
Animus
said on 8/Jul/18
He was just at Roskilde Festival in Denmark and he was amazing. As far as his height goes, he still seemed around 6ft2 despite being 60 years old. He is definitely not in the 6ft3 range as of today.
Rampage(-_-_-)Clover
said on 13/May/15
He looks 188-189cm range at least. Doubt he's lost anything.
Arch Stanton
said on 2/Feb/14
Can give the illusion of 6 ft 4 with his skinny frame and long lurch like face and look. Still weird.
Rampage(-_-_-)Clover
said on 10/Jan/14
Really did look 6ft2.5-6ft3 range in the 80s
Johnny
said on 24/Aug/12
Lol Daniel, you usually don't count the hair when measuring height, he seems like around 188cm
waxy
said on 19/Oct/11
I have stood next to him- in fact he stood on my foot during a hoodoo gurus concert. I am 6'2" and he was much taller than me. I am guessing 193-195.
Martyr
said on 26/Sep/11
189 cm sounds spot on to me!
Paul Kenning
said on 1/Sep/11
Yeah Big T,the hair,the suits,the boots all add up to a larger than life appearance.At the same gig in the 80's I also bumped into the ex Birthday party guitarist Rowland Howard,he was a genuine 6'4 to 6'5.I'm 5'8,so average to short and people of that height are conspicuously tall,unlike regular six footers.I saw Blixa Bargeld too but he was seated but his limbs indicated 6'2 at least
Paul Kenning
said on 26/Aug/11
I stood next to Nick Cave at the Kentish town and country club in 1986 and being a fan at the time was very keen to judge his height.I would say that he was between 6'2 and a half and 6'3,he was wearing cuban heels which brought him up to 6'5 to 6'5 and a half.
tk
said on 15/Jul/11
A bit taller than that. A full 6-3. I met him many years ago. He usually slouches, though.
Daniel
said on 18/Jun/11
Ok my first comment here... I personally think hes taller, something like 195cm... Ill try to add link -
Click Here
Big T
said on 22/May/11
That Big T who posted below is not me!
BigT
said on 20/May/11
Just gauging from music videos and live performances, I'm pretty certain the man is around 6'3", keeping in mind his frame and big boots usually worn, he still always looks like a giant of a man.
REALITY
said on 4/Dec/10
Yeah he must be 2 meters, seriously is not over 188cm
Doug
said on 8/Apr/09
Yeah this guy has the head of a 6'4"-6'6" guy for sure. I thought he looked nearer 6'4" but perhaps 189cm.
Matmoo
said on 24/Mar/09
Wow this guy's head is huge. The distance between his eyes and hairline must be three feet or more. I would say legs = 2'9", torso = 2'0", neck to eyes = 0'7", forehead = 3'6". So that makes nearly nine feet tall.
Linda Reynen
said on 11/Nov/08
Poor Nick Cave. Everyone going on about him as though he had a five-head. Yep, he's tall, and even at age 52, still very easy on the eyes.
Anon2008
said on 2/May/08
Had the impression he was shorter than this.
paulg
said on 16/Sep/07
This guy has a huge forehead!!!
Anthony
said on 13/Sep/07
He looks between 6'2 and 6'3.
Anonymous
said on 12/Sep/07
Yeah he looks about 6'2.
glenn
said on 10/Sep/07
you cant tell in the photo,but his posture was relaxed.so thats why i think 6-3.and he can look it.
Franco
said on 9/Sep/07
he got more of a long head than a longer body.....looks 186cm in that picture and he is probably bending slightly.
188-189cm is right for Nick Cave.
Markus
said on 9/Sep/07
He's got a pretty long head indeed, I was looking at his eyeline. That would indicate 6-1. But If you take a look at the top of his head, looks more like 6-2
glenn
said on 9/Sep/07
i agree with sam.hard for me to pin down.6-2 or 6-3.i have another from years ago.great guy and brilliant writer.
AAAA
said on 9/Sep/07
He gives the illusion of 6'1, but I think he is 6'2. Look at the size of his head
OutBenchThis
said on 9/Sep/07
Does look an bigger than 6'1" in the photo..would I be right in guessing he's leaning/slouching a little ?
Markus
said on 9/Sep/07
Roughly half a head taller than Glenn, more like 185 cm in this pic ?
Sam
said on 16/Apr/07
6'2 or 3. I've met him. I'm 6'3.5. He was about half an inch shorter than me. super nice guy. Remember PM Dawn should have an article. Look him up. You'll be amazed by his height.
cendrin rovini
said on 14/Mar/06
...well now he's a bit smaller than blixa, their former guitarist (188cm), so i'd say 187cm, but 6-3 back when he was in his 30s, i wouldn't be surprised, i don't really think he's average...
Glenn
said on 5/Mar/06
Possibly 6-3.photo coming.
cendrin rovini
said on 15/Feb/06
...yes, 187 or 188cm and very skinny... very cool looking and the best songwriter of all times...
Tall Guy
said on 14/Feb/06
He looks like a good 188-190 cm, IMO.
Anonymous
said on 14/Feb/06
I never realised he was so tall. I thought he was average.