Nick Gehlfuss Height
6ft 1 (185.4 cm)
American actor, best known for playing Dr. Will Halstead on Chicago Med. In a Detroit News article he mentioned
"I'm 6-2"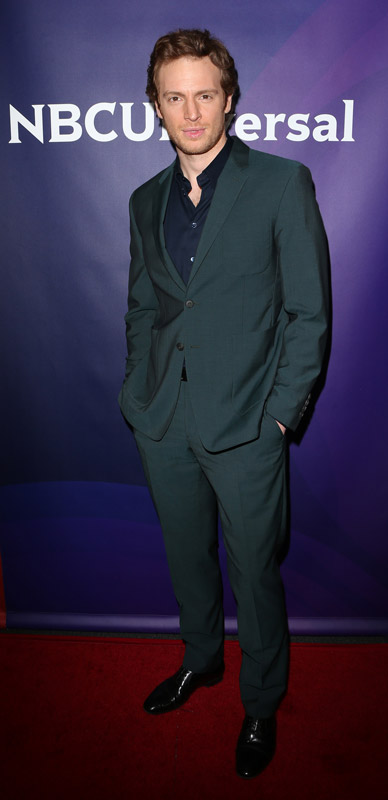 Photos by PR Photos
Add a Comment
12 comments
Average Guess (9 Votes)
6ft 2.19in (188.5cm)
Christian 6'5 3/8"
said on 21/Oct/18
@Rampage
Come on dude, calling someone a "notorious downgrader" is stupid and childish. I tend to estimate people a bit lower than what Rob lists (although not always), but I do it for logical reasons that can be supported. The more I've been on this site, the more I realize that most celebs here aren't as tall as listed. I couldn't care less if it was some random troll or hater calling me that, but it's surprising to see this coming from you of all people, since I respect you as a poster here, more so than most other posters. But sometimes you don't seem to act as if you deserve that respect, tbh.
Rampage(-_-_-)Clover
said on 18/Oct/18
Even Christian whose a notorious downgrader guessed this guy as being a bit over 6ft2!
I think 186-187cm range personally
Edimar184
said on 13/Oct/18
He really looks over 6ft1...
I think 6ft 1.5 look better acurate than 6ft1 flat.
Luker
said on 16/Feb/18
There's good reference with Nick and 6 ft-listed Jake McDorman on Shameless. I think Nick had him by an inch at most. Definitely nothing near 2.
Andrea
said on 23/Aug/17
Rob? If you think he's just "a strong 6ft range maybe", why you still have him at the full 6'1?
Editor Rob: I will try to watch him in some more clips soon.
Andrea
said on 20/Aug/17
Hmm. What are you talking about there? I guess you were answering to something or someone else? 😂
Rampage(-_-_-)Clover
said on 18/Aug/17
Wow, I genuinely believed this guy was a strong 6ft2!
Rob could 186cm be possible though?
Andrea
said on 18/Aug/17
Yeah, that's what I said. Unfortunately there's only that scene with Jim but I guess he must have some ground disadvantage there because he looks at least a couple inches shorter and I doubt he's as low as that, from what I've seen.
I can believe him clearing the 6' mark but maybe not quite the full 6'1? 6'1 is certainly what I'd call his best case scenario!
I haven't seen the show he's in with Colin but I think a guy like Amell (who isn't exactly the biggest 6'1 guy) did look taller with Colin than how Nick can look with him in pictures...
Editor Rob: if he was near 6ft 1 I guarantee he'd have that on his resume. A strong 6ft range maybe.
Andrea
said on 16/Aug/17
Yeah, to say the least! He can look barely taller than Colin in some pictures but I can see him being near 2 inches taller in a few... Do you think he could be another 6'-6'1 guy who "rounds up" to 6'2?
With Jim:
Click Here
Editor Rob: I've not seen them together on flat ground, but I can see how Nick can look not much over 6ft in shots, some of that might be a looser posture at times.
Andrea
said on 16/Aug/17
Rob, are you sure he's even over 6'1? 🤔
This guy had a small role on Shameless and he looked max 6'1, from what I remember. He also had a scene on POI where he looked comfortably shorter than Jim Caviezel, although it was on the street so there's always a chance he had some ground disadvantage...
But, having a better look at him right now, I really doubt he's over 6'1 and maybe he could even be a typical 6'-6'1 guy who claims 6'2?
I mean, look at him with:
- Cameron Monaghan:
Click Here
- Colin Donnell:
Click Here
Click Here
Click Here
Click Here
Editor Rob: he certainly looks like he could be claiming his height in shoes.
Christian-196.2cm (6ft5.25)
said on 10/Dec/16
Looks a little more than just 6ft2 to me, like 6ft2.25-6ft2.5
191cm
said on 8/Dec/16
187 sounds about right for this guy. Strong 6'1/weak 6'2