Nicky Byrne's Height
5ft 8 ½ (174 cm)
Irish Singer from Westlife. In 1999 Smash Hits article he said:
"(Manager of Leeds) George Graham told me that they weren't going to keep me on because I was only 5ft 10in - too short for a goalie"
and on twitter said
"nearly 5'10"
.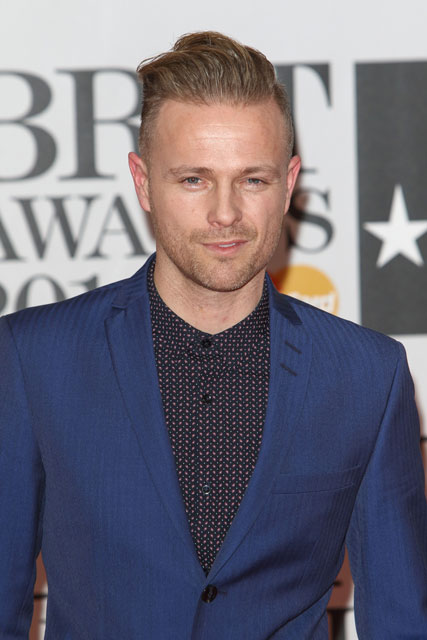 Photos by PR Photos
Add a Comment
38 comments
Average Guess (29 Votes)
5ft 9.74in (177.1cm)
Justin khoo
said on 7/Jul/19
I vote he is nearly 5ft 10 in shoes. without shoes it 5ft 8.75 (175cm)
Justin khoo
said on 11/Jun/19
He may looks nearly 5ft 9 (175cm) during morning.
Khoo Yuan Rong
said on 31/May/19
176cm as in google
Khoo Yuan Rong
said on 13/May/19
I think he is 175cm maximum
Damon Blank
said on 19/Apr/19
I'm going to say that he would be right bang smack on 5 ft 9.
meLaura
said on 24/Jan/19
He is around 176cm (can't be shorter than 175cm for sure). Kian and Shane around 174 and Mark is at 181cm, I think :) (Mark always looks taller than that though, even when he stands next to other tall guys)
And you should know our height in the mornings and in the evenings are not the same, you become shorter when you grow old too :P
Zineddine
said on 20/Jun/18
rob why comments say he's more than 174 cm .. does he give tall proportions ? or he might be over ?
Artem
said on 28/Nov/17
I think he is not below 175cm, maybe between 176 and 177cm
John
said on 12/Sep/17
I think he is 174.6
John
said on 1/Jul/17
The height I yhink is at 175.8cm (5ft 9.2in)
John
said on 17/Feb/17
The guess for me and other friends/ users vote is 174.7cm
Johnson
said on 5/Feb/17
Amanda Byram 5'8 (not sure about heels size) and Nicky Byrne
Click Here
John
said on 2/Feb/17
174.6 to 174.75cm tall as around 5ft 8.75in to 5ft 8.875in
Johnson
said on 2/Jan/17
@John I agree with you
John
said on 1/Jan/17
Think is 174.8cm accurate sharp. Due to think should be slightly above 5ft 8.5 range. thanks
John
said on 19/Dec/16
I think he is at 175.5 to 175.85cm barefoot maximum.
Johnson
said on 28/Oct/16
@Rob I think you should add his 177 claim. And this is his more recent claim
Click Here
plus
said on 6/Jun/16
With Cafu 177 and Davids 170
Click Here
plus
said on 5/Jun/16
He is very similar to Niall Horan
Click Here
plus
said on 5/Jun/16
With Shayne Ward listed 175 cm but I think he didn't care about fractions and he can be 176 cm
Click Here
plus
said on 19/May/16
@Rob Could you use his more real claim 3 messages below? He says he is 177 cm
MD
said on 31/Dec/15
It would seem that when you're caught, you should stop digging, yet he's still trying to bargain. lol
plus
said on 30/Dec/15
More proofs about Nicky's height. He looks taller than Del Piero (174 cm). Mourinho's angle I think is bad
Click Here
with Seedorf 177
Click Here
He can be 175 cm (he does edge Kian and Shane for 2-3 cm easily)
plus
said on 28/Dec/15
In Twitter he said he is 5 feet 9 and 3 quarters, punctualizing in response to a person who said he was 5'9, so he claims 177 cm.
Click Here
plus
said on 11/Oct/15
Ok, so Kian claimed finally 173, Shane looks very similar, perhaps 173,5. But I think Nicky is like 2 cm taller than them. 175 cm would sound right with Mark 180-181 cm
plus
said on 5/Oct/15
@Lucy I think: Nicky 175 cm (175,5 at the highest), Kian 174 cm, Shane 173 cm, Mark 182 cm, Brian 187 cm (exactly what he claims, and in a football match it was easy to see that he was a just a little down 190 cm).
@Rob Mark was downlisted perhaps that listing was when he entered the group underaged. I usually see 180 cm for him but he is taller
[Editor Rob: he's got a page on this site, he said himself he is 181cm
Here
. It's believable for him.]
Lucy
said on 13/Feb/14
IMHO...
Nicky: 5ft 9in 1/2 (176cm). He said on Twitter that It is 9ft 11in and 1/2, closer to 5ft 10in.
Mark: 5ft 11in (181cm)
Shane 174cm; Kian 173cm; Brian 185cm
D.Kelly182cm
said on 13/Jan/14
@Rob: You should add the heights of Westlife's other members? Mark Feehilly gets listed 5'9" sometimes when he's easily taller than Nicky. It'd be good if you clear things out for everyone.
Yanna 5'5''
said on 24/Jan/11
He's 5'9.5" - I've met him several times, and Shane us the shortest. Brian is by far the tallest. Kian and Shane are both relatively short tbh.
spooky
said on 13/Mar/09
Weird. In an interview from 1999 Mark Feehily said that he was 1,78m. Maybe he has grown a bit since then, although I don
Leo
said on 7/Mar/09
Stood beside him last night in a nightclub after the Irish VIP Awards - he was 1.5 inches shorter than me (5ft 11). He's 5ft 9.5
shayne
said on 20/Jan/09
probably around 5'8. he looks smaller in person
spooky
said on 9/Jan/09
I think there
sesi
said on 22/Dec/08
I think this is too tall. I'd say;
Nicky is 174cm
Mark is 180cm
Kian and Shane around 170cm.
hang
said on 19/Aug/08
I think Its correct..He is taller than Shane and Kian..(Shane's height is 5ft 9in)
Jorgensen
said on 12/Jan/07
I really don't think he's that height. There's just more than 1 inch difference between him and the other band member named Mark. Of course, Mark's height may be incorrect as well.
Katie
said on 6/Mar/06
According to imdb he is 5'9 and half.
[Editor Rob: yes, I forgot to change this...

the 5ft 9.5 comes from their book 'in their own words', where they all stated their height/weight.
Byrne gave 5ft 9.5, 10.5 stone, waist 32, shoe size 7.5. He sometimes just says 5ft 10...]
westlifefan
said on 12/Feb/06
i've seen him on many shows and concert ,maybe he's nearly 5'9(175)
not 5'10