Nigel Green's Height
6ft 2 (188 cm)
South-African born British actor best remembered for roles in films such as Zulu, The Ipcress File, Tobruk, The Face of Fu Manchu, Countess Dracula, Khartoum and as Hercules in Jason and the Argonauts. In his Spotlight casting page in the 1960's he was listed 6ft 2 and in an obituary described him also as "six foot two".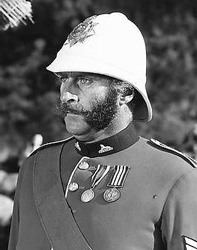 Nigel in Zulu
Add a Comment
17 comments
Average Guess (6 Votes)
6ft 1.63in (187cm)
Sinclair
said on 17/Aug/20
I consider Green to have been at least a solid 6'2" maybe even a weak 6'3". I thought Green was taller than both Michael Caine in The Ipcress File and 6'2" listed Glynn Edwards in Zulu. However, I believe Rock Hudson was not much over 6'4" by the time of Tobruk and he still looked approximately two inches taller than Green. There was also not a significant height difference between Green and Patrick McGoohan in a Danger Man episode and the same can be said between Green and Roger Moore in an episode of The Persuaders! I'd therefore vote 6'2.25" for Green.
Rampage(-_-_-)Clover
said on 19/Jun/20
Described 6ft4 in other places!
Caldoni
said on 22/Sep/19
2.5 shorter than rock Hudson. 6-1.5 imo
Rampage(-_-_-)Clover
said on 13/Feb/18
187-188cm zone similar to Caine....
newbie
said on 9/Jan/18
Just watching the ipcress file and him and Caine look similar, 6'2 would be a good call on him
James
said on 18/May/17
Nigel Green was 6'1".
Rampage(-_-_-)Clover
said on 25/Oct/16
Rob, could he have been a little under this?
Editor Rob: always a chance
Shadow2
said on 8/Apr/15
Green did an episode of Patrick McGoohan's TV series "Secret Agent" (aka "Danger Man") and he was very close in height to McGoohan. In "Tobruk" with 6' 5" Rock Hudson, Green was about three inches shorter than Hudson. 6' 2" seems quite right for Green.
Arch Stanton
said on 7/Apr/15
No he wasn't. In some scenes he could look a tad taller, in others Caine could look to have the edge. They were about the same height.
jtm
said on 7/Apr/15
connery was taller than caine in The Man Who Would be King. one of the reasons why i don't think caine was 6'2.
Arch Stanton
said on 6/Apr/15
So Connery was also 6'1" then Jtm? Connery and Caine looked the same height more or less in The Man Who Would be King.
jtm
said on 5/Apr/15
6'1 tops and so was caine.
Arch Stanton
said on 4/Apr/15
It might have been the other way around then. Been a while since I've seen them. I must have been confusing him with Richard Johnson with Charlton Heston.
Sam
said on 3/Apr/15
I recall he was very even height with Michael Caine in Zulu.
qartt
said on 3/Apr/15
He was taller than Michael Caine in the Icpress files, are you sure he is not taller?
Arch Stanton
said on 2/Apr/15
Can you also add Countess Dracula and The Wrecking Crew? Play Dirty was another one he did with Caine which I need to watch.
Arch Stanton
said on 2/Apr/15
Thanks, can you squeeze in Khartoum? Are you sure on 6'2"? I thought Heston had him by about 1.5 inches in Khartoum. I'd have gone for 6'1" myself. I vaguely remember him at the end of the Ipcress File with Michael Caine and I thought Caine edged him out. I might be wrong on both but he is one I took note of in a few films and always thought 6'1" for him.
[Editor Rob: not sure if he was just 6ft 1.]