Olivia Hamnett's Height
5ft 8 ¾ (174.6 cm)
English actress, best remembered for films such as The Last Wave, The Earthling and as Kate Robertson on TV series Prisoner: Cell Block H. In an early Spotlight talent directory she was listed as 5ft 7.5.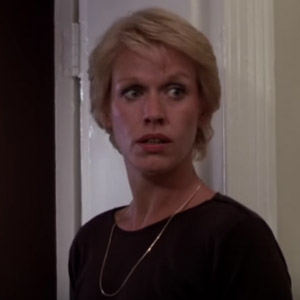 Olivia in The Last Wave
Add a Comment
8 comments
Average Guess (5 Votes)
5ft 8.5in (174cm)
Arch Stanton
said on 1/Oct/16
@Rampage, yes, often when you look at her on screen too she can initially give a 5 ft 10 impression. A weak 5 ft 9 I think is the most accurate though.
Rampage(-_-_-)Clover
said on 27/Sep/16
She looks very tall in that photo, like a 5ft10+ woman. 5ft7-8 range is definitely too low. Closer to 5ft9…she appeared in a couple of Neighbours episodes in the late 90's and still looked about that.
Arch Stanton
said on 27/Sep/16
@Rob, thanks, I didn't realize I had so many posts, must have been the five cups of strong black coffee which did it ;-) Thanks for moving them here LOL.
Spot on I think with this. Close to 5 ft 9.
Editor Rob:
she looks reasonably tall with these other
Models
.
Arch Stanton
said on 24/Sep/16
A 1 hr 11:46 you can see that Olivia is in a heel if you pause as she gets up, a brown suede looking sort of heel but not big heels though not easy to tell exactly. Then comes the scene in the photograph where she looks what, around 3 inches shorter? Say Chamerlain was 6'2 in shoes (always possible he was a little under 6'1 too), she's looking about 5 ft 11 in those heels, 2.5 inch heels maybe, and can get near 6 ft in a 3 inch range one as she looked with Pratt. I reckon 5'8.5 makes most sense actually, and you can then see how they might have taken off an inch down to 5'7.5 to get work. I'd go with 5'8.5. She can certainly seem taller than that though at times. Though not impossible that 5'7.5 is the actual honest one and Pratt is 5 ft 11, Chamberlain 6 ft and Andre 5 ft 2!! I think she has the look of a woman near 5 ft 9 though in fairness, I would doubt she was under 5 ft 8 anyway!
Arch Stanton
said on 24/Sep/16
Can't really make out footwear but if the footwear was similar Olivia actually looks almost 5 ft 10 with Chamberlain as I'd originally thought! I think it more likely she had a little footwear advantage. If you really look at her I think she generally has the structure of a taller height lady, so 5 ft 9 doesn't seem a stretch, though 5'8.75 or something like that could be spot on. Almost 6 inches on Annette, an inch shorter than Pratt in shoes in heels, maybr 5'8.75 is spot on, I'm guessing ;-)
Arch Stanton
said on 24/Sep/16
Rob, see if you can make out footwear at 10:50
Click Here
I can just catch a strap from her shoe and it looks to me like flatter footwear.
Click Here
With Richard Chamberlain, possible she has a bit of footwear, 5 ft 9 is definitely possible.
Editor Rob: I think it's hard to really tell what her footwear is there.
Arch Stanton
said on 23/Sep/16
Funny though because Annette was listed at 5 ft 5 and Olivia at 5'7.5, just shows you how twisted the height game really was in that era! The chances of her only being 2.5 inches taller, more like 5.5 inches as you say! Is she worth adding Rob, for the sake of morality haha? Somewhere in 5'8.5-5'9 range possibly. I'll see if I can see a film or two with her over the weekend and let you know!
Editor Rob: in a very old spotlight directory I have, the funny thing is that some of the listings have 'actual' beside the height...a kind of 'this is real', so it makes you wonder how many were inflated in the past.
Arch Stanton
said on 23/Sep/16
Rob, yes, perhaps something in 5'8.5-5'9 is possible, that would work out with how she looks with Annette and Pratt. I would say 5'7.5 is definitely an underlisting. Around 5 ft 9 for her generation for a woman is really very tall, so not impossible they downgrade by a good inch. At times though she could deceive you into thinking as high as 5 ft 10!