P.J. Soles Height
5ft 5 (165.1 cm)
German-born American actress, best known for roles in films such as Halloween, Carrie, Stripes, Rock 'n' Roll High School and Private Benjamin.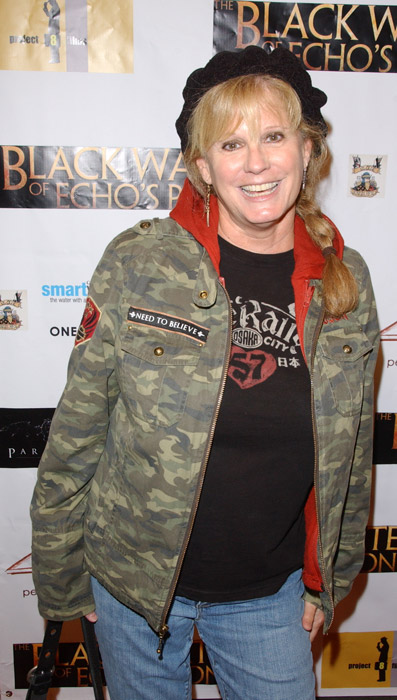 Photos by PR Photos
Add a Comment
10 comments
Average Guess (8 Votes)
5ft 5in (165.1cm)
Some Guy
said on 24/Feb/20
Rob, I rewatched Halloween and she looks taller than Jamie Lee Curtis.

Editor Rob
With same footwear?
Icehole
said on 19/Aug/19
I just met her in April and have a pic. I'd give her 5'5 1/2 " in very small heeled boots. Tell me how to upload a pic and I'll post it. I'm 5'7" in shoes.

Editor Rob
If you use something like www.imgur.com or www.imgbb.com
Littlelee168cm
said on 3/Dec/18
Rob she looked the same height as eileen brennan in private benjamin could eileen have been 5ft 5

Editor Rob
5ft 5 or 6 is possible for her, I would need to rewatch that film.
dok hendrix
said on 6/Nov/17
can you add dey young?
lee168cm
said on 2/Nov/17
What would you guess nancy Myers who plays annie in halloween is? She's listed 5'6" but I'd say she's shorter than pj
Editor Rob: yeah she looked nothing like 5ft 6 in the Fog either.
lee168cm
said on 1/Nov/17
Could she have been five six in her halloween days rob?
Editor Rob: wouldn't have guessed her as tall as 5ft 6 in those days.
Anonymous
said on 31/Oct/17
I had a crush on her when i was a young boy watching Halloween in the 1990s.
5'2
said on 31/Oct/17
she is probably 5'3" present height
Sandy Cowell
said on 30/Oct/17
.... After Carrie!
🐷 🔪😤 🐖"look out!"
It didn't take long to see a fantastic shot of PJ and Sissy Spacek together in the opening scene, when Sissy (Carrie White) flays around too much on the sports pitch and fails to catch the ball! PJ (Norma Watson, or Norman if you wish to believe my DVD's enclosure!) donks her spitefully on the head, followed by Nancy Allen's bitchy character Chris Hargenson, who calls her a rude name!
And so starts the film, which I did see to an end, but it is that introductory act of bitchiness which gives the best comparison opportunity of them all. I didn't doubt that PJ was 5ft5, but one thing that I wasn't so sure of was Sissy Spacek's height back then, which was supposed to have been 5ft3! It was written up as such when the film came out! Let me tell you, she isn't - she is 5ft1.5, as written on her page at celebheights by one Mr Rob Paul! Of that I am sure now, if PJ is 5ft5!
There were to be plenty more opportunities to see PJ and compare her to the other girls, and let's face it, you can get juicier ones than of all the classmates in their trainers on the playing field! (No Gladstone - not for THAT reason!!) PJ was quite a bit taller than some girls and just when you're thinking, "she's actually quite tall!" along come a couple of girls tall enough for her to have to look right up to, to gain eye contact! My conclusion was 5ft5 for PJ, and 5ft1.5 for Spacek for 1976, so how small is she now?
She plays a far nicer girl in 1978 teen slasher movie 'Halloween', if you want to see her in something scary and walk away liking her! You won't after 'Carrie'!
Sandy Cowell
said on 30/Oct/17
Well fancy that! Just yesterday, I went through my DVD collection, in the Stephen King section, and retrieved my copy of 'Carrie'! It is right next to me pining away to be watched, so how about finding PJ Soles awaiting an estimate this fine morning as a reason to spur me on! 5ft5 should be easy enough to compare to the 5ft2.5/3 Sissy Spacek....
See you all soon! I have some arduous watching to do!
📺👧❓ 👈😐
Editor Rob:
with Dennis Quaid, she certainly looked like she would be more than 6 inches smaller
Click Here