Paddy McGuinness Height
6ft ½ in (184.2 cm)
English Comedic actor known for roles in tv shows Phoenix Nights and Max&Paddy's Road to Nowhere. On tv he presents the show Take Me Out. In a DigitalSpy interview he mentioned that the one thing that doesn't do well on the show is
"lads who say they live with their mums ... and really, really short blokes for some reason. I'm 6'1" and some of the girls are going, 'No, bit small, Paddy, I want 6'5"', and I'm like, 'F**king hell!"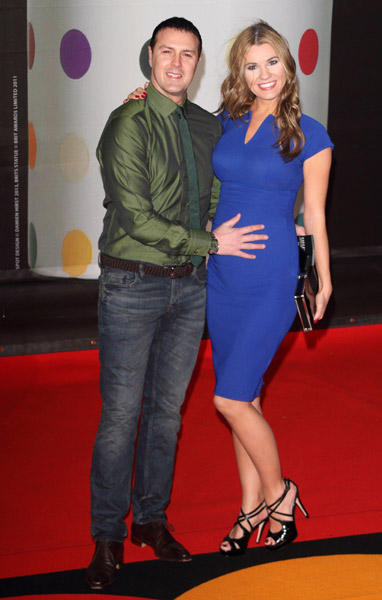 Photo by PR Photos
Add a Comment
65 comments
Average Guess (20 Votes)
6ft 0.3in (183.6cm)
Rory
said on 25/Apr/20
Think I remember being edged out by Blake Harrison on soccer aid, good chance of 6ft0.25 I'd say, but no less than that.
Rampage(-_-_-)Clover
said on 31/Mar/20
Upstreight, I don't think he'd measure below this
Rampage(-_-_-)Clover
said on 17/Dec/19
Below 6ft is a joke...
Nik Ashton
said on 6/Dec/19
There was a cool guy of about 5'7" on "Take Me Out" tonight!
Nik Ashton
said on 3/Dec/19
@ Tom22 - He's well above average!
Nik Ashton
said on 1/Dec/19
There was a cool guy of about 5'6" on "Take Me Out" a few days ago!
Bazza
said on 8/Nov/19
Around 6 foot flat imo. Too many people tower him on take me out and flintoff looks huge next to Paddy.
Nik
said on 3/Nov/19
He looks a tall dude to me!
Miss Sandy Cowell
said on 14/Aug/19
🎁🎈🎂 Happy Birthday Paddy! 🎂🎈🎁
The instantly likeable Paddy turns 46 today. I love his daft 'Take Me Out'! It's a great way of seeing how tall he is because the girls are always on about their height and asking the contestants how tall they are.
I can't see below 6ft-6ft0.5, so I shall give him the latter!
😁🎈🎉🕯️😁🎈🎉🕯️😁🎈🎉🕯️😁🎈🎉🕯️
MD
said on 29/Jul/19
You can say it was a bad measurement, but it's clearly not so bad it's off by a full inch given all of the other photographic evidence to corroborate it.

Editor Rob
Honestly it was a rather funny attempt with the folder, I'm screencapping the part
Here
to remind myself the other 2 blokes were looking at a height on the tape which was 2 inches less than the top of his head.
Anybody tried that with me, they'd have been thrown out the window 😁
I would say 6ft is the worse I'd guess him at.
pov
said on 23/Jul/19
Rob why does flintoff tower over paddy if he is 184cm, he looks more than 3 inches taller? If paddy is 184cm flintoff must be a full 6"4 right?

Editor Rob
I am not sure what paddy wears on top gear most of the time but he seemed to wear low sneakers on that show.
Connor Simpson
said on 22/Jul/19
@Rob yeah there's no way that Paddy is only 5'11.5 lol thats ludicrous, he's at least 6'0 at the absolute minimum but to be honest i think the current listing you have him at is perfectly fine.

Editor Rob
6ft to 6ft 1/2, anywhere amidst that I'd say was more believable than 5ft 11.5.
Adam Alexander Race
said on 22/Jul/19
Hi Paddy and you are six foot and a half but for Freddie he just saying that because Freddie only 6 foot 4
Connor Simpson
said on 21/Jul/19
Hey rob there's a video on bbciplayers Instagram account of paddy getting his height measured and hes only 5'11.5 apparently, i would post it on here but it wont let me send the link.
pov
said on 21/Jul/19
Rob did you watch the lastest top gear? A question was "how tall was paddy mcguinness?" he replied "6'1 and thats barefoot". Then andrew flintoff said "no way you are 6"1" They got a tape measure out measured him and he was 5'11.5.
MD
said on 17/Jun/19
I'm having a hard time seeing him above 183, quite frankly. Here he is with Marvin Humes:
Click Here
MD
said on 6/Jun/19
@Rob,
What do you think of 6'3.5" Andrew Flintoff's comment on this instagram post from February?
Click Here
"aflintoff11 Have a word with @mcguinness.paddy please @harrismonkey he's still saying he's 6ft 1 🤷🏼‍♂️ #deluded @topgear"
Flintoff seems to have a slightly wider stance in the photo, to boot. I was surprised how small Paddy looks, here.

Editor Rob
184 is the most I think Paddy could be, but 183 is the smallest I'd estimate, anywhere amidst that range I would say is a possibility.
Nik
said on 5/Apr/19
I think he'd look pretty tall on the streets of England!
Tom22
said on 2/Apr/19
He seems slightly above average but no more than 6 foot
Littlelee168cm
said on 18/Dec/18
James argent seemed a bit taller than him on take m out and gymnast niles wilson looked at best 6 inches shorter than him and he's 5ft 5 so 5ft 11 range for paddy maybe 5ft 11.5 at the very most
Nik
said on 29/Jul/18
@ Easterwood 6'3
5'8" and 5'9" range is average, not Paddy McGuinness!
Sandy Cowell
said on 26/Jul/18
@ Easterwood 6'3" - But he is, and a bit more to boot!
Easterwood 6'3
said on 25/Jul/18
Just seems fairly average to me. I can't see him as a solid six foot.
Sandy Cowell
said on 8/Jul/18
Just now on 'Take Me Out', there was a somewhat shorter than the average contestant looking for love. One girl said that it didn't matter because she's really small without her shoes on. Paddy said to her, "Let's have a look then?"
The girl replied, "No! I'm not taking my shoes off because my feet really smell!"
Paddy said "Oh, but we're all friends here..." as he wafted the air!
Today this funny guy can have 6ft0.75.
Bazza
said on 10/Jun/18
On the charity football event on ITV tonight he was stood next to Blake Harrison, a supposed legit 6'1 and he barely looked 6' flat.
true2
said on 1/Oct/17
He's my height guaranteed, 183-184cm barefoot.
Rampage(-_-_-)Clover
said on 16/Sep/17
184/185cm zone. I vote 6ft0¾. Looks a fair amount over 6ft generally...
Derrek
said on 8/Jul/17
Hi Rob, just wondering if Paddy is 6'0.5 max, how tall does that make UK wrestler Marty Scurl? I used to think a weak 5'10, but judging by this pic and taking into account the flat sneakers he wore in that episode, he looks more a weak 5'7 if he's lucky? What do you Rob? Or Anyone?
Click Here
Bazza
said on 3/Jun/17
I don't think he is much if at all over 6ft flat.
Sandy Cowell
said on 30/Apr/17
Trust Paddy to have homed in on the name 'Trump'!
A few weeks ago, on his 'Take Me Out' programme, he congratulated a newly-met 'couple' and sent them on their way to the beautiful island of Fernando's, where they were to stay in 'the Presidential Suit'! Why 'Presidential'? The reason Paddy gave was 'because it smells of trumps!'
Nice one Pads!
I am watching the repeat of yesterday's 'Take Me Out' and the first young man to come on was considerably shorter than Paddy, which did show that he really isn't as short as he often seems - next to the guys well in excess of 6ft3, say! I've seen 6ft7, 6ft5 etc., and the funny thing is that even the short girls like them that tall! I'm rather short myself, but I don't find it very amusing when somebody bends doen to listen to me! That's an absolute no-no! It makes me feel eh, small, but in an 'inadequate' sort of way, if that makes any sense!
Paddy gets his full 6ft1 today!
Sandy Cowell
said on 19/Feb/17
Yes, I know Paddy is 6ft1, but compared to some of the guys on his show 'Take Me Out', he looks average sometimes!
I've grown immensely fond of Paddy and his brand of humour! The show though...what sort of girl decides a bloke isn't for her on the grounds of his shoe-colour, sleeve-length or something else equally ludicrous? Sometimes the show has to be seen to be believed! I watch it for its novelty value mainly and also because I'm a nosy ba**ard!
I was pleasantly surprised to say the very least when I saw Paddy turn up in Coronation Street! I had no idea he was an actor as well!
His wife says of him that he doesn't have a romantic bone in his body, but that she wouldn't change a thing about him. Now I can wholeheartedly believe that theirs is a great and solid relationship because he strikes me as a really genuine guy and his wife is lovely as well!
Rampage(-_-_-)Clover
said on 15/Dec/16
I thought he actually edged out Ross!
Nik
said on 7/Nov/16
Paddy Mcguiness is of a great height. Interestingly I think that Paddy Mcguiness and his wife are both taller than the average man in the Uk ! Outside of lala land about half of all men in the world are under 5 foot 8 (173 cm), with some quite a bit under.
Rory
said on 12/Oct/16
Only about 1.5 inches shorter than Neil Morrissey in stars in their cars. Morrissey may have lost a fraction aged 54 though, but still 6'0.75 could be possible for Paddy.
Rory
said on 22/Jan/16
Rob, do you think he could be under 6'1 ? J. Ross easily looked a little taller on his show, and ive seen him towered a few times on take me out, maybe 184 ?
Editor Rob: he can look 184 at times yeah.
James B
said on 22/Jan/16
Are you sure he is 6'1 rob?
He looks 182cm too me
Editor Rob: I doubt he'd be that short, but he can look a bit shy of his claim
David Pearson
said on 10/Jan/16
I don't,think his wife is so tall,she,s wearing high heels ,must be at least 4 lnches.
Arch Stanton
said on 1/Sep/15
I think in most comparisons his wife looks around 177cm, like Charlize Theron sort of height.
Arch Stanton
said on 1/Sep/15
Actually in many photo comparisons his wife can look a decent 5 ft 10. Obviously not 6ft but who are these people kidding saying she's short??
James B
said on 11/Apr/15
Rob - Darren Boyd who is listed on some places as 6'4 has at least 3 inches on paddy
Annonymous
said on 12/Jan/15
He looks 6ft or 6ft 0.5 to me, appeared next to a 6ft 8 guy, and was to the bottom of his nose. So i'd say 6ft tall for Paddy.
J.Lee
said on 26/Jun/14
who is the girl rob?
[Editor Rob: the wife]
french guy( 184-182 cm)
said on 29/Mar/14
I have watched a few videos of take me out on youtube ,i don't know wether it's me, but i ve got the impression that most guys are as tall as him
Bran
said on 21/Mar/14
Watching a few clips of his Take me out, their obsessed with height on that show, if he's 6ft1 quite a few guys are 3-4 inches bigger than him but it's probably just luck of the draw.
1.85 m, 83 kg
said on 18/Mar/14
@Arch Stanton
For young, healthy males.
Arch Stanton
said on 17/Mar/14
Average height in the UK is 5'9.5". And more 4 inches than 5 from eyeline to top of head on average.
James B
said on 16/Mar/14
His wife reminds me slightly of clair danes
tom
said on 16/Mar/14
@Average Height - probably about 5'8". I'm not certain but I think most people's eye level is about 5" below their overall height.
Average Height
said on 14/Mar/14
How tall do you think his eye level is?
Small man syndrome
said on 13/Mar/14
I thought he would be taller than this given how he towers over most of the blokes that appear on Take Me Out. Just emphasises how tall 6'1 actually is!
Arch Stanton
said on 12/Mar/14
Agreed he's a thoroughly likeable guy. I don't think he looks over 6'1" though. Haven;t seen the show for a whlile but I checked it out a year or two back due to comments here and at times he could look nearer 6ft compared to some of the guys who claimed 6 ft 3 or 6 ft 5 or something.
lelman
said on 12/Mar/14
Love this guy, got a great personality. He looks taller that 6'1" for sure, he must have a lot of smaller guys on that show.
James B
said on 11/Mar/14
Does look this height
Arch Stanton
said on 11/Mar/14
Short legs is a bit of an overstatement but proportionally in comparison to her torso I guess.
littlesue
said on 8/Mar/14
I'd say in the 5ft 10 range, she has short legs/long body proportions
Arch Stanton
said on 8/Mar/14
Click Here
Beach is never the best place to gauge but proportionally I see more a strong 5'10" like 179cm or something. Either way she's clearly in very tall range for a woman.
Arch Stanton
said on 7/Mar/14
That's pretty much impossible isn't it?
[Editor Rob: she might be 5ft 11]
Arch Stanton
said on 7/Mar/14
Paddy's wife is the definition of lovely, seriously.
She's looking, what, 5'10.5" here
Click Here
?
[Editor Rob: she got described as six foot by her management.]
Connor 184.5-185cm
said on 6/Mar/14
@littlesue yeah that could possibly be the reason
littlesue
said on 6/Mar/14
6ft 5 to most women would probably be 6ft 1 in reality!
1.85 m, 83 kg
said on 6/Mar/14
Arch Stanton
Tell me about it. I don't know how a bunch of average looking, below average intelligence women can be so picky.
Connor 184.5-185cm
said on 6/Mar/14
@Arch Stanton well ive never been told by girls that im not tall enough, but i can totally understand Paddys reaction, at 6ft 1 he has a good height for a man if not one of the best heights, 187-188cm id say is the best with 183-4cm being the ideal, dont go correcting me though this is just my opinion, its like the girls are saying that 6ft-6ft 1 is short, if anything in that range its perfectly tall but not too tall which 6ft 5 is, their opinion or not its just ridiculous!
1.85 m, 83 kg
said on 5/Mar/14
Yep. 1.85 m. This is a definite.
Arch Stanton
said on 5/Mar/14
Spot on, although he can look a tad shorter at times in comparison to some guys who said they're 6'2 or 6'3" on that show. I've noticed a few people worrying about things said on that show on the website. Probably not a good thing for guys who are already a very decent height and hearing shallow chicks saying that a guy is only tall enough at 6'5"! Not looking at him here though, She's very hot!!
littlesue
said on 5/Mar/14
His wife must be very tall!!