Penny Lancaster's Height
6ft 1 (185.4 cm)
English Model and Photographer, married to Rod Stewart. She was quoted in People Magazine (in 2006) saying,
"I'm 6'1". Rod likes a long-legged girl, as everyone knows, and no, he couldn't care less that I'm taller than him."
. Body Dimensions from her commercial agency give her Bust 35 inches, Waist 26 inches, Hips 36 inches and shoe size 7.5UK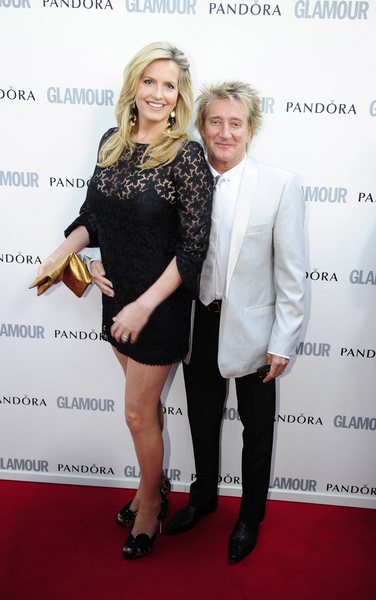 Penny with Rod (who claims to be 5ft 11 himself).
Photo by PRPhotos.com
Add a Comment
18 comments
Average Guess (15 Votes)
6ft 1.05in (185.5cm)
Miss Sandy Cowell
said on 10/Oct/19
Penny was on 'Loose Women' today, or so my phone tells me, and she broke down when talking about Rod Stewart's recent battle with prostate cancer. The interview was rounded up on a positive note, with Rod saying hello to the ladies - from America, which is where he is based right now - and told gentlemen to get themselves checked out because the symptoms aren't at all obvious. That's good, sound advice from the singer, and let's hope his fellow brotherhood take heed and get themselves sorted before it's too late. He was good humoured and a picture of health. What a happy way to end this comment.
Penny gets 6ft1 in her stockinged feet.
👱‍♀️💐
Khaled Taban
said on 5/May/18
In my opinion she looks about 6'2" !
Sandy Cowell
said on 5/Jan/17
One of my monthly magazines has today popped through the door and I was interested to read the final article was one entitled '13 things you know if you're seriously tall'.
The writer of the article is 6ft1, so I thought, "which female celebrities are 6ft1?". Then I punched the statistics in on the page 'celebs my height' and only a handful came up.
Now I can compare the comments I just read to Penny's life!
The last 'thing' on the list is 'You wouldn't change your height for the world!'
Can this be applied to Penny? Too right it can! Her height has been her fame and fortune and even bagged her Rod Stewart, (not that I feel even remotely jealous!), and she has even been on one of those TV dance competitions - which I know are popular, but not with me!
Would this have happened but for her height? Of course not!
The other 'things' listed about the 'seriously tall' are somewhat humorous, but positive nonetheless! Being tall, according to the writer, can induce male whispers of "you're tall!" She then adds that she gets stared at and wonders if this is what being a Kardashian is like!
So it would seem that this writer is extremely happy about her height, apart from some trivial gripes. I think that Penny has reason to be at least as happy with her 6ft1! According to this, the fact that there are more advantages to being tall must therefore be a foregone conclusion!
Oh blast! Jealous, moi? Don't even go there!
mike
said on 19/Dec/16
To me, she looks over 6´2.
Nik
said on 11/Nov/16
I was watching Loose Women with my Mum this week and Penny Lancaster was a guest. Yes she is absolutely enormous.
Rory
said on 11/Oct/16
I saw her up close and with Rod, she's tall certainly, but in heels she looked about 6'2-6'3..I think she could potentially be 6'0.5. I would have expected a legit 6'1 lady in heels to have looked taller. Definitely over 6ft though.
Arch Stanton
said on 5/Sep/16
You might want to mention that she has a 37 inch inseam where she says (long legged). That's pretty remarkable and I think is legit.
Arch Stanton
said on 5/Sep/16
Rob there's a typo on commerical . Their son is only 10 and already looks 5'5 or 5'6 and has the proportions of a 6'7 basketball player. He might end up near that height of course as you'd guess that Penny has some men near that height in her family.
Rojina
said on 23/Jul/16
Both Rod and Mick completely happy and secure in themselves to not give a toss at stepping out with their ladies towering above them
tiny
said on 9/Sep/14
Penny is 6'1" and has recently filled out her frame very well. Looks very curvy and easily weighs 165 lbs
LL
said on 7/Jun/14
Don't think she's a full 6'1" Rob.
nona
said on 8/Nov/13
Penny is 6'0" & weighs about 160 lbs... a gorgeous woman
Zulu
said on 31/Mar/13
HAHAHAHAHA, she wishes she was 6 foot 1. She just likes being tall and wants to be as tall as possible. Why do you think that she loves to wear high heels all the time? She clearly enjoys being taller than others. 6 foot 1 is a lie. I give her 6 feet AT THE VERY MOST.
Arch Stanton
said on 9/Nov/12
She was looking 6'4" in heels on Jonathan Ross next to him and Kelly Brook too. I find this woman extremely attractive, something about her I think.
Arch Stanton
said on 9/Nov/12
178 says on 12/Jun/12
Regarding Penny, her modeling agency Crawfords lists her as 6' 0" (183 cm). I could see her being 184 cm at a push though, but not the full 6' 1".
She's a model, anything over 6 ft is considered too tall, that's why. She looks every bit of 6'1", in fact if Rod is 5 ft 10 she in fact can look near 6'2" at times but I think she is hitting 6'4" range in heels like in the above picture. Liam Gallagher said he met her and said she was 6'4", and in heels he's probably right.
Arch Stanton
said on 9/Nov/12
Click Here
Absolutely freakin gorgeous here. Obviously she is around this, and Rod a weak 5'10" nowadays.
Nadine
said on 23/Oct/12
and here I thought I was tall at 6'0", she's got me and Jennie Finch, by a mere one inch!
178
said on 12/Jun/12
Rob, why don't you list Rod as 5' 11" then since he claims it?
Personally, I believe him to be 5' 9.5" maximum... maybe as low as 5' 9" flat.
Regarding Penny, her modeling agency Crawfords lists her as 6' 0" (183 cm). I could see her being 184 cm at a push though, but not the full 6' 1".