Peter Cullen's Height
5ft 4 (162.6 cm)
Peak height was 5ft 5 (165.1 cm)
Canadian actor, best known for voicing Optimus Prime on the Transfomers cartoon and film series.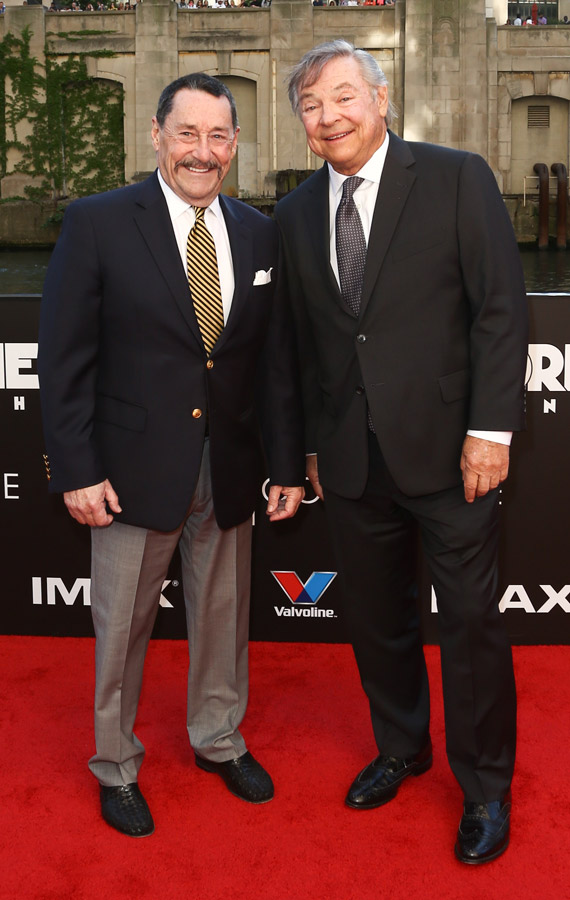 Photos by PR Photos
Add a Comment
10 comments
Average Guess (4 Votes)
Peak: 5ft 5.69in (166.8cm)
Current: 5ft 4.63in (164.1cm)
cmillzz
said on 3/Jul/19
@Rob
LOL, oh man... can't imagine how Glenn would react.

Editor Rob
I'm sure he'll recover from the shock. And to leave this page on topic, here is Peter looking tall with
Jason Marsden
.
cmillzz
said on 1/Jul/19
Lol at claiming 5'7 when you're actually 5'8. And also lol at thinking 5'7 somehow sounds better than 5'8.

Editor Rob
imagine the shock if sith Lord met our old friend Glenn and said 'I'm only 5ft 7' and is looking 2 inches taller 😲

Always best just stating the height we are, a little round up or down is perfectly reasonable 👍
5ft7 Sith Lord
said on 16/May/19
I think Peter looking 5ft5 is okay since everybody wears shoes anyway.
5ft7 Sith Lord
said on 10/May/19
Click Here
Rob, here are all the photos I had from the convention! Some surprises there! A few information about me. I am really 5ft8, but I claim as 5ft7 since I like the sound of it better. In my casual clothes I am only wearing an Air Force 1 shoes. In my Kylo Ren and Count Dooku costumes, I measured myself at 5ft11 with hidden lifts. I also had photos with Zachary Levi, Laurie Holden and Pamela Anderson, but you already have them listed here so I didn't bother adding their height. Feel free to use the photo as the height photo for the Celebs. In fact, I would really love that if you could do it! It would be an honor Rob!

Editor Rob
Peter can look about 5ft 5 if you're 5ft 8 there.

If you claim 5ft 7 to people, they probably would be surprised!

It's good you managed to dress up in costume and I see you made yourself taller too.
5ft7 Sith Lord
said on 16/Apr/19
Rob, I will meet him on Saturday, April 27. I will give you the photo after and you can judge from there.

Editor Rob
Well that would be great, hopefully you can also report back with a guess!
Michael Power
said on 17/Jan/19
Back in the mid-sixties, a half-hour programme produced and aired in Montreal, kept us anglo high-schoolers entertained after school. The antics of Peter Cullen as the French-Canadian character, Bebe Le Tuque and his memorable catch phrases were repeated thousands of times by many of us Montreal teens. For example, "fight me, fight my gang" done with the joual accent. Years later I was to see him on the Sonny & Cher show.
Sarah
said on 10/Oct/18
Excellent voice actor.
163 range.
Sandy Cowell
said on 16/Jun/18
So there's a Peter Cullen as well as a Peter Mullen! In actual fact, Peter Mullen is none too tall, but in comparison to Mr Cullen, he is! I will certainly be on the lookout for this guy! Until I catch a proper glimpse of him walking about in my television, I only have this picture to go on, so I will have to agree with the stats written here! Peak - 5ft5, now - 5ft4!
MJKoP
said on 15/Jun/18
It's funny because he's listed everywhere else as 5'8", and I distinctly remember thinking, 'Wow, the almighty voice of Optimus freaking Prime is actually a bit below average height!'
But now I'm downright shocked!!! :O

Editor Rob
He certainly has a 'taller' voice, I'm sure most wouldn't have thought he was this short.
Shivan Desai
said on 15/Jun/18
I did not expect that the actor was really short, I remember a long time ago on Google, he was listed as 5'8. However, he did an excellent job voicing Optimus Prime, leader of the Autobots.