Peyton Kennedy's Height
5ft 8 (172.7 cm)
Canadian actress, known for playing Kate Messner in Netflix series Everything Sucks! and Dr. O on TV show Odd Squad. She said on twitter
"Yes, too tall (I'm already 5'8"). I'm the lead on a new @netflix show called #EverythingSucks!, but it's not for the little ones this time"
and in 2018 that she was
"Almost Five-Ten"
.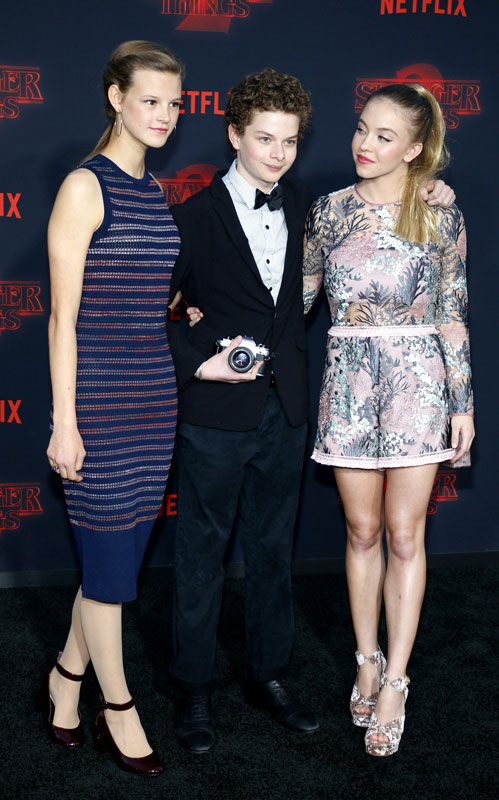 Peyton and
Sydney Sweeney
Photos by PR Photos
Add a Comment
23 comments
Average Guess (20 Votes)
5ft 8.11in (173cm)
Stranger things fan
said on 29/May/19
she's probably 5'9 now
Junior Hernandez 1990
said on 4/Apr/19
Rob added Peyton a year ago which she just turn 14 (born in Jan), so if shes lucky this year she maybe hit 5'9 before stop growing. I came from a tall family myself i had 4 sisters all adult now from youngest 19 to oldest 38, they all had in common which is they stop growing near their 16th birthday. My oldest sister is the tallest which shes the lucky one grow final inch at 15 and a half of age from 5'10 to 5'11 and my youngest sister 5'8.5" just a month before she turn 16th, i guess Peyton Kennedy had more chance than 5'7 Jojo Siwa (16 next month) grow near an inch before she stop.
Zaydaan Chowdhry
said on 1/Nov/18
Needs an upgrade to 5ft 9
Dubstep
said on 5/Apr/18
IMDB lists her at 1.77m!
Speedy
said on 3/Apr/18
I this part of this live stream she claims being "almost 5'10":
Click Here
Bosconotovitch
said on 21/Mar/18
I think she's taller than 5'8 now. Maybe 176cm?
lovewitch
said on 19/Mar/18
She said during an instagram live that she was almost 5'10
Sandy Cowell
said on 6/Mar/18
@ Nik - 👍
Nik
said on 5/Mar/18
@ Sandy Cowell - Hi!
That's true, your Stepmum was of a good height for a lady,and it great to hear of the success of her three sons.
Sandy Cowell
said on 4/Mar/18
@ Nik - Hi! The sleep problems are continuing alas, and tomorrow I am definitely writing to my doctor to request some sleeping tablets. The one thing the patients all said while in that hospital is that it was difficult to sleep because we 'can't get comfortable'. Coupled with that, the exhaustion from a major operation is far worse than I ever anticipated. My Mum, as you know, endured the same op at a greatly senior age, but never did recover, yet I KNOW I will because the dreadful pains which caused me to scream loudly in hospital and when I first came home, have become tolerable and that was due to sleeping just two bouts of a couple of hours per time in one night, and exercises.
Last night I saw a film * I'd been after owning and getting my teeth into for ages! It really was as good as I'd hoped, with all manner of different-heighted stars in it... and a part that truly sent shivers down my very being! It will be showing regularly o the 'Horror Channel', and finding out that it was finally on was like a little present to me, so intense had been my efforts to acquire a working copy, though they were fruitless ones! Do give it a whirl, it doesn't disappoint! It's a Michael Winner film from 1976, but I think it hit the cinemas in 1977!
We are about to embark on another week, and no doubt it will remind me, as of this morning, the 'countdown' of events and fear that I endured two weeks ago tonight! Life! What a wonderful journey full of opportunities and hardships to overcome, but ones we inevitably must if we're to flourish and grow stronger.
Have a great week Nik!
Sandy 😊
* The Sentinel
Sandy Cowell
said on 3/Mar/18
@ Nik - Hi! One thing I must admit to is that I have never used my height as a bench mark for what is tall or small! My Stepmum was 5ft6,and I merely saw her as a 'nice height', enabling her to function competently and raise her three sons to the success they enjoy today.
Nik
said on 2/Mar/18
@ Sandy Cowell
It concerned me to hear about your sleep problems but I suppose it can be expected as this is not uncommon amongst people in the short term after a major operation, you have just got to battle through the hardship that you are facing after your operation and this is something you are continuing to do very well. You must have known yourself that you could battle on without the need for sleeping pills from a doctor. It is important to be safe about everything that you are doing when you are so tired and to relax and rest as much as possible, also it is important to manage and keep at bay your pain as much as possible. It is remarkable to go over 100 hours without sleep and to be able to function as well as you did, if I was in that position I can only imagine that I would struggle to do much more than turn a phone on never mind write so many well constructed comments.
Today's youngsters most definitely are getting taller on average and the grand daughter of the lady next to you in hospital will be considered average amongst her peers at 5'6" where as you and I would generally see a lady of 5'6" as being tall. This height is probably tallish for the general adult female population but only average amongst women who are 20 or under, but just about tall amongst women over 40! Which ever way you look at it though Peyton is solid tall and this will be rubber stamped even more by the time she has finished growing, if she ends up at 5'9" then she will be more than just a little bit tall compared to women from every age group! There are still a lot of young women (even those in their teens) who are of small and smallish heights, the difference nowadays is that amongst the youngest women it is noticeably more common to be of heights that are seen as tall and tallish for females to be. The difference is that there are more young women who are 5'6" or over as opposed to being 5'3" or under, there probably won't be a huge amount more who are 5'6" or over but it will be noticeable. Young men are getting taller at an equivalent rate too!
I remember you saying about going to a the who concert in May 1976, yes, it held the record for being the loudest concert in the world and was at Charlton Athletic's football ground, "The Valley"! It will have been an incredible experience to attend this concert and to be able to tell people about it too!
I also like the fact that you joined in the conversation with the lady next to you in hospital and her grand daughter, if you hadn't said anything then the moment would have been lost! It is such a good feeling to talk and to socialise!
Younger people usually are good at spelling and my Mum and I squirm at some of the words we struggle to spell these days, but then we can still spell some of the most difficult ones!
Finally, it is ironic that the other ladies in the hospital were all taller than you and your nurse even though they were all older than you both, I think that this is one of the wonderful things about height, it is so diverse!
Cheers!
lovewitch
said on 1/Mar/18
What about Sydney Sweeney?

Editor Rob
In 5ft 4 range might be possible.
lee168cm
said on 28/Feb/18
Yes grizz she feels too tall. She's only 14 and already 5 foot 8 probably got s bit more growing to do yet. I'd swap with her anyday swap my five six for her five eight haha only kidding
grizz
said on 28/Feb/18
She said on twitter "Yes, too tall (I'm already 5'8").
Too tall?
Please...
Perfect ;)
Nik
said on 28/Feb/18
@ Sandy Cowell - Hi!
You are doing a lot of commenting at the moment, it will be interesting to see the new comments page!
Yes, Peyton is looking down so we are not seeing her at her full height, I wonder if she will exceed the 5'9" level?
Was the grand daughter of the lady in the bed next to you taller than her Mum and grand mother? most women who are 40 or over will consider 5'6" tall for a woman where as most women under 40 will consider it average! Payten is tall in anyone's book, and I don't think she's finished growing yet! She will shoot up even more!
I am surprised anyone can go so long without sleep and to be able to comment as well and much as you are, remarkable! Tell your doctor though and stay safe.
Sandy Cowell
said on 28/Feb/18
@ Nik - And another thing: you can also notice that she is looking DOWN at the photographer in the picture of the three youngsters together!
Sandy Cowell
said on 28/Feb/18
@ Well actually, I haven't slept since Friday, when I woke at 1 after 3 hours sleep!
Do you know, I see babyfaced yet tall young girls myself. The lady in the next bed to me while I was in hospital had her daughter and grand daughter come to visit. The grand daughter was definitely still a child, and had the face of a 13 year old even, but she looked 5ft6, and I thought, "She's tall for 13! I wonder how much more she'll shoot up?"
In actual fact, she was 15, but with a very young face and I don't suppose she'd class herself as tall at all! 😊👍
Rampage(-_-_-)Clover
said on 27/Feb/18
She's only 14...could easily gain more
Dev
said on 27/Feb/18
actually she wrote that she's 5'8" in last July, so she maybe even taller now
Nik
said on 27/Feb/18
@ Sandy Cowell
I hope you had a good sleep!
Yes youngsters are getting taller and Peyton may even have some growth left in her! You may squeeze out another inch or two yourself!
She may look like a little girl facially but boy she is tall!
From a snowy West Yorkshire, cheers and have a great day! I was on this site early myself but my other 3 comments haven't been moderated yet, like this one!
⛄️🌨⛄️🌨⛄️🎂!
Sandy Cowell
said on 27/Feb/18
I'm totally gobsmacked to read that Peyton is 5ft8! She looks like a little girl facially and so young that she could squeeze out another 1.5 - 2" from that frame of hers!
One example of the youngsters getting taller now! I'm pleased she accepts herself and is confident because I know at that sort of age, I would have HATED to stand out! Still now really, but a couple of extra inches...
😀☁☁☁☁☁☁☁☁☁
Nik
said on 26/Feb/18
It's good to see another celebrity called Peyton added to celebheights! I think that Peyton Kennedy is a solid 5'8" and I have no problem in offering her this.