R Kelly's Height
6ft 1 (185.4 cm)
American singer, known for songs like "Ignition" and "I Believe I Can Fly".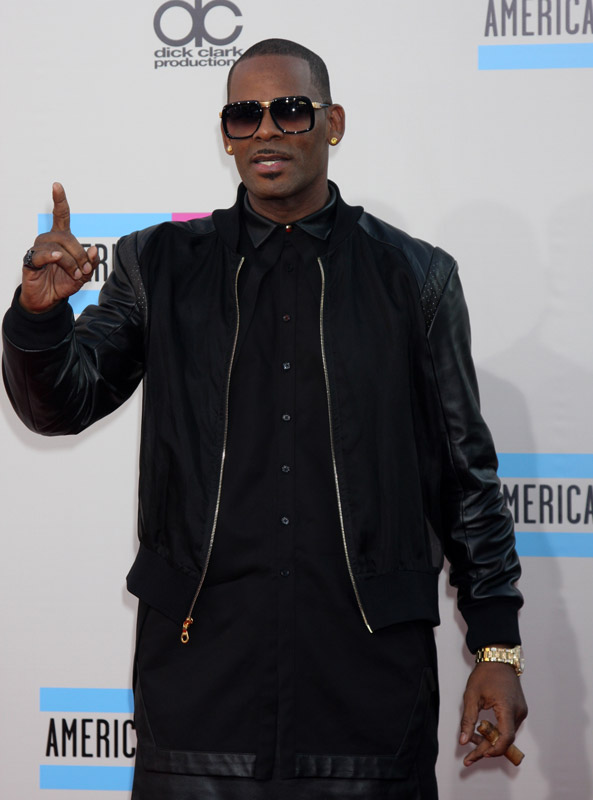 Photo kathclick/BigStock.com
Add a Comment
33 comments
Average Guess (5 Votes)
6ft 0.75in (184.8cm)
Canson
said on 1/Aug/20
6'1 max
OriginalAnon
said on 29/Jul/20
I don't know where people are getting near 6'2'' from. He'd be lucky to reach 6'.
Sx Slve
said on 2/Dec/19
Nobody has commented on his p[age in 2019, lol
Zampo
said on 21/Apr/18
A solid and true 6'1 guy. I believe in his prime would measure 186 cm during the day. Reckon he would measure about 185 cm now.
Phil
said on 20/Apr/17
my favorite r . kelly song " Sex in the kitchen" lol sometimes he looks like a 6 foot 2 guy,but i still think he is a 6 foot 1 man.
Phil
said on 20/Apr/16
The king of rnb is 6 foot 1.
MrTBlack
said on 30/Apr/15
I believe he claimed 6'2" but don't think he's under 6'1".
Mr. Right
said on 20/May/14
He's closer to 6'2. The guy is tall!
MD
said on 29/Aug/12
R. Kelly ws just on Jimmy Fallon's show (August 29), and they were exactly the same height. Jimmy did have a footwear advantage in heeled dress shoes while R. Kelly was in flattish trainers, but it still looked as if this would put Kelly somewhere in between 6'1" and 6'0" instead of a solid six feet.
Ajax
said on 9/Aug/12
He might be an honest 6'1" guy. Still looking in to it
T.Stalls
said on 4/Jun/12
Why do you people try to make people shorter than they are. Man is 6'1. Period!
LaTroy
said on 21/Dec/11
He look bout 6'1 mayb 6'2.
Anesaha
said on 21/Nov/11
I think he is probaly 5-6 feet tall.
Phil
said on 15/Sep/11
6 foot 1. Rob was right.
nick
said on 12/May/11
noticeably shorter than jay z, i would say weak 6 foot.
Hugh
said on 10/Apr/11
Jay-Z is 6-2
Viper
said on 25/Feb/11
Hmm, Jay Z isnt even 6-1 Hugh
Rampage(-_-_-)Clover
said on 24/Feb/11
He's around 186-187cm I think...
seanweezy54
said on 28/Apr/09
look at the r kelly video on youtube with jay z jayz towered r kelly fiesta video
BBC
said on 19/Aug/08
I always thought that he was 5'11".And i don't think i'm wrong.
Rikashiku
said on 3/Aug/08
If you guys make him 6'1, then make Usher atleast 5'7 and snoop 6'4.
MJ
said on 3/Aug/08
seems about 6'1"
big franco
said on 9/Jan/08
im 6'3"and3qt".im from the chi and i ran into kells out in the surburbs in chicago at a shopping joint.kells 6'1" or plus.
Mick
said on 28/Oct/07
In that's that music video with Snoop he looks like a solid 6 1, the differrence between Snoop and him ain't to big
Joe
said on 27/Jun/07
Solid 6ft 1in
Derek
said on 24/Oct/06
6'1" easily, but if these accusations are true, he needs to be locked up.
Anonymous
said on 24/May/06
I saw a pic of him with Jay-Z shaking hands.Kelly looks about 1/4 inch shorter than Jay-Z
Demon smoke
said on 25/Apr/06
I meet R.Kelly a few years back at the MOBO's. I would say the dude is with out a doubt 6'1.
Denzel
said on 13/Dec/05
Hey, I saw the passport of R.Kelly in TV when the underage-case was actual, and there I saw: 195cm. I think he is 195cm.
G.L.
said on 3/Dec/05
Im 6,1 and I Know R.Kelly (Pied Piper) is taller than me
J.
said on 16/Jun/05
Trust 'em, Jay-Z is a solid 6'1". I also once believed him to be 6'4"-ish as well. But that's due to a trick many celebs use and that's called : shooting from the bottom up. 5'11"-ers Fabolous and Chingy also use this trick. Hence why they were listed or percieved to be more than 6 feet!!
J.
said on 8/Apr/05
Both R. and Jay are 6'1" although I do believe R. would be very slighty taller than Jay. There was some publicity photos of the two back when they did that Best of Both Worlds album (around 2002), R. was maybe a quarter or two taller than Jay. In real life, R. Kelly is known to be a talented basketball player, hence the height.
Issheuhboy
said on 7/Apr/05
I'd read articles and seen pictures which seem to suggest that he was about 6'3, and I thought he always seemed a big guy, but he looks the same as 6'1 Jay-Z here:
http://onlineathens.com/images/110204/11952_512.jpg
Though I'm not sure about Jay's height either, I'd heard he was 6'4, and that seemed right.