Rachael Ray's Height
5ft 2 ½ (158.8 cm)
American Tv Personality. She has said,
"Now, I'm a short girl--about 5'3" on a good day"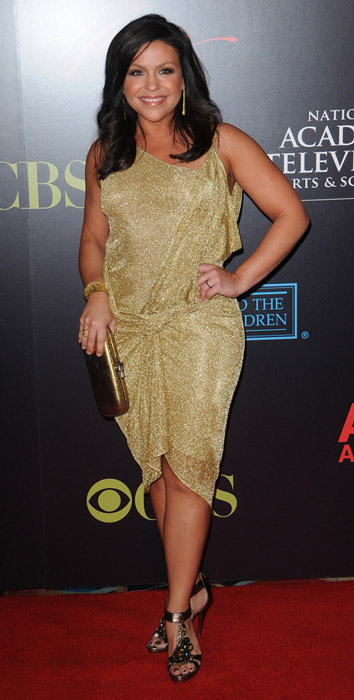 Photo by PR Photos
Add a Comment
29 comments
Average Guess (2 Votes)
5ft 2.25in (158.1cm)
Yang (5 footer 8, 173)
said on 6/Nov/19
She is 5ft 2 at least...
Jen
said on 24/Oct/14
According to a recent AOL article "Rach is just 5'1" and John is 5'7"." I thought she was only 5f1 personally because she is always so much smaller than everyone except other celebs that are tiny.
Click Here
Cheflaureleaf
said on 29/Nov/12
I like the fact that she looks healthy, not a skeleton that thinks she looks great...she seems like the kind of girl that would be fun to hang out with. I'm a classical chef, with a degree and I love to seek out new places to dine...Laura
Deb
said on 18/Nov/11
12 that's what she said but I highly doubt it cause she doesn't seem any taller than 5 foot max 5f1.
dulce
said on 6/Aug/11
and i think that she is probably 5.0 or maybe she can lie about 5.1 but no more she is smaller than kim kardashian who is in in range 5.1 or 5.2 and kelly ripa who is smaller than kim kardashian. in my think kim kardashian is 5.2, kelly ripa is 5.1 and rachel ray 5.0. that is more reasonable think. because all three is smaller than 5.3 and that what i say make since
5'8.56784
said on 30/Jul/11
Kelly Ripa wearing 5" heels without platforms?? lol, that's impossible, the most a foot can bend is 4 inches in ballerina stance, so max in heels would be 3 inches. Now, with platforms, female heels could be a bit more than 5 inches. This has been explained by Rob before.
Heightgirl
said on 6/May/11
5f4 Whoopi was on the Rachael Ray show today and she was wearing flats and Rachael was in platform heels and still an inch or so smaller. I guess Anonymous is right, she is 5ft tops.
Heightgirl
said on 17/Apr/11
Anonymous, Rachael did look a couple inches smaller than 5f2 Giada De Laurentis but maybe they had different shoes on. Giada seems to wear platforms a lot and Rachael never used to wear them until last year and the pics they were in were from years ago.
Anonymous
said on 15/Dec/10
Saw her at a book signing--5ft tops. 5'3" is a joke
Anna
said on 9/Jun/09
True lol Kim does wear big heels and Rachael doesn't wear over 4". Rachael never wears platforms on the show either. Well then they are the same height then at 5f2 or a bit under.
Cyn
said on 10/May/09
Anna
I never seen Kim Kardashian with 4 inch heels on. Does she even own 4 inch heels? LOL I always see her sporting a least 5 inchers. So that's probably why she looked a little taller. Trust me i know my heels ;)
PieWoomun
said on 8/May/09
I always thought she was tall, like 5'6.
I was off. By 4 inches. :D
Heightgirl
said on 8/May/09
I agree with 5f3.8 - Rachael is a weak 5f2 (just under 5f2) or 5f1 max.
So many sad sacks here
said on 6/May/09
Jenna- Saying someone is "a weak 5'2" doesn't mean she's physically weak but that she's on the low side of 5'2" height-wise. Someone can just as easily be a weak 6'11, because they're actually 6'10 7/8".
Jenna
said on 4/May/09
Anna, 5'2 is not weak...It may be on the shorter side but definitely not weak.
Anna
said on 30/Apr/09
I just saw 5f2 Kim Kardashian on her show today and Rachael was a bit shorter. Both ladies were in 4inchers, without platforms. I think she`s only 5f1-5f1.5 max.
5 ft 3.8
said on 22/Apr/09
I say she is a very weak 5 foot 2. Maybe even only 5 ft 1.
Ann
said on 28/Jan/09
Susan Luci was on and they were the same height and both were wearing big wedges. I heard that Susan is only 5 foot nothing so Rachael must be as well!
Deb
said on 16/Jan/09
I was watching the RR show yesterday and Rachael said that she is "very short without her tall shoes on". I think she's 5f1.
Nick
said on 10/Dec/08
She bought my old house in the Hamptons -- not from me, but she is the current owner of that house where I spent summers as a child. Funny, small world.
And she's small, too.
gigi
said on 29/Oct/08
When interviewing Kristin Chenoweth for Celeb Fridge in her magazine (Everyday with Rachael Ray) Rachael said "Now, I'm a short girl--about 5'3" on a good day" and went on to ask Kristin how tall she was Kristin replied 4'11" in case anyone is interested.
Anna
said on 19/Oct/08
She looks a weak 5f2
Eddie
said on 15/Oct/08
She is good hieght. Not bad looking either, though she has gained a few since I saw her on the early food channel.
Deb
said on 1/Oct/08
Jamie Lee Curtis at 5'7" was on the Rachael Ray show yesterday. She was trying to promote her new childrens books and she put them under Rachael's feet because they weren't not able to touch the floor. Jamie also stated that she was "tall" and her feet just touched. Rachael looks to be 5f2 to me.
Anonymous
said on 28/Sep/08
I went to a taping of her talk show and she was in heels at the time. I am 5'8 1/2" in my socks and she was still shorter than me a few inches. I think 5'3" on a good day is probably accurate!
Anon
said on 22/Sep/08
Seems highly unlikely 5'3" is her true height. I'd guess 5'1" tops.
Anonymous
said on 12/Aug/08
Yup, the words "about" and "good day" probably refers to a morning height and means she's not a solid 5'3".
Jackie
said on 12/Aug/08
Now that we know Rachael is under 5'3" it's easy to compare her to other celebrities who claim to be 5'3" and over...