Richard Conte's Height
5ft 8 ¼ (173.4 cm)
American actor best remembered for roles in films such as Ocean's 11, The Godfather, I'll Cry Tomorrow, Whirlpool, A Walk in the Sun, The Blue Gardenia, The Big Combo, Call Northside 777 and Tony Rome. In a 1946 newspaper he was described as standing 5ft 11 inches tall.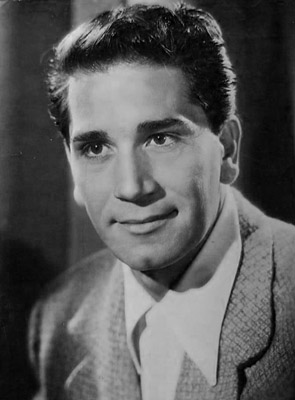 Conte in 1945
Add a Comment
13 comments
Average Guess (2 Votes)
5ft 8.63in (174.3cm)
Roger
said on 8/Sep/16
He cannot be over 5'9". Jimmy Stewart just towers over him in Call Northside 777 (as someone else has observed). Moreover, Conte's character in the same film states he is 5'9" when taking a "lie test". ;-)
Arch Stanton
said on 26/Dec/14
He wasn't well over 6ft Steve, unless Heston was 6 ft 4 or 5! He could look near 6'1 with Heston but in other films seemed no more than 6'.
Steve
said on 22/Dec/14
I had the opportunity to meet Cornel Wilde in the 1970's. He was quite tall. Well over six feet. And one terrific guy. Not full of himself.
Sam
said on 22/Dec/14
Searches for links to books online don't show anything for Wilde...I haven't seen The Big Combo for a while but I think in that shot Conte is closer to the camera and has a slight advantage due to that.
Here's Wilde with William Powell:
Click Here
w/ Gene Tierney:
Click Here
w/ Ginger Rogers:
Click Here
w/ Celeste Holm & Richard Widmark:
Click Here
w/ Joseph Cotten:
Click Here
w/ James Stewart:
Click Here
w/ Charlton Heston:
Click Here
In different photos, he can look anywhere in the 6'0"-6'1" range, probably no more than 6'0.5" for sure though based on him near Cotten.
Arch Stanton
said on 22/Dec/14
Rob. where do you get those books from? I mean they're not the sort I can imagine you could pick up on a market stall in Glasgow or something LOL. Most useful and probably good fun seeing some of the obvious big inflations at times (like Kenneth More!). Some though I think will be legit.
[Editor Rob: at the moment I'm negotiating with a guy in America to get hold of a specific book, what I'd call an 'insiders' type book that wasn't available to the public but to film studios and agents etc...whether I get it is another matter.]
Arch Stanton
said on 22/Dec/14
Actually there is a scene at the end of The Big Combo where Wilde really does tower over Conte. I'm not sure if they altered it somehow to make Wilde's victory over the cowering Conte seem all that more pronounced and make him look shorter but he did look easily 6'1" in that scene.
Arch Stanton
said on 21/Dec/14
Rob, does your book have a listing for Cornel Wilde at all? I see he's listed at 6 ft 1 but that really looks utter BS with Conte in The Big Combo.
Click Here
He had a few memorable roles his best known role I think was in the Oscar winning The Greatest Show on Earth, remember he was the gymnast in green who broke his leg. I thought he looked 5'11 range in a few of his films, no more than 6 ft anyway. Although in Greatest Show I don't think he actually looked that much shorter than Heston.
[Editor Rob: don't have him in any, but I am in process of trying to get hold of some more books from around 40's/50's after christmas.]
Gonzalo
said on 9/Dec/14
Shorter than Brando in The Godfather. 1`73 sounds a little high to me.
Sam
said on 9/Dec/14
Rob, could you also add to his credits A Walk in the Sun, The Blue Gardenia and The Big Combo? This guy was a specialist at characters somewhere between smooth, psychotic and sleazy but did play a good guy once or twice I guess.
Sam
said on 9/Dec/14
Yeah, 5'11" is a huge stretch, in fact I guessed him at 5'8" flat.
Here near Marlon Brando:
Click Here
w/ Dana Andrews (& Farley Granger who deserves a page!):
Click Here
w/ Charles Bickford (under the Whirpool section):
Click Here
w/ Victor Mature:
Click Here
w/ James Cagney...LOL, look at their postures & angling all to make Cagney seem taller than he was:
Click Here
w/ James Stewart:
Click Here
w/ Joan Bennett:
Click Here
near Lee Van Cleef:
Click Here
This listing I think is fine, he looks a little taller only near Bickford.
Arch Stanton
said on 9/Dec/14
Most photos online with Sinatra have the advantage to Conte, near the camera, Sinatra poor posture etc so he can look 5 ft 9 on occasions but I struggled to find a still of them level,
Click Here
is the nearest I could find and as you can see he wasn't much taller than Sinatra second photo down on the right.
Arch Stanton
said on 9/Dec/14
Jimmy Stewart towered him in Call Northside too!!
Arch Stanton
said on 9/Dec/14
Thanks for adding him. Haha Dean Martin 6 ft 1 and him 5 ft 11, they wish!! Yeha I think there's a scene in Ocena's 11 where he looks maybe an inch taller than Sinatra I was thinking something like 5'8.5 too, definitely nothing over 5 ft 9 anyway! Henry Silva (a proper 6'2" ranger) towered him. Good call.