Rita Wilson's Height
5ft 7 (170.2 cm)
American actress best known for appearing in Sleepless in Seattle, Runaway Bride and Jingle All the Way.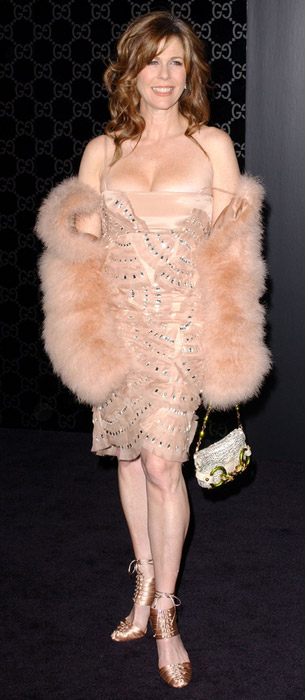 Photo by PR Photos
Add a Comment
49 comments
Average Guess (5 Votes)
5ft 7.8in (172.2cm)
Miss Sandy Cowell
said on 26/Oct/20
💐🎂🎊💝 Happy Birthday Rita! 💝🎊🎂💐
A wonderful time is wished for the lovely Rita Wilson, who celebrates her 64th Birthday on this late October day. 🍂🍁
Have the most perfect family day with Tom and the boys! XX
5ft7.75 👩🎁🌹
💐🎂🎊💝💐🎂🎊💝💐🎂🎊💝💐🎂🎊💝
Miss Sandy Cowell
said on 11/Jul/20
I've only just found out that Rita Wilson is married to the fantastic Tom Hanks! I found this out because I was interested to know who Colin Hanks's mother is, but to find this out somewhat sidetracked me!
Rita is not Colin's birth Mum, but she does have two children, both boys, with Tom.
5ft7.75 😃👍💐
Bryce Watts
said on 28/May/09
I met Chad about two years ago. I stand at 6'3" and he had about an inch on me, but no more.
Big King
said on 6/May/09
I would say he's 6'3.5" and has a very strong similarity to Will Ferrell who is 6'3.5" as well.
frida
said on 13/Aug/08
oh come on, write in centimeters. nobody ho doesnt live in usa or wherever you come from gets that. / swe
Sam Green
said on 19/Jul/08
i know for sure chad is six three atleast.. im six five and i met him at the pearl manufacturing building in nashville and got to jam with him and i asked him how tall he was and me and him stood back to back and i was about inch and a half taller than he was.. very cool guy to be around.
mike
said on 17/Jul/08
I'm 6'3", my friend is a tiny bit over 5'8", I'd say this guy is like 6'4"
Betinho Macarini
said on 30/Apr/08
Big dude! But hey, I have something really important to say. Watch the videoclip of the song "Dani California". At the very end of this video, Chad stands next to guitarist John Frusciante. Frusciante has the tip of his head on Chad
cantstop25
said on 2/Apr/08
easily 6'3" big dude
Neonmir
said on 12/Mar/08
He is far above 6'3". Smith is 6'4" at least.
Gary
said on 28/Feb/08
When I have shoes on 5'8 comes to my lips and im 6'3.5 with shoes, he looks 6'3.5
Labdu Sehergcha
said on 20/Feb/08
This guy is a giant, he positively dwarfs his bandmates. When they play, Anthony John and Flea move around in front of him and even behind his drumkit, he's just looming in the background like an immense mountain.
Sal
said on 19/Feb/08
Now that we know he is 6'3" i think we can safely say that he and will ferrel are twins! haha
glenn
said on 16/Feb/08
well,alot of the time i bump into celebs.most of it is planned though.
AAAA
said on 16/Feb/08
Ohhh, I didn't realize you had info on where celebs were going to be, especially on all cases. I know it is your job to do that, it just still amazes me all the peolple you get to meet Glenn
glenn
said on 15/Feb/08
conferences? i never met anyone at those.not sure what you mean.they have those here in nyc seldom to announce a tour or something if thats what you mean.
glenn
said on 15/Feb/08
i dont understand how is that random? sometimes it is,but this is planned buddy.
Anonymous
said on 15/Feb/08
man this guy dwarfs the rest of his bandmates all 5'6-5'8 reminds me of nicky wire form manic street preachers dwarving jdb and sean and richie
AAAA
said on 15/Feb/08
No, I just can't believe you manage to run into celebs at random places and not like confrences or other fomal stuff. .
glenn
said on 14/Feb/08
why is that hard to believe? how do celebs travel? lol.i use to get the bulk of my celebs at airports.and some the pics are here on the site.i would hope i wouldnt dress in a t shirt for the winter too.lol.so no current shows.im not sure if they were even her for shows.they were all here(not 100 percent if kiedas was in town.seperate flights or days.i bumped into flea a couple times.didnt ask for a photo.maybe it was kennedy,newark.i cant remember well.i know around this time i was at laguardia alot.
Viper
said on 14/Feb/08
I was there back in December. I knew it wouldnt be as nice as say JFK, but it just felt old and dirty inside. The worst airport structurally Ive ever been too.
AAAA
said on 13/Feb/08
I can't believe you met him at Laguardia Glenn. Are they doing another show in the area somethime soon
Viper, it is dingy. I took my friend their and we were both shocked to see they still had the hanger bays from the 30's up and all other stuff just slapped onto the new terminals. For a second we thought he was flying out of those hangers. Then again, I usually go out of O'hare, so every airport back in the New york/NJ area where I am from is pretty dingy
Viper
said on 13/Feb/08
Laguardia is such a dingy airport Glenn.
msn87
said on 12/Feb/08
I would also have guessed him a little under his claimed 6'3 judging by some other pics (1'89 m to be precise), but Chad does indeed look a full 6'3 here and it's probably what he is.
glenn
said on 12/Feb/08
1984 was their first album.
glenn
said on 12/Feb/08
newark or laguardia.i think lagaurdia.
Viper
said on 11/Feb/08
He does look at least 6-3 here. I figured he could have been marginally under that but he doesnt look it here.
Derek
said on 11/Feb/08
Glenn- Was this at JFK airport?
Anonymous
said on 11/Feb/08
lol i seriously think that he and will ferrel are long lost twins .. they look really related
Derek
said on 11/Feb/08
Glenn- Wasn't the Red Hot Chili Pepper's debut in 1989? Blood Sugar was released in late 1991.
Tony
said on 11/Feb/08
I DONT KNOW IF ANY OF YOU NOTICE , but since ferrel was on snl in 97 i always thought these guys looked alike . Ofcourse the drummer is balding and doesnt have the sme head of hair will has but . But there appereances are uncanny
glenn
said on 10/Feb/08
are you serious? people are that stupid? there are actually millions of losers that think blood sugar is their first and album,and young losers that think californication is their first.
Brah
said on 10/Feb/08
One time, during a Red Hot Chili Peppers concert, the crowd started chanting "Will, Will, Will!" and some people screamed "More cowbell!".
They thought it was actually Ferrell guesting on the drums...
Derek
said on 9/Feb/08
Nothing under 6'3". Could be a hair over.
D. Ray Morton
said on 9/Feb/08
He bears an uncanny resemblance to Ferrell in every photo I've ever seen of him and in real life, as well. It's crazy. They could be brothers.
AAAA
said on 8/Feb/08
6'3-6'3.5, Damn, the other 3 are what 5'6-5'8.5 and he is looking a strong 6'3
Kris
said on 8/Feb/08
No, I've always thought he looked like Will Ferrel too. Oddly enough, I believe Will is also 6'3''.
Lynn
said on 8/Feb/08
I don't know him, but great pic glenn.
Alex2
said on 8/Feb/08
Looks 6'4 there.
Xander
said on 8/Feb/08
6ft3 sounds correct!Great photo!
D. Ray Morton
said on 8/Feb/08
Anonymous says on 8/Feb/08
"Is it me or does he bear a striking resemblence to Will Ferrell?"
It's not you.
Bee
said on 8/Feb/08
Yeah, he has always struck me as 6'2 or 6'3. And yes... oddly enough, he does look very much like Will Ferrell to me too.
Elle
said on 8/Feb/08
In this picture he does, but he doesn't.
Anonymous
said on 8/Feb/08
Is it me or does he bear a striking resemblence to Will Ferrell?
D. Ray Morton
said on 8/Feb/08
I love it! Chad is a character.
Alex
said on 8/Feb/08
6'3, maybe 6'3 1/2 at most.
nate
said on 8/Feb/08
legit 6'3! now all u need is john frusciante's height who i think is 5'8.
rod
said on 8/Feb/08
looks more than 6'3'' here.
Lmeister
said on 8/Feb/08
He looks this height eventhough he has a bad posture. He definitely is a Will Ferrell look a like = )