Ritchie Neville's Height
5ft 9 (175.3 cm)
UK Singer, was in pop band FIVE. In a daily record 1997 article for info profiles the band members gave heights, his was 5ft 9.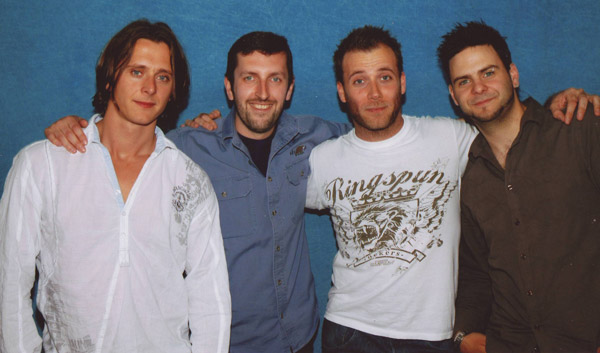 5ft 8 Rob and FIVE's Ritchie, Jason J and Scott Robinson
Add a Comment
11 comments
Average Guess (5 Votes)
5ft 9.1in (175.5cm)
JohnMoore-162cm
said on 2/May/20
I'm guessing he's more like a weak 5ft9.
Johnson
said on 2/Jan/20
according to this web
Abs 5'8 1/2, Sean and Rich 5'9, J 5'10, Scott 5'11
Click Here
Johnson
said on 2/Oct/19
@Rob what is your fave boyband?

Editor Rob
I was never really one to follow bands, it was simply do I like the song or not.
Peter 180cm
said on 22/Jan/19
5'9 flat is the most he could look,but i'm guessing he's more like a weak 175cm.
Tom c
said on 14/May/15
Any idea on the heights of the other 2 in the pic and abz and Sean, editor rob?
[Editor Rob: Jason J was in 5ft 9-9.5 range and Scott I've seen that guy a few times at conventions just as a punter...wandering about he looked about 5ft 10.5 ish I think, abz might be 5ft 9 range, sean maybe a bit taller than 5ft 9.]
Rampage(-_-_-)Clover
said on 31/Jul/13
Nice picture. These guys walked right past me years ago at the MTV Europe Music Awards in Dublin and I remember being surprised at how much shorter they were.
I think 5ft8 range is closer for Ritchie, maybe 174cm. The guy on the far right was the tallest in the group if I recall. He's probably 5ft10 without the lean.
MrX
said on 5/Feb/13
Legend :):):)
Tom
said on 10/Aug/11
the right one's probably Scott Robinson
Jasmine
said on 3/Nov/08
Ritchie, J and Scott.
Listen to Until the Time is Through; Ritchie and Scott are only siging in that song. The other lads are only siging background vocals in the chorus.
Anonymous
said on 23/Feb/08
which one is ritchie? the one in the long hair looks 5'10. but the one with the spiky hair next to you looks 5'9.
[Editor Rob: the long hair one Ritchie looked 5ft 9, the height he says, and he's the closest to camera. The spiky haired RIngspun guy is taller than Ritchie, he's just standing looser.]
Kirsty
said on 23/Feb/08
and Scott! lol
[Editor Rob: did he even sing in the band? I swear I've seen that guy at 3 other shows hanging about a stall selling gear!]