Rob Halford's Height
5ft 11 (180.3 cm)
Peak height was 6ft 0 (182.9 cm)
English Singer-songwriter, best known for being the vocalist with Judas Priest.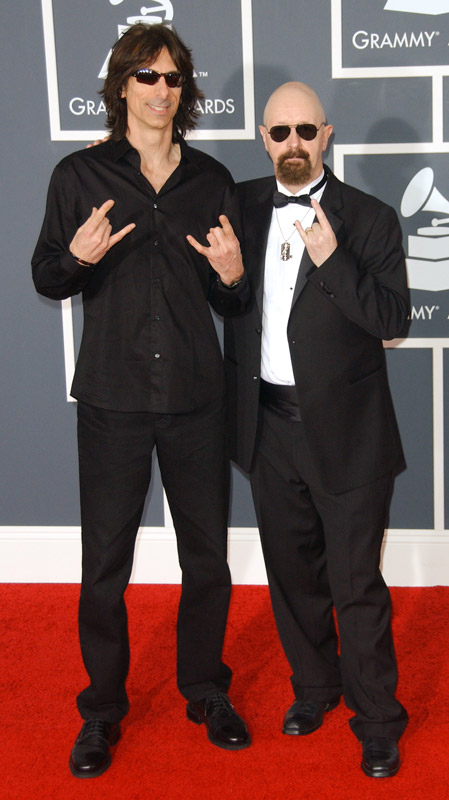 Photo by PR Photos
Add a Comment
55 comments
Average Guess (8 Votes)
Peak: 5ft 11.81in (182.4cm)
Current: 5ft 11in (180.3cm)
Jojo Rocker
said on 3/Oct/20
How tall is KK Downing ? He looks like 5'6"
mark thompson
said on 25/Aug/20
how tall is the guy next to him rob?

Editor Rob
can look 5 inches or so taller
Public Enemy
said on 5/Jun/20
Currently 5'10
Peak 5'11
Firepower is a great album!
Blanc
said on 27/May/20
Looks like Walter White
anthony178
said on 20/Dec/19
In my opinion: Peak 6'0" and a half, today 5'10" maybe a little under
Nichole
said on 18/Mar/19
You loss 15 pounds that's great keep up good work rob i loss pound two rob
Rampage(-_-_-)Clover
said on 6/Apr/18
He looks to be struggling with 5ft11 today. Peak had to have been at least 6ft. Genuinely could appear 6ft3 on stage!
Danimal
said on 7/Dec/17
Was 5'11"-6'0". Today at 66 years old and having had a full hip replacement and back surgery in the last couple of years, he has lost height. He's no more than 5'10" today.
Danimal
said on 9/Aug/17
He's lost noticeable height since his hip replacement and back surgery surgery. He was taller than his guitarist Richie Faulkner pre hip replacement/back surgery and is now shorter than him. Wouldn't be surprised if he's struggling with 5'10" these days. In his prime, he was easily 6'0" tall.
Rob with Richie PRE-hip replacement surgery:
Click Here
Click Here
Click Here
Rob with Richie since hip replacement surgery:
Click Here
Click Here
Click Here
Danimal
said on 29/Sep/16
Rob, he needs an update. He's almost 70 and has had hip replacement surgery.
Rampage(-_-_-)Clover
said on 8/May/16
I thought he was 6ft2-3 range! Looks tall onstage. Not under 6ft peak
Danimal
said on 18/Nov/14
Seems to have lost height since his hip replacement (looks to be about 5'10" today). WAS taller than 5'11.5" Jimmy Fallon in 2011 though (could have been his boots though).
mrbassflyte
said on 20/May/14
I could have swore he was almost 7 ft tall! Though, as friends pointed out, he was standing on stairs when I met him @ Larry's Hideaway. BTW, he was very kind, he had donated his leather jacket for auction for band-aid, and showed up to personally give it to the lucky winner!!! Class act all the way, and I'm not even a big fan.
Danimal
said on 20/Jan/12
He's 60 years old now and there was a picture of him with John Cena a little while ago floating around and Rob is shorter than Cena today and Cena is somewhere between 6'0" and 6'1". So, I think Rob has dipped below 6'0" today at 60 years of age, but in his younger days, he was definitely a solid 6'0".
Steve
said on 24/Oct/11
I agree with Danimal. He's an easy 6'0. His shoes on stage used to be around about 2 inch heels so i can see why you thought he was 6'2. 175cm is not possible.
Danimal
said on 20/Jun/11
Ced says on 27/Aug/10
Rob is no more than 175cm.....i meet him after a concert in 2009. I am 175cm and he wasn't bigger than me
Wrong.. Used to think he was 6'2".
Danimal
said on 26/Apr/11
An easy 6'0"
Ardra
said on 8/Feb/11
I'm 5' 11" and he was taller than me in boots, at least, which did not have really big heels maybe 1 inch. He looked like a six footer to me.
glenn
said on 7/May/09
no problem mark.he is around my height.id say an inch taller than me.so,5-9. 5-8 is not impossible.but unlikely.im also going by the 5-10 i read.so go in the middle.
Mark
said on 6/May/09
Hmm, he always looked really short in photos... thanks.
glenn
said on 30/Apr/09
cronos was listed in metal mags at 5-10.he mightve been.he nearly broke his back mountain climbing 8 years ago.i have a photo with him.he is 5-9 now.maybe he always was.
Mark
said on 29/Apr/09
Anyone have figures for Cronos from Venom?
Steel
said on 15/Apr/09
Total 100% crap. I've known Rob for 30+ years and he isn't 6 feet tall. Mate, you need to get his boots.
RisingForce
said on 6/Nov/08
I agree Glenn. 5'4" must have been an illusion. As you've said many times, you've seen plenty of strange illusions regarding celebrities heights.
5'5" for Bruce. No more, no less. There's no way a 5'6.5" man's head would ever come up around my eyebrows unless I was wearing lifts which I wasn't. I'm 5'7.75" and I just can't see him being only about an inch shorter than me.
5'5" fits the 5'4" and 5'6.5" sightings. It's also what he usually looks as you said.
glenn
said on 5/Nov/08
thanks d-ray! i knew this one was for you.thats true about scott.lol.
D. Ray Morton
said on 4/Nov/08
Excellent shot! Scott Travis' head would be completely cut off if he were in there. lol
glenn
said on 4/Nov/08
there is no way bruce can be 5-4 judgeing by that photo.bruce claims 5-6.5,and looks it in that photo.i agree he looks usually 5-5.
RisingForce
said on 4/Nov/08
Halford does wear huge boots at times though.
Click Here
The short guy whose head comes about up to his nose is 5'5" Bruce Dickinson.
I've met Bruce and he looked 5'4" in person but Glenn usually sees him at 5'5" so I'll give him that height. 5'5" max though.
While Rob's boots are enormous he isn't a candidate for lifts like Bruce. Bruce is wearing chunky shoes and at 5'5" it wouldn't be surprising if he did wear them. Halford on the other hand at 6 foot would have no reason to wear lifts, especially with thick boots like those.
Lego
said on 4/Nov/08
Halford ftw!
not even a fan of Judas Priest, but i do love all his FIGHT albums, epic stuff.
looks an easy 6'1 in that image (boots?), 6'0 sounds right, does not strike me like an average height man really.
glenn
said on 4/Nov/08
james-yes,he always looked 6ft.i think i mentioned below or elsewhere,that kk looked 5-7,up from the 5-5 i always thought he was.however he did have thick boots.im convinced kk downing is 5-6.5 to 5-7.ian hill,not pictured,is 5-9 to 5-10.more on the 5-9.scott travis(not in above pic) is or was 6-7.now looking more 6-5.ex member dave holland was 5-10 to 5-11.glenn is 5-11.
glenn
said on 4/Nov/08
joe-thanks! great to be back for people like you.i never wanted to come back,but roger from the site told rob i was in contact with him,and rob emailed me hinting at a return.i changed my mind and promised myself and rob i would change.i will still get upset,defend and debate when need be but not with the cursing,insulting,escalating fights and banning.heres to a better future!
glenn
said on 4/Nov/08
new lp was better than the last 3.the 2 lps with ripper were atrocious.not rippers fault.he was great.songwriting wasnt.the new cd is good.not great.some people think halford is short believe it or not.was he ever 6-1? unlikely,but not impossible.some also swear on 5-11.
Danimal
said on 3/Nov/08
Rob is also around 60 years old now, so he may have been even taller in the 1970's-1980's. I give him a peak of minimum 6'1"
Joe
said on 3/Nov/08
He's easily 6'0. how come you're back Glenn? I thought you had left? Its great to have you back!
adam
said on 3/Nov/08
Their newest album isn`t too good but still a legendary band that has made some magnificent music.
Glenn
said on 3/Nov/08
Oh,cool.I think I repeated one thing on the leo page.delete it please.thanks!
Glenn
said on 3/Nov/08
Rob,did posts not go through?
[Editor Rob: they will get approved, not lost or anything.]
Realme2008
said on 3/Nov/08
He looks 6'1" in this picture. Maybe, because he's closer to the camera though?
Ian
said on 2/Nov/08
Easy 6ft, maybe more if he stood straight.
dave
said on 2/Nov/08
unless rob has a footwear advantage, hes 6'1 here
glenn
said on 2/Nov/08
yeah,i guess he had boots on.no heels though.
glenn
said on 2/Nov/08
my pleasure adam!
anonymous
said on 1/Nov/08
He looks about 6`1 there. Did he have a footwear advantage?
mofo
said on 1/Nov/08
Rob Halford looks 6ft there bang on. Compare this pic with glenns keanu pic for the difference in a 6ft guy and a 6ft1 guy (eye line over head for 6ft1 keanu cleared compared to almost on top Rob Halford).
glenn
said on 31/Oct/08
glenn tipton(thumbs up) is 5-11,so thats close.yet someone here argued with me long ago he was 5-9.kk downing was taller than i remembered at 5-7.i thought he was 5-5.maybe he is 5-6.5 at worst.only boots for kk.but i dont think he was 5-5.
adam
said on 31/Oct/08
Thanks for bringing mr. Halford back! Yes around six feet sounds correct. Awesome band also.
RisingForce
said on 31/Oct/08
Was Rob wearing boots?
glenn
said on 31/Oct/08
which guys looks closer to 6ft?
RisingForce
said on 30/Oct/08
I have two pictures with Tim "Ripper Owens" the singer who replaced Rob Halford in Judas Priest in 1997. He looked 5'10" in person but strangely 5'11" in one of my pictures and atleast 6 ft in the other with me. He's probably 5'10" tough.
Sakkana
said on 11/Aug/08
Rob with Paul Stanley (KISS):
Click Here
Sakkana
said on 11/Aug/08
He's 56 actually :) born on August 25, 1951 (1951-08-25) (age 56)
I also thought he was taller than that... at least a solid 6 footer. I guess he appears to be taller because of the 'boots' he's wearing lately. There was a ROCK HONORS and Judas was there as well as KISS and Rob wasn't that much shorter than Paul Stanley (who was wearing his classic 7-8 inches boots)...
Well, there you have it... he still the METAL GOD... I just saw them on the "Metal Masters Tour" and he ROCKED!!!
adam
said on 11/Jun/08
He`s like 88 years old but he`s still rocking! Bless him...
And yes, about 5-11 or maybe a bit more. =)
Jack
said on 4/Jun/06
This is a good estimate. Looks to have about 3 inches on Glenn. Great singer this guy is also.
Gotxo
said on 6/Mar/06
Danimal:
You know the guy has that Norman shaped head & body, that gives the impression of being taller, with such a long limbs and "leptoprosopo" kind face (long faced). I always think he was a bit under 5'11, then that makes Glenn Tipton at least 6' as he always was taller than Rob. Glenn gave him a six feet max,but anyway he had always more than 1 inch on Rob.
Rob takes a lot of care of his image,when the group poses Tipon is bending his body or supporting his back against a wall,the same goes for Travis wich being he 2 metres is a more stunning case. Check this:
http://www.midwestbeat.com/ezine/May%202005/images/judas_priest_web.jpg
Danimal
said on 25/Jan/06
Man, I ALWAYS thought that Rob was at least 6'1"-6'3". He always just appeared SO tall. Must have been his boots.