Roberto Carlos Height
5ft 5 ¼ (165.7 cm)
Brazilian former professional footballer, who played for Real Madrid and won 125 international caps. In FourFourTwo he mentioned once
"[Roy Hodgson] played me as a centre-forward for Inter. It was impossible. I could understand if he played me as a winger because I was a very attacking full-back, but as one of two strikers? Come on, I'm 5ft 6in! The balls were flying well over my head."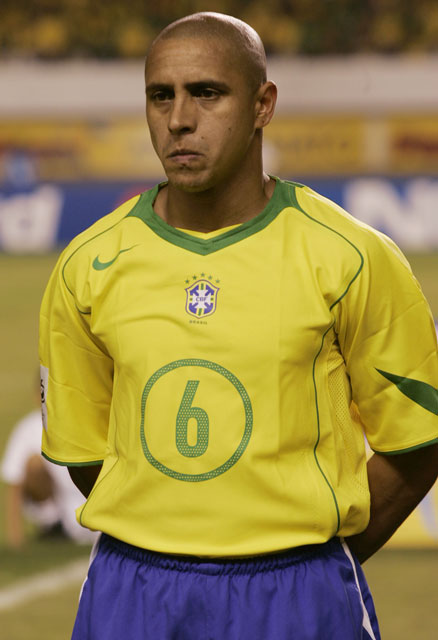 Photos by PR Photos
Add a Comment
49 comments
Average Guess (27 Votes)
5ft 5.82in (167.2cm)
edwards
said on 11/Feb/20
he has looked even flat 6'5 at times.i dont rule the possibility of carlos being 6'5 flat.but this listing is very very accurate.good soccer player.i can remember him scoring against france in the past.
khaled taban
said on 6/Dec/19
This guy looked 5'5.5" with Marcelo.
Jxusjxhs
said on 27/Aug/19
He is short, but amount of power he could generate when shooting free kicks wasn't normal
Valois 2.0
said on 25/Jun/19
Too low, he's gotta be at least 5'5.5
Tunman
said on 31/Mar/19
Mostly listed at 168 and 70kg.I think I once saw a 166 and 72kg listing but never found it again.Could be in that 5'5.25-5.5"range indeed.
Height
said on 12/Mar/19
@Alexandre
Agree.
ALEXANDRE ALVES BR
said on 17/Jan/18
I do not really agree with this listing it never seems so small ...
Dude 173 cm
said on 25/Dec/17
I should change my opinion about Marcelo of 170.5 cm to 170.
Canson
said on 16/Dec/17
@Johnson: I don't think the case with Steph Curry is any different than any other athlete rob has "never" met. If he hasn't met them and doesn't have the evidence to show otherwise he will use just their combine measurement. He did the same with Rob Gronkowski who looks max 6'6 maybe 6'5.75 and with most others. The only one or two I can remember him adjusting were Tim Tebow because he didn't think he looked it and Kevin Durant because people make Big hoopla about his height. Fact is most other guys here are overlisted to begin with so if Rob compares a 6'4.5 guy who he lists 6'5 like Jordan (he was measured 6'4.5 in 84) to Curry by deduction he will be 3" or about taller which makes Curry 6'2 instead of 6'1.5. He did drop Scottie Pippen from 6'7.5 to 6'7 but because Pippen is clearly not that tall. He's max 6'7" and can buy him 6'7 peak before surgeries he had but looks 200max today. You also see with Blake griffin and there is a video of him being measured less than half hour after waking maybe a lot less and he's still listed at his pre draft height although there is more than persuasive evidence that he's nowhere near that height. Blake looks 6'7 range next to most other power forwards and Deandre Jordan. I mean a really good day for Blake makes him 6'8 and that's hard to see unless you count his hair which is what I suspect boosted him by a touch. He doesn't look more than 202cm max imho and there was even a 6'10 female fan that stood next to Blake for a pic and she was at least 2-3" (about 2.5" taller). Curry was in the same draft class as Griffin and was measured just as early. Keep in mind that there are no 1/8" increments in the NBA either so that could be 6'1 7/8 rounded up. Bottom line is that said the only way he would be 6'2 at his lowest is if he grew which he likely didn't as there is no evidence that he has. He looks 6'1" range maybe strong 6'1 is the better word 186 range next to Westbrook who is 6'2.25 and draymond green whose coaches even said he's closer to 6'5 or he's "6'5" not almost 6'6". It's one thing for Rob to list them based on draft listing because he would have nothing else to go on provided he never met them if the pictures aren't good. But to insist that 5-10 people all "grew" after being drafted is beyond ridiculous and asanine. People don't typically grow after reaching 18. I didn't I've been the same height since I was 17 or 18 if anything maybe 1/4" when I first hit 18 as I measured the same when I reported to college on the basketball team as I measure today (likely just was rounded up to 6'4 1/2 not to mention had much thicker hair then). The rounding was more likely tho because my 6'7 friend I went to college with as well is 6'7-6'7 1/8 and was told he was 6'7 1/2 as well and he has always been since college 2-3" taller than me not quite a full 3". It could be 2" at times back then if I had timbs and he were in flats
ALEXANDRE ALVES BR
said on 15/Dec/17
He always seems a little taller than 5'5...167 cms a think
Dude 173 cm
said on 3/Dec/17
Marcelo can be 170.5 cm in his low, more like 5'7.25"
Johnson
said on 3/Dec/17
@Canson Rob lists Stephen Curry 6'2. Rob Paul knows well the hour of measurement of Curry
we just can make predictions of celebrities, Rob thinks Stephen Curry is 6'2 and I think he is close to 6'2.5 (a weak 6'2.5, 6'2.35 exactly and a little less evening low, weaker than Rose anyway) and you 6'1 OK MAN
Height
said on 3/Dec/17
So much basketball discussion here!
Roberto Carlos is a legit 167cm -168 cm guy.
Canson
said on 2/Dec/17
@Johnson: measured at a low at 630 in the AM? That is just another excuse to make someone taller on your part
Canson
said on 30/Nov/17
Well Johnson: i respect your opinion until you start making up stuff and sounding a bit ridiculous
Johnson
said on 30/Nov/17
I checked that old comment on Lebron James
That was old!! Nov 2016
when in all the later comments about him
I say he is 201.5
Johnson
said on 30/Nov/17
The first time about Curry's tweet I did not know the whole context and I had no idea how it worked of if they had to go to center of what.
What we know is that Curry was measured 6'2 barefoot and it was early, OK
See pictures with Djokovic. For me Curry is around 1.89, perhaps a weak 1.89
It is not uncommon to be measured at a low, Rob himself list players in evening lows and He gives Curry 6'2... curious, the same figure at early morning at draft.
Nothing more to add, just respect opinion of others I do not pick on you I respect if you say Rose is 6'1 :9, or 6'0 for Rose if you want
Johnson
said on 30/Nov/17
@Canson as for waking up, I was referring to footballers, only. Because as you said, there were some basketball players measured before 2 hours in the draft. But I know about medical seasons of footballers
As for Lebron James, I am not sure what I said some time ago what date was that or which user, but I do not think he is 2.03, I told you he is around 201.5. I do think the good 1.96 for Kobe. I was checking pictures of Lebron and I have registered in my database so
I defended my opinion of Rose with pics and I respect your predictions, it is not to make Griezmann taller os shorter, Griezmann is very similar to Isaiah Thomas
It is not a fact it is an opinion let the people have their own opinion and I am just letting have yours
Greetings
Canson
said on 29/Nov/17
@Johnson: what do you mean by someone is bound to wake up no later than 730? We saw the Blake griffin video where he slept at the facility. Now you're making excuses just like you did where you said that steph curry "tweeted that he measured 6'3" from his hotel room. Seriously it's hard to take you seriously when you say stuff like that
Canson
said on 29/Nov/17
@Johnson: no offense but you arent very intelligent first you did say that Kobe was 196.4 and Lebron 203. Carmelo measured 6'6.25. Rose measured 6'1.5. Kobe 6'4.75. Curry 6'2". You can't continue saying all of these players grew because that is what you're saying. You have essentially inflated all four just because of how they appear with someone else whose measurement you cannot verify. And if melo were 200cm he wouldn't be just 1.5" taller than Kobe is nor would've have been around 4-5cm taller than me. Considering i also have 6'6 and 6'7" friends i can easily tell that he is not as tall as my 6'7" friend and is about the same height as my 6'6 friend. You keep on saying what Ben Gordon measured etc. hinrich is not the same height as Rose he's taller and your pics we've already proven how bad they are. Gordon is taller than Hinrich in one of them when we know he isn't so let's use some common sense if Rose is younger than Gordon being drafted later then how did he shoot up to 189? He has always had the same height difference with Gordon since he entered the league so far more likely that Gordon is not a full 6'1" like he was listed on the pre draft. You continue to make rose taller just to make Griezmann taller as you do with every soccer player
Johnson
said on 28/Nov/17
I think Rose is 1.89. That was my ultimate prediction
You can see that he is similar to Hinrich and clearly taller than measured 6'1 Gordon in pictures of full body.
Also you can't base all players in Carmelo Anthony. You met him, perfect but you cannot be sure if he is between 198-199 or he is around the 2 meters mark as I think, just because you thought he was less than 2 inches on you because you did not take picture with him. It is not so easy to calculate 0.5 inches differences so we simply differ 1.5 cm. You say 198-199 I say 2 meters. That is 1.5 cm of difference between 0.5-0.75 inches
I think Carmelo is 2.00 m. You can see how he met footballers of Real Madrid and how he dwarf people like Arbeloa who is a strong 6 footer
Canson
said on 28/Nov/17
Let me also add Johnson that you say Derrick Rose is 190cm when he's a good 5" shorter than Melo
Johnson
said on 28/Nov/17
@Canson As for Lebron James I think he is around the 201.5 mark. I have that figure in my database and I saved pics of him for my study
About waking up I mean, if a footballer is to meet at 9:00 am to sports stadium. He is bound to wake up not later than 7:30 if he has to be in a center at 9:00.
I am not sure of the exact hour but common sense says footballers are not measured 1 hour after waking up and it is 2 hours minimum
I read about medical tests for Barcelona players it was leaked in the news the players should be in the stadium at 9:00 and others 9:30.
Canson
said on 27/Nov/17
Well said Christian!
Canson
said on 27/Nov/17
@Johnson: how do you know what time they wake up? Nobody knows that because they don't all wake up at the same time. You can't predict a persons sleep patterns. That is a bit foolish to say something like that
Canson
said on 27/Nov/17
@Johnson: respect what you're saying but Kobe being taller than his wife says he is is foolish and speculation. Like Christian said it's becausd others are overlisted.and you did say on Lebrons page way back that Lebron was 203cm then said well if Lebron is 6'7.25 then Melo is 200cm. Melo is 198-199. And saying three hours out of bed is a bit ridiculous when that's not the norm for others it is only for you
Johnson
said on 27/Nov/17
@Canson I did not put the figure
The phrase I meant
as for Curry I don't think he is 6'3. My prediction for him is around 1.89 nowadays
Christian-6'5 3/8
said on 27/Nov/17
@Johnson
Reason why guys like Kobe and Carmelo look taller than their listings, is because the celebs who they stand next to are bit overlisted. It's more logical to put the two at 6'4.75" and 6'6.25" like how they're measured, instead of doubting their measurements and inflating them to something like 6'5.5" and 6'7" just to accommodate the overlisted celebs.
Johnson
said on 27/Nov/17
Footballers normally wake up at 7:00 am
They are measured 9:30 am minimum and there some footballers even measured in the evening like Blaise Matuidi this year
I even discount some milimeters to those measured footballers I said. People can agree or disagree but those are personal predictions and everybody can have one
Johnson
said on 27/Nov/17
my prediction for Curry is 1.89 not 6'3.
Johnson
said on 27/Nov/17
@Canson that is not what I say
as for Curry I don't think he is 6'3. My prediction for him is around nowadays
I prefer 3 hours out of bed than 2 hours. It depends on the person but I work with data of footballers and I normally discount milimeters. 3 hours minimum is my theory. Minimum. But I do not buy the 6 + hours because people are not measured at those hours and between 3 andc6 hours there is little difference.
Gerard Pique is measured 194.7 and I give him 193.5 because I am discounting gut a bust and hours so what you say I said is untrue
As for Kobe, Carmelo and Anthony, I do not say taller than his claims. I only say Kobe is taller than what her wife says. I do say Westbrook, Rose and Melo are taller than prefdraft because
I judge according to pics and that is visual impression I ahave about him
Johnson
said on 26/Nov/17
@Christian Yes. The question is in my case I am aware of what my height and my predictions are not related with what my height that is what I try to explain. My predictions of celebrities is what I think they are honestly. I calculate celebs according to pics with other celebs and I do not meet them
Canson
said on 25/Nov/17
@Johnson: to be fair and I'm not attacking you but you've gone on record and said that you "assess height 2 hours out of bed" which is not the standard here. So you automatically do inflate people as your guesses are 80-90% of the time, higher than Rob's. Not to mention you do make up stuff. You once said that Curry measured 6'3" from his hotel barefoot when he didn't. He was measured (or rounded up to 6'2") less than an hour out of bed. Yet you are saying he's 189cm just because others around him don't look their draft heights. You also said Rose Westbrook Lebron Carmelo and Kobe and Jordan were all taller than their claimed barefoot heights or pre drafts. I mean common sense says that some may grow since being drafted because it can happen. But when you say it for multiple people it then becomes a bit ridiculous and is an excuse to upgrade them
Christian-6'5 3/8
said on 24/Nov/17
@Johnson
Similar to how 6'0.5" guys claiming 6'2" will tell me I'm 6'7". People who inflate their height will almost always inflate others.
Canson
said on 24/Nov/17
@Johnson: well you tend to upgrade most of your listings though to be fair
Johnson
said on 24/Nov/17
Yes, in real life I can see people claiming more height than they measure and say "he must be 5'8 because I am 5'7" (and that person speaking is 5'6 and the other 5'7)
But about guessing celeb heights from my experience I see like the other way round. "That famous person is 5'6 not 5'7 because I look taller than him so no way he can be my height"
ma
said on 23/Nov/17
Johnsom
I would not meant to be disrespectful I just reporter a personal experience... :)
If that hurts you, I deeply apologize
Johnson
said on 23/Nov/17
I apologize with ma, I made a mistake and I recognize again
But I am so upset when people judge me that my height is related to my prediction and that I am trolling etc when I have proved collaborating on this site that I can guess right or wrong you can agree or disagree with my predictions but I honestly say what I think celebs measure
Blake
said on 23/Nov/17
Rob, how tall would you say Marcelo is in comparison to Roberto Carlos in that photo linked below?
Editor Rob: marcelo can look at most 5ft 7 typically
Abhi
said on 23/Nov/17
Good to know that there is a world class footballer at around the same height as mine
Johnson
said on 23/Nov/17
I apologize. But I am so sick of hearing comments regarding you must be X height because you say X people is....
Respect
Johnson
said on 23/Nov/17
@ma sorry. We will respect each other
Respect the predictions of each other. This is not to debate height of users giving predictions
ma
said on 23/Nov/17
@Johnson
I said Carlos is similar to your height because generally short people tend to overlist people like you always do.
For example I have lots of friends that are 5 ft 5 and they claim 170 cm just to round up
Johnson
said on 22/Nov/17
Roberto Carlos and Marcelo back to back!!
Click Here
emre turk
said on 22/Nov/17
hello can you add rob alex de souza
ma
said on 22/Nov/17
Johnson
Yeah he could be taller than this listing but not I'm not sure
Very similar to your heigth... I guess him at 5 ft 5.25 but not over..But Rob's listing could be more precise
5 ft 5 best solution
Editor Rob:
and
Robbie Fowler and Roberto Carlos
.
I know Fowler has been called 5ft 9 and really during his career he could seem 5ft 8 or 5ft 9 at times.
I wouldn't go under 5ft 5 for him, but not sure he ever looks a solid 5ft 6 guy.
Johnson
said on 21/Nov/17
He is taller than 1.65
With Beckham
Click Here
Anonymous
said on 21/Nov/17
Yeach short man, but great footballer.
Kourosh
said on 21/Nov/17
always thought he was 5'6. dont you think 5'5 is little too low for him?
Editor Rob: my impression of him when he played was a 5ft 5 range player, but not a full 5ft 6, I suppose you couldn't rule out 5ft 5.5