Rocky Johnson's Height
6ft 1 ¼ (186.1 cm)
Canadian Wrestler, father of The Rock.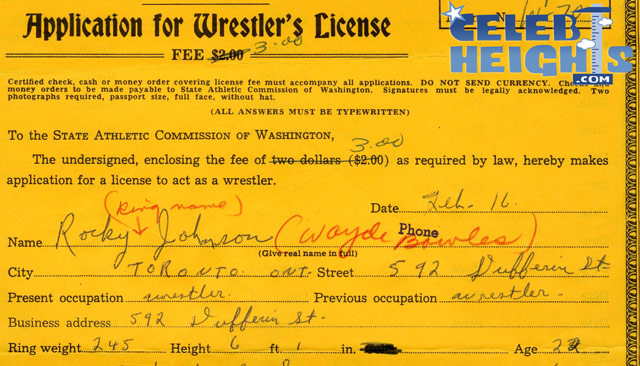 Rocky's 1967 Wrestling Form (Ht: 6ft 1, Weight: 245 lbs)
Add a Comment
22 comments
Average Guess (35 Votes)
6ft 1.95in (187.8cm)
slim 6'1
said on 17/Jan/21
186-186.5 this listing is fine 👍
berta
said on 17/Jan/21
nice. always thought 187 was the most he would measure. 186 seems like a good guess.
slim 6'1
said on 14/Jan/21
I agree with Berta probably strong 6'1" peak and strong 5'11" before he died
berta
said on 26/Nov/20
i think peak 187 and maybe 182 before he died.
TheDon1528
said on 27/Oct/20
6'1" peak. In his prime he was shorter then Tony Atlas, R.I.P Rocky.
Chris Junior Hernandez 1990
said on 1/Sep/20
Look 3.5" shorter than his son before his death.
Click Here
If Rock is 6'2 1/2 then Rocky is 5'11. Peak i wouldn't thought over 6'1 1/2.
Rampage(-_-_-)Clover
said on 8/Mar/18
I think a strong 6ft2 in his prime and 6ft range today
Looks 2-3in shorter than his son
berta
said on 6/Mar/18
rob he is barely over 180 today. could he really have been this tall? it seems alot to loose. 186,7 range peak and 181 today. that is 6 cm losrt at 70 years old. even that is alot. but 7 cm ? thats even more than clint eastwood had lost by then
Junior
said on 14/Oct/17
Click Here
: Had lost over 3" now?
Realist
said on 14/Jul/17
I seen him next to 6'3 rock he looks 5'10.5 now maximum
berta
said on 10/Apr/17
he is about 7u0 years old and today looks in the 182 range with dwayne johnson. i dont know if he really could have lost 6-7 cm at that age. barely 187 sound better to me
Rampage(-_-_-)Clover
said on 8/Nov/16
188/189cm peak
berta
said on 14/Oct/16
about this height seems right but i think he could have been 187 more than 189. today he looks to be maybe 182-3 cm?
Rampage(-_-_-)Clover
said on 16/Aug/15
189cm peak, Rob?
[Editor Rob: you can't rule it out.]
Jordan
said on 18/Jul/15
Well, Looks solid 5.5-6.5 inches taller. Say 6'1-6'2 but a guy that height with that build is one big son of a gun. When your 5'6-5'10 that Physique is easier obtained than when you are a guy who is solidly over 6 foot like this guy. Thats A specimen to say the least. Looks 6'1-6'2 and a good 250 pounds.
[Editor Rob: at 70 he's not over 6ft...although he didn't want to stand for 5 minutes for photos, a sore knee I think he said.]
Ted
said on 8/Mar/14
My favorite old-school wrestler of all time. Master of the flying dropkick, and father of The Rock (literally).
Rampage(-_-_-)Clover
said on 1/Mar/13
189-190cm peak rob?
Rampage(-_-_-)Clover
said on 19/Jan/13
I have no idea what your talking about, Red. I was simply stating that The Rock's father was a tall, physically imposing guy and that Dwayne The Johnson is almost identical in that regard
Rampage(-_-_-)Clover
said on 23/Dec/12
About 6ft2-6ft3 peak. You can see exactly where Dwayne got those out of this world muscle building genetics. His father was a monster aswell.
Mamun
said on 28/Jun/11
THGhost , Are you Rocky Johnson ?
Regards
SUPERMUN
THGhost
said on 27/Jun/11
I held Dwayne in my left arm so he could watch his first wrestling match at Abrams Field House Ft.Hood Tx. At that time women where not permited to watch live whes and wresteling matches and they made his mother wait outside! I held his feet and rested his head between my forearm and my chest! I was very nervous and careful not to hurt such a fragile little Guy! I wold not say that today!
Rampage(-_-_-)Clover
said on 11/May/11
I think Vince McMahon would have been a little shorter than Rocky Johnson