Russell Howard's Height
5ft 8 ¼ (173.4 cm)
English comedian known for appearing on tv shows Mock The Week and Good News. He was listed on his agency resume as being 5ft 8, although in a Joe.co.uk interview said
" I'm 5'9"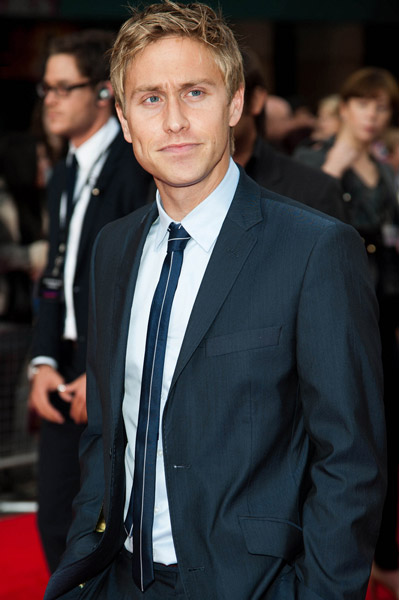 Photos by PR Photos
Add a Comment
29 comments
Average Guess (22 Votes)
5ft 8.84in (174.9cm)
Leesheff85
said on 17/Jan/21
Julie are you 6ft+ or something in no way does he look short. Nothing below average height in fact which isnt short
Leesheff85
said on 17/Jan/21
6ft 3 really? He never looked that tall. Nor does he have the face of a very tall man. 5ft 9 is believable though
Eric W. Tam
said on 8/Oct/20
WTH? Thought he was 6'3 on his show. Has the face of a tall guy too.... guess the camera shoots him at an angle/height that makes him look taller. 5'8.5
Miss Sandy Cowell
said on 23/Mar/20
🎂🎈🎉 Happy Birthday Russell! 🎉🎈🎂
Wishing comedian Russell Howard a very happy Big 4️⃣0️⃣!
I don't think he's unduly worried about his height, and will give him a thoroughly respectable 5ft9 for his Birthday. 😆👌🎉
🎂🎁🎈😂🎂🎁🎈😂🎂🎁🎈😂🎂🎁🎈😂
Joel Masterman
said on 10/Jun/19
Looks about a weak 5"9 like olly murs!
Connordee
said on 10/Jan/19
He's definitely nearer 5'9 than a flat 5'8.
JJJ
said on 12/Jan/18
@Maria: He's probably nearer to 5'9 imo. He may be 5'10 in shoes too so i can see where you're coming from about how he might look taller.
Maria
said on 5/Dec/17
Seriously? He's the same height as me? I lowkey thought that he was somewhere along the 5'9-5'11 range. Damn, guess looks can be decieving.
Rick
said on 7/Sep/17
I'm really not seeing more than 2 inches between him and Boyle. He must be closer to 5'10.
Vibram
said on 14/Nov/16
He's 176cm.
Rhonda
said on 11/Oct/16
I recall him saying on one of his shows he was 5ft10, his mum must be tiny because he's a head taller or more.
tom
said on 17/Aug/16
Saw him at Edinburgh recently, I'd say this looks about right, he does look taller on tv
Julie
said on 23/Apr/16
he always looks so small
Rory
said on 23/Mar/16
I would have thought 5'9, looks taller than 5'8..might be 5'8.5 and has dropped the half.
SAK
said on 20/Dec/15
I think he is taller then this listing. Probably 5'9. He was pretty much the same height as Harry Judd & Tim Lovejoy (both 178cm) all similar footwear on Sunday Brunch.
Rick
said on 11/Nov/15
He doesn't look 4 inches shorter than 6ft Frankie Boyle on Mock The Week. 5'9 absolute minimum. Closer to 5'10 I'd say.
Scott179
said on 16/Jul/15
Looks around 5'10 on TV but he could be shorter.
red
said on 29/Dec/14
5'9 for sure
anonymous
said on 22/Jan/14
Saw him on Good news earlier and he looked particularly tall - the sort of 6' height with a 5'8" frame, so perhaps a lift wearer? One of the guests on the show even commented 'you're taller than I imagined'.
Harryschof
said on 29/Aug/13
Ive met him in York and hes shorter than me (176cm) so i think 173cm is about right
LOL
said on 18/Jun/13
Im sure hes 5 foot 10
Pedro
said on 4/Jun/13
According to his resume, he is actually 172 cm:
Click Here
[Editor Rob: when given 5ft 8 some might put it as 172 or 3, it's close enough to say 5ft 8 in any case.]
little sue
said on 2/Jun/13
I would have said no more than 5ft 8.
EBOUE27
said on 1/Jun/13
That's about right for him, look at him stood next to Jonathan Ross as an example. Agree with some of these comments though, he has the proportions of a taller man
Matt
said on 31/May/13
I would've thought maybe about 5'9'' or 5'10'' too, but I don't know why.
Don
said on 30/May/13
5'8? I would expect something more into the 5'10 - 6'0 range, 5'9 min. He's definitely got the proportions of a tall guy.
MaskDeMasque
said on 30/May/13
@SAK
yeh he does, i thought he was 5'9 range.
Dean 5ft 9.25
said on 30/May/13
Wow really? Ill give another look to him but I personally thought he came across as a tallish/above average guy..5'10 or 5'11 when I clicked on his name..
SAK
said on 30/May/13
He gives taller impression.
But 5f8 is probably correct for him.