Russell Simmons Height
5ft 9 ½ (176.5 cm)
American Entrepreneur known for Def Jam, Phat Farm.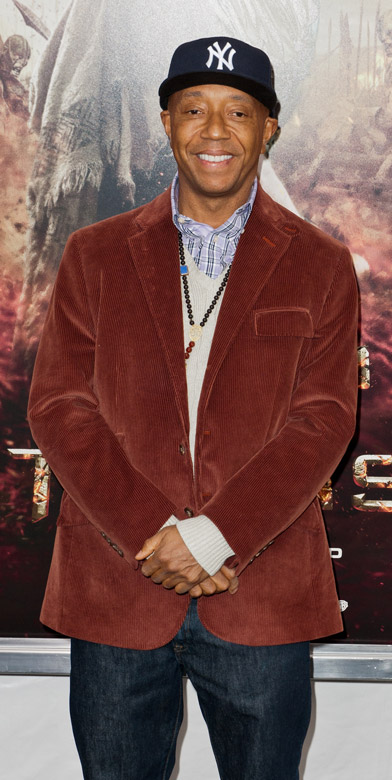 Photos by PR Photos
Add a Comment
27 comments
Average Guess (2 Votes)
5ft 9.25in (175.9cm)
Brad
said on 1/Dec/17
He writes a book on what one should be in life and he turns out as another clown to be flushed. Wears lifts, G saw it. More than likely 5' 8.5".
Dreampuffs(5'9.5
said on 19/Nov/17
Rob.... there are some very terrible things he's done!!
Editor Rob: I don't know much about this guy, really I barely even know what he's famous for, but many people when they become rich & famous let things also can suffer in terms of behaviour and morals.

as for his 5ft 11 claim, it does seem a bit high, though I can see how at times he can look near 5ft 10...
Hov
said on 1/Dec/12
in a pic with 6'0 chris brown he's the same height as him... lifts?
jtm
said on 20/Oct/11
i used to think he was 5'8 but he was close to bruce willis's height.
LAN Jiao
said on 19/Oct/11
Bruce Willis came in full frame pic look 1cm taller than simmons
KSr
said on 11/Aug/11
If Kimora is 6 ft tall and Russells head comes up to the bottom of her nose there's NO WAY he's 5' 11". If he is, that would make her 6'6", and she's not 6"6". You guys are lying sacks of....hmmmmm, how much did he pay guys again?
wedge
said on 20/Jun/09
I used to see Russell all the time in the lobby of my apartment building. I never got a sense of how tall he was because he has *terrible* posture and is always wearing a baggy sweatsuit so you don't know if he's standing straight or has his knees bent. I think that's why there are so many conflicting reports. All I can say is that he's somewhere between 5'8" and 5'11".
Mr. R.
said on 12/Feb/09
I just saw Russell at a party, and he is between 5-8 and 5-9. I saw him first on the stairs, but when he left the party I was standing by the door on flat ground.
J.J.
said on 10/Feb/09
I think he is 5'9" max
Anonymous
said on 24/Aug/08
I met Russell Simmons in Miami and trust...he's least 6 ft maybe 5'11...I'm 5'10 and he was an inch taller than me...could've been the shoes tho..
diggy
said on 2/Jul/08
russell simmons is not 5ft 9in he is like about 5ft 7.5in because he is shorter than rev run/ or maybe it is because rev run is fatter
Bruce
said on 4/May/08
the man is 5'9 max and his brother is like about 5'9.75". there is no way he is this height(5'9.5")
glenn
said on 23/Apr/08
he is 5-10 like his brother.shorter with posture.i see them all the time.not together.
Bruce
said on 21/Apr/08
the man is 5'8.5" because her new girlfriend(Porchla Coleman) is a model and she is 5'9". I saw this picture of him and her at the beach and she looks 1/2 an inch taller than him.
Elle
said on 19/Mar/08
Latoya - ok? how tall are you?
latoya
said on 30/Sep/07
I think it's beautiful to see a tall woman with a short man. I'm tired of seeing the same old things (Tall men and short women) I'm a tall beautiful woman and frankly i'd rather be with a man shorter then myself. I think they are so cute.
Insane
said on 13/Sep/07
This is freaking crazy. I just saw him on NBC's TODAY this morning and he TOWERED Al Roker (who is supposedly 5'8" ?) Russell was next to Miss USA Rachel Smith who is 5'11! She was wearing heels and he LEVELED the beauty queen. If he's roughly 5'10, he must have worn some 4 inch shoe lift, wtf.
sofia
said on 1/Sep/07
haaa! kimora is taller than him! but it don't matter anymore though cos' they're not married any more..
..
said on 31/Jul/07
tall women wear heels to make them feel good just like short women do. Just because you are insecure within youself doesn't mean everyone else should be to. tall women wearing heels do not look like freaks if that was true then we wouldn't have models.
Lynne'
said on 17/Mar/07
I'm responding to what Horatio said...tall girls wear heels because heels are sexy and cute and we are girls too, therefore we wear heels. I am 5'10" n i rock my stilettos and my friend is 6'3" and wears heels daily. If you feel less of a man because a girl is taller than you, its your problem, not hers.
glenn
said on 24/Feb/07
true nunya.i love women of all shapes and sizes though.
Nunya
said on 24/Feb/07
Even for tall women, heels flatter. Heels make the legs appear shaplier and they affect the way all women walk...usually, in a positive way. If you don't like tall women in heels, you're probably short and squat. It seems that secure, short people appreciate tall women. Tall women in heels look elegant. Who are we fooling, tall women look more elegant than shorter women even in flats, usually! Short men with tall women immediately appear secure within themselves. Think about it!
Glenn
said on 3/Dec/06
I was saying,I guess,on another page,that I bumped into Russel 3 weeks ago,and he looked 5-8ish.but then Ive seen him look 5-9,5-10.weird.
Horatio
said on 18/Jun/06
I don't know why really tall women wear heels period. Women who are average height wear heels to make themselves a bit taller, to get into the 5'6-5'8" range. I don't get why women who are taller than that wear heels, because it does make them look like freaks.
Mos Mos
said on 9/Jun/06
Maybe its just me, but it is wrong for a woman that tall to wear heels, especially if shes got a much smaller husband
Horatio
said on 25/May/06
Whoa given that picture, no way is Donald Trump 6'2".