Ryan Tedder's Height
5ft 10 (177.8 cm)
American singer-songwriter from One Republic. He said in a Zach Gang interview:
"I'm six feet. I've been six feet since I was a senior in High School"
.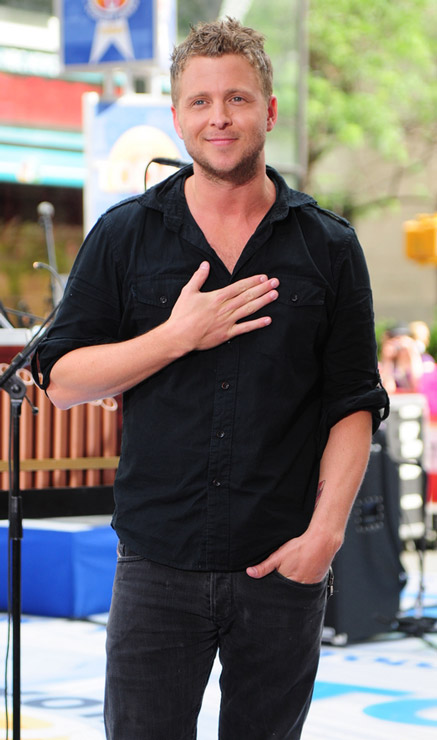 Photo by PR Photos
Add a Comment
21 comments
Average Guess (10 Votes)
5ft 10.2in (178.3cm)
Nik
said on 1/Dec/19
His 6'0" claim is interesting!
Noel
said on 13/Jan/18
hey rob,
what do you think about this picture (shawn mendes, ryan tedder, the edge):
Click Here
?
if ryan is 1.78, how ca shawn be 184.8?
one of those heights have to be wrong i guess?
is it possible for ryan's claims of beeing 6feet to be true?

Editor Rob
It's hard to say how much height Shawn is losing or if they have the same or different footwear.
lalalaa1
said on 11/Nov/17
He's 183 cm
jeremy
said on 24/Sep/17
asked one of my friend who has been to one republic's concert, she said she met this guy in person and he is no taller than 5'9 more like5'8.5
trp
said on 21/Aug/17
Click Here
53:00
Claims he's 6'0"
Feel like he could actually be 5'10.5"
Editor Rob: I'll add his quote to the top, thanks.
TJE
said on 17/Jun/16
Yea if Ryan's 5'10 then Luke Hemmings clears 6'0
truth
said on 3/Jun/16
176cm, maybe 177cm.
truth
said on 3/Jun/16
Gives off a more strong 5'9 impression rather than a full 5'10.
rockitbaby
said on 19/Sep/15
I went to a OneRepublic concert and he passed right by mi side in one moment. I'm 1,73m and he seemed shorter than me or same height. Not 1,78m guys.
TJE
said on 10/Mar/15
Click Here
Not the best pic, but not too hard to gauge. Cher's shoes give her about 2.75 inches max. Ryan's probably dropping about 1.5 inches more than she is. There appears to be a 5-5.5 inch difference.
So, if Cher is 5'1 then,
61+2.75+1.5+5.25=70.5
Ryan's 5'10.5 in those shoes, which would likely give him at least 0.75 inch.
Conclusion:
Ryan is a 177 range guy. He could measure 5'9.75 as easily as 5'9.5, but a full 5'10 is improbable.
Pt
said on 16/Jan/15
He is 5' 8 1/2"
TJE
said on 16/Oct/14
I've opened my mind to 177 range. He can look 177 pretty often, but true 178ers would look, well, 178 most of the time and can even look 179-180 at their best. This guy, however, almost never looks 178 ever, and he doesn't have bad posture or weight. Granted he's got a really scrawny build; the pic above wouldn't fool any of us for anymore than 5'9. Still, I'd give him 5'9.5, but no more.
Nonetheless, think I'll take another big break from this page. I scraped the bottom of the barrel on this one.
TJE
said on 2/Oct/14
Here he is next to fellow band member Brent Kutzle, who's listed at 6'3. Thoughts Rob?
Click Here
Click Here
[Editor Rob: he can look 5ft 10 range]
AJ
said on 26/Jul/14
looks a like weak 5'10".
TJE
said on 24/Jul/14
I think now I'd put him at 176. More than I had expected but not 178.
TJE
said on 23/Jul/14
Rob, is this the pic that convinced you Ryan is 5'10?
Click Here
[Editor Rob: I never seen that one, but I think he can look nearer to 5ft 10 than 9]
Bobby
said on 16/Jul/14
I do agree with the others, although 5'9" minimum, not the full 5'10" though, somewhere in between.
Darren
said on 9/Jul/14
On this pic he looks about 3.5-4" (plus the hair) taller than Cee Lo Green, who is obviously losing several inches here:
Click Here
I think Ryan is no more than 5'9, probably even closer to 5'8.
Dane
said on 9/Jul/14
Where do you get 5'10 from?? He was listed 174 once, and do certainly not look above it!
Chris
said on 8/Jul/14
I always thought he's around 5'8. I always had him in my mind as short-shortish, not average.
SAK
said on 8/Jul/14
This is surprising. I always thought he was short around 5'7-5'8.