Ryan Thomas Height
5ft 8 ½ (174 cm)
English actor, best known for playing Jason Grimshaw on soap opera Coronation Street. In the Spotlight Database he had himself listed at
"Height: 5'9" (175cm)"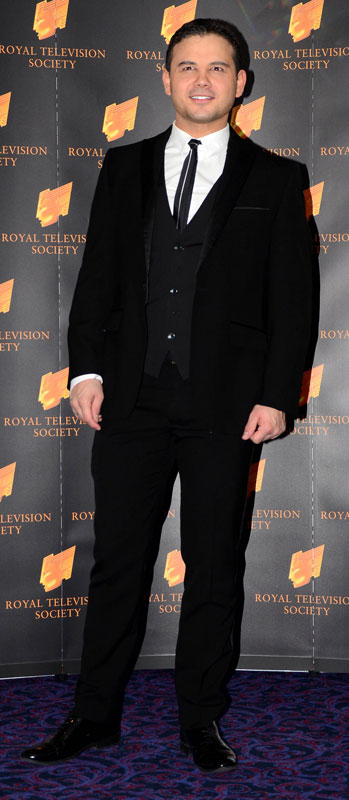 Photos by PR Photos
Add a Comment
18 comments
Average Guess (15 Votes)
5ft 8.1in (173cm)
Miss Sandy Cowell
said on 28/Mar/20
Ryan Thomas and his 'Coronation Street' brother could pass for real-life brothers. Bruno is a mere quarter of an inch taller than Ryan but facially - wow! They couldn't look more similar!
I see Ryan's mean guess is just over 5ft8, so many visitors think he's less than Rob's 5ft8.5. However, I'm going to give him the full 5ft8.5..... 😉
The boys have SUCH a tall 'Street' Mum though, taller than both of them. How likely is that in real life? 😯
CD
said on 17/Nov/19
Hey Rob, not sure if you'd add him but former Corrie star Chris Fountain has an agency listing of 5'8.
Click Here
He looks very close in height to Ryan actually, hard to say who might be a smidge taller
Click Here

Editor Rob
Yeah he should be given an entry too.
CD
said on 21/Jul/19
The average guess of a flat 5'8" might not be far off, seeing him with Antony Cotton (recently listed at 5'9") makes him look that mark, or at least a bit under 5'8.5".
Nik
said on 25/May/19
He is average folks!
Darron kenta
said on 22/May/19
I feel bad for him. Imagine being below average and having your 2 younger brothers be so much taller than you. Especially Scott towers over him and makes him look tiny.
Jamie
said on 24/Nov/18
Adam can pull off quite close to 6ft however Cain Dingle actors height listed a 1/4 under 6ft and he's taller than Adam
CD
said on 30/Sep/18
Ryan generally looks between 2 and 3 inches shorter than Adam looking at other photos. Adam does have 5'11" with his agency which fits with Ryan being between 5'8 and 9". The taller sibling Scott actually looks to be around 6'3" to me, although he claimed 6'4" on twitter.
Littlelee168cm
said on 18/Sep/18
Jamie do you only see 2.5" between him and Adam? I think Adam looks 6 foot there closer to 3.5 inch than 2.5 taller
Jamie
said on 10/Sep/18
Photo of Ryan with his two twin brothers Adam and Scott. Adam looks bang on 5ft11 to me and his obvious taller twin look leaning towards 6ft1.
Click Here
CD
said on 14/Oct/17
I agree Nik. Ryan has a photo on Instagram with rapper P Diddy and looks more than an inch, but maybe not quite 2 inches shorter. Ryan is also friends with a fashion retailer called Umar Kamani who has a lot of photos taken with celebrities on his instagram page (including boxers like Floyd Mayweather and Mike Tyson) and I would peg him at about 5ft 11.5; Ryan looks 3 inches shorter.
Nik
said on 13/Oct/17
He is definitely above 5'8" and below 5'9", A lot of people think this guy is sub 5'8" but I am not of that opinion although he could be possibly be 5'8.25", I will stick with 5'8.5" however!
Anonymous
said on 12/Oct/17
he should of left corrie years ago if he wanted to go to hollywood i think he would of got more parts in his mid 20s.There is so many british actors in hollywood now it's hard for everyone.
Kentopoto
said on 12/Oct/17
Probably 5'7.5".
Sandy Cowell
said on 11/Oct/17
I'm going for 5ft.8.75!
Now that's out of the way, has he really gone to America to try his luck in Hollywood? I haven't heard that! Well, good luck to him if he has! You never know until you try, and there's no point waiting five years and regretting it because he feel he's too old. Thirty something shouldn't be too old, or any age, if you're damn well good enough, but we all know what Hollywood is like for youth and beauty! Soap stars know how to work under pressure, that's for sure! It's no understatement to say they're some of the hardest working actors in the business and I think it's great if some of them make it big Stateside - the more the merrier!
I used to think that this guy was in two soaps, both Coronation Street and Emmerdale! Then when I started watching Emmerdale, which is about three years back now, I found out that he has a look-alike brother! I felt like an April Fool!
😁😁 😝
Bobby
said on 11/Oct/17
His proportions are throwing me off, is he really over 5'8? He's stocky like Tom Cruise.
CD
said on 10/Oct/17
Rob I heard he left Corrie to pursue Hollywood? he's certainly not above average in height but looks wise he is, do you think a guy can still make it in Hollywood at his age? I don't think he's done much since leaving the soap though.
Editor Rob: yeah some guys by 30's do go on and get work in Hollywood after a long run on a British soap, but I don't think he managed it, there's many who try and many who fail breaking into the bigger leagues.
Nik
said on 10/Oct/17
i think that 5'8.5" is a good guess!
Csimpson 6ft
said on 10/Oct/17
Good listing but maybe he could measure 5ft 8.75 earlier in the day